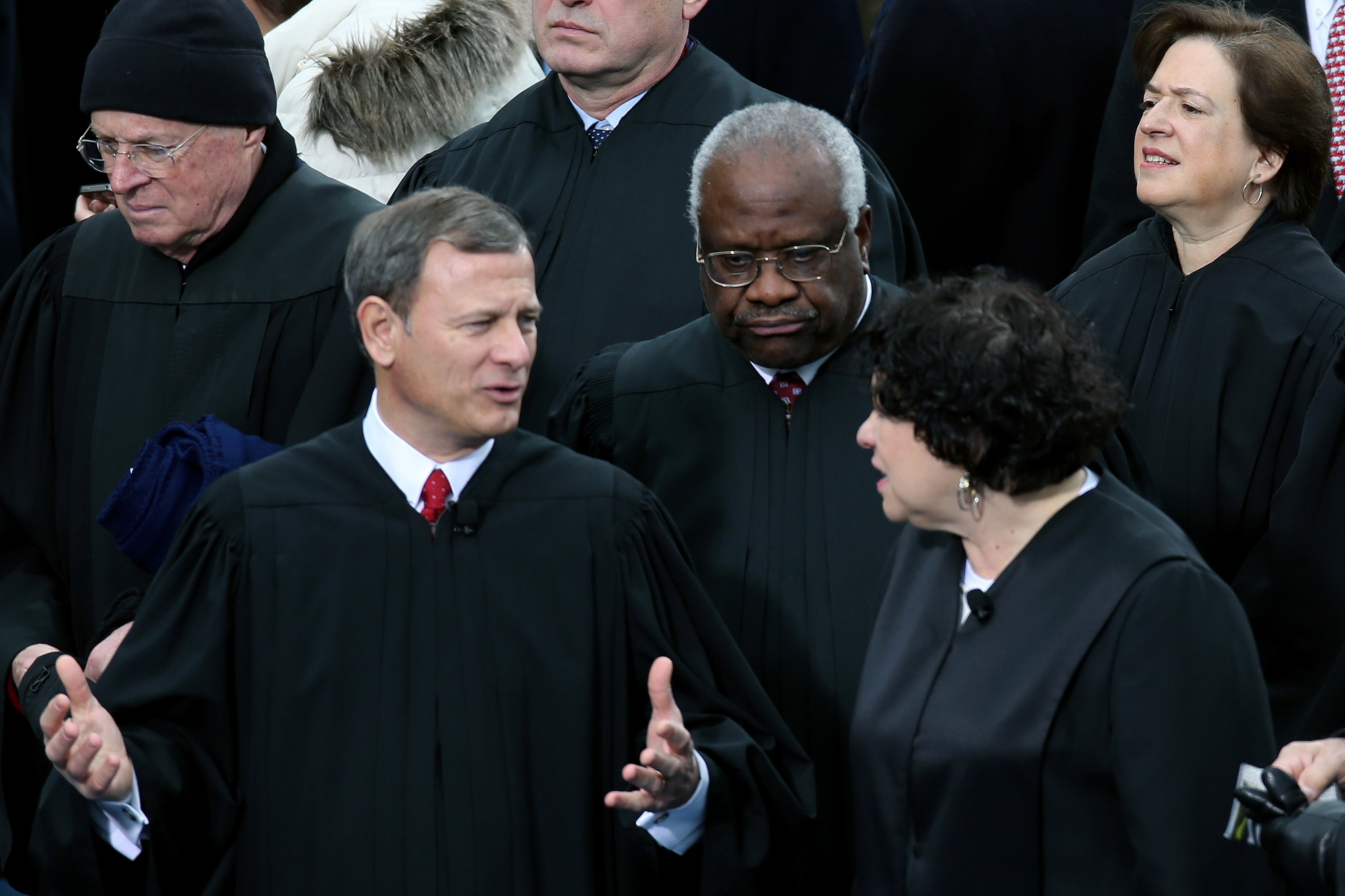 Supreme Court Justice Sonia Sotomayor issued a hard-charging dissent in Tuesday's opinion upholding President Donald Trump's so-called travel ban and now legally enforceable as a travel ban against foreign nationals hailing from several Muslim-majority countries plus Venezuela and North Korea.
One part of that dissent appears to have stuck considerably in Chief Justice John Roberts' craw.
In the final lines of her blistering attack on the majority decision, Sotomayor explicitly invokes one of the darkest chapters in American history — the internment of Japanese Americans during World War II. The justice notes:
Today's holding is all the more troubling given the stark parallels between the reasoning of this case and that of Korematsu v. United States, 323 U. S. 214 (1944). In Korematsu, the Court gave "a pass [to] an odious, gravely injurious racial classification" authorized by an executive order. As here, the Government invoked an ill-defined national-security threat to justify an exclusionary policy of sweeping proportion. As here, the exclusion order was rooted in dangerous stereotypes about, inter alia, a particular group's supposed inability to assimilate and desire to harm the United States.
Sotomayor continues, "By blindly accepting the Government's misguided invitation to sanction a discriminatory policy motivated by animosity toward a disfavored group, all in the name of a superficial claim of national security, the Court redeploys the same dangerous logic underlying Korematsu and merely replaces one 'gravely wrong' decision with another."
And to these lines, Chief Justice Roberts took no small measure of offense. The majority decision notes:
Finally, the dissent invokes Korematsu v. United States, 323 U. S. 214 (1944). Whatever rhetorical advantage the dissent may see in doing so, Korematsu has nothing to do with this case. The forcible relocation of U. S. citizens to concentration camps, solely and explicitly on the basis of race, is objectively unlawful and outside the scope of Presidential authority. But it is wholly inapt to liken that morally repugnant order to a facially neutral policy denying certain foreign nationals the privilege of admission.
The chief justice wasn't quite finished and almost took the opportunity to overrule the Korematsu decision–but stopped just short of doing so. He wrote, "The dissent's reference to Korematsu, however, affords this Court the opportunity to make express what is already obvious: Korematsu was gravely wrong the day it was decided, has been overruled in the court of history, and—to be clear—'has no place in law under the Constitution.'
Roberts' invocation of "the court of history" is somewhat notable here.
The opening lines of Sotomayor's dissent issue a dire warning that the Roberts-authored decision in Hawaii v. Trump imperils America's long and storied history of religious freedom and ignores the Founders' commitment to that principle.
Much attention is likely to focus on those first words and the warnings contained therein. But by explicitly invoking Korematsu, Sotomayor issues a different sort of warning–and one that appears to signal Hawaii v. Trump is also not long for this earth.
[image via John Moore/Getty Images]
Follow Colin Kalmbacher on Twitter: @colinkalmbacher
Have a tip we should know? [email protected]