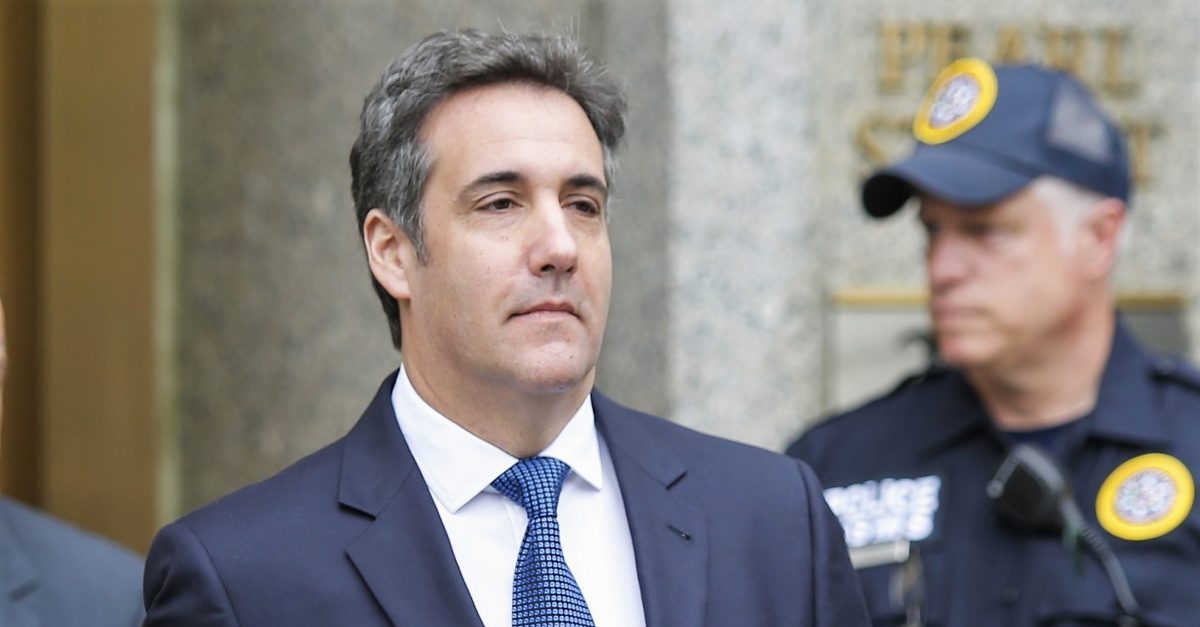 The Federal Bureau of Investigation (FBI) initially obtained a warrant for the wrong hotel room before federal agents conducted an early morning raid on Michael Cohen's makeshift offices early last April.
According to recently unsealed and partially redacted search warrants related to the Cohen raids, on April 8, 2018, FBI special agents erroneously convinced a federal judge to grant them a search warrant for Room 1728 at the Loews Regency Hotel just east of Central Park in Manhattan.
The erroneous search and seizure warrant application reads, in relevant part:
Subject Premises-4 is Room 1728 located inside the Loews Regency Hotel at 540 Park Avenue, New York, New York 10065. The building is a luxury hotel on Park Avenue and 61st Street. Subject Premises-4 is located on the 17th floor of the hotel. Based on [a] review of emails obtained pursuant to search warrants…[the FBI has] learned that on or about January 5, 2018, Cohen received an email from an employee of Loews Regency, which included a price quote for a long-term stay suite based on a three-month stay from January 8 to April 8, 2018. On or about January 29, 2018, Cohen sent an email to a Loews Regency employee, stating, in pertinent part: "I just spoke to my wife and she has scheduled the move for Thursday. Please mark down that we will be taking possession on Thursday, Feburary 1st." Based on [a] review of cell phone location data [the FBI has learned] over the past 24 hours, two cellular phones used by Cohen have been located in the vicinity of Subject Premises-4. In particular, on or about April 8, 2018, law enforcement agents using a triggerfish device identified Room 1728 as the room within the hotel in which the Subject Devices are most likely present.
But it just wasn't so. The next day, federal agents learned that President Donald Trump's former attorney and fixer was actually staying one floor below–in room 1628.
The "Subject Devices" referenced in the warrant application are two separate iPhones which were both serviced by AT&T.
Federal agents wanted to obtain the devices based on the belief that they contained evidence of false bank entries, false statements to a financial institution, wire fraud, bank fraud, illegal campaign contributions and conspiracy to commit the aforementioned crimes.
The warrant also specifically authorized the collection of "[e]vidence relating to Essential Consultants, LLC, including any documents that indicate the nature and purpose of payments made to or from Essential Consultants or the nature of any work done by Chen or any other individuals in connection with Essential Consultants."
Notably, the warrant applications also contain several redacted pages related to "The Illegal Campaign Contribution Scheme." This likely means there's quite a bit waiting to come out regarding the evidence seized in connection to Cohen's hush money-focused LLC. During congressional testimony late last month, Cohen was unable to provide an exact number of women who he paid to keep quiet on behalf of the president.
Cohen had been under investigation by federal agents since the summer of 2017–mere months after special counsel Robert Mueller was appointed to conduct his ongoing probe into electoral interference, corruption and obstruction of justice.
[image via Eduardo Munoz Alvarez/Getty Images]
Have a tip we should know? [email protected]