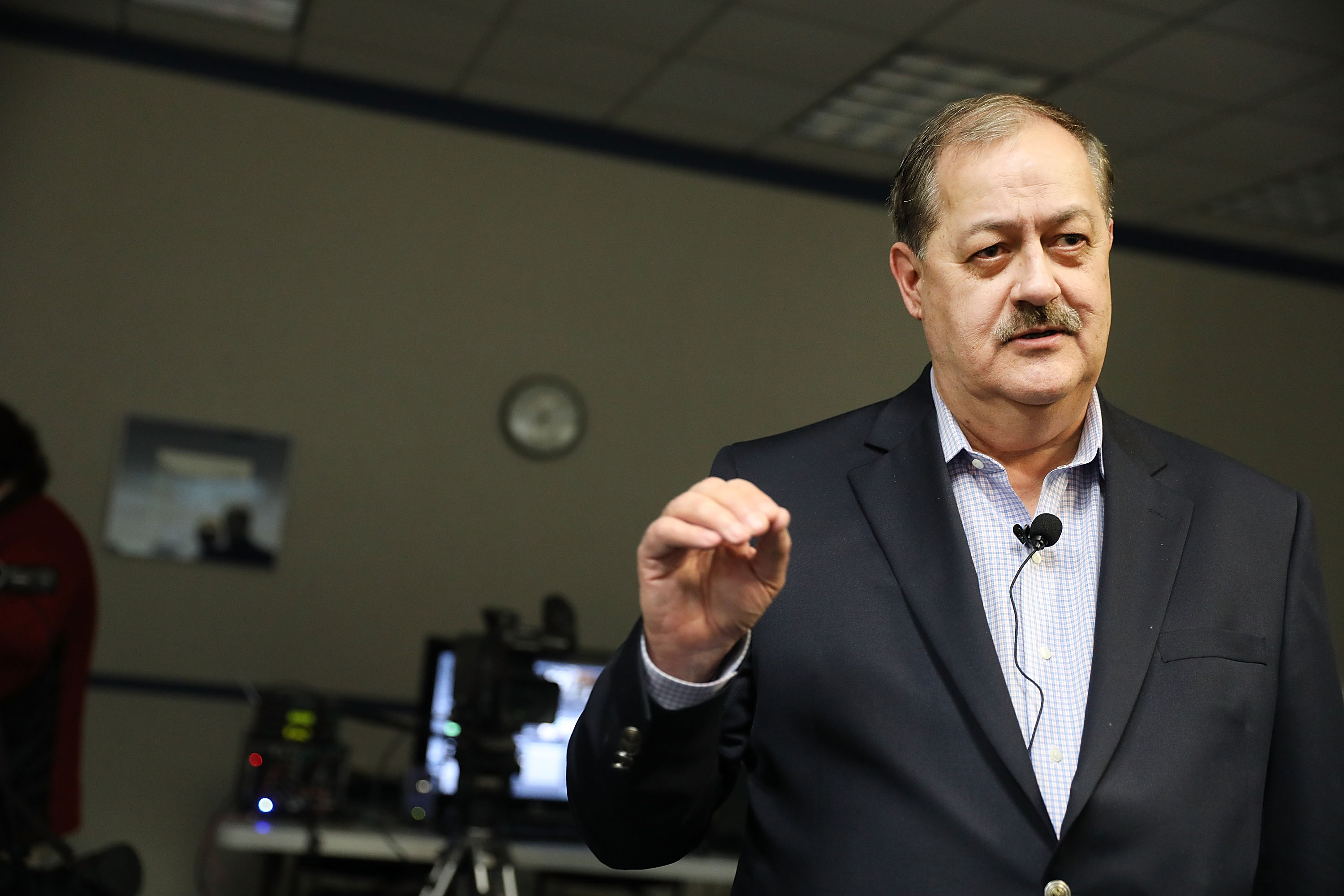 Don Blankenship, the coal executive and losing primary candidate for the GOP Senate nomination in West Virginia, was denied a third-party spot on the November ballot by state officials on Thursday.
Blankenship lost the May GOP primary to West Virginia Attorney General Patrick Morrisey, who is now facing off against incumbent Democratic Senator Joe Manchin.
Blankenship vowed reprisal against the state and national GOP for his primary loss, however, explicitly threatening to play the role of spoiler over the perception that he was treated unfairly by President Donald Trump.
In an effort to make good on that threat, Blankenship apparently obtained the signatures necessary to qualify for the ballot on a minor party's ballot line. On Monday, Blankenship's campaign announced it was filing those signatures and the nominating petition of the state Constitution Party with the state's electoral authority.
On Thursday morning, that petition was declined. West Virginia Secretary of State Mac Warner argued that allowing Blankenship to appear on the ballot would be a violation of the state's "sore loser" or "sour grapes" law–which is codified at W. Va. Code §§ 3-5-7(d)(6) and 3-5-23. This law essentially bars losing Democratic and Republican primary candidates from later running on a different party's ballot lines during the same general election.
Warner issued a brief statement regarding the decision. He said:
According to the plain language of the law, which controls my decision, a candidate who loses the Primary Election cannot use the nomination-certificate process to run another campaign in the General Election. Any other decision would be contrary to the law.
The denial was anticipated by Blankenship–who pre-likened the state's decision to what the "Nazi party would do." Blankenship's anticipatory press release also railed against the sore loser law as "a perfect example of political party behavior that violates an American's guaranteed right to equal opportunity. It is a clearly discriminatory law and exactly what George Washington warned of in his farewell address."
Blankenship elicited massive amounts of media attention during West Virginia's GOP Senate primary when he ran a series of low-budget campaign advertisements referring to Senate Majority Leader Mitch McConnell as "Cocaine Mitch." Blankenship's perplexing personal animus toward McConnell also explains his desire to potentially turn the West Virginia Senate race into a cakewalk for Manchin.
Blankenship is now expected to mount a legal challenge against the law itself. His campaign is adamant that the controversial coal executive will ultimately be placed on the November ballot.
[image via Spencer Platt/Getty Images]
Follow Colin Kalmbacher on Twitter: @colinkalmbacher
Have a tip we should know? [email protected]