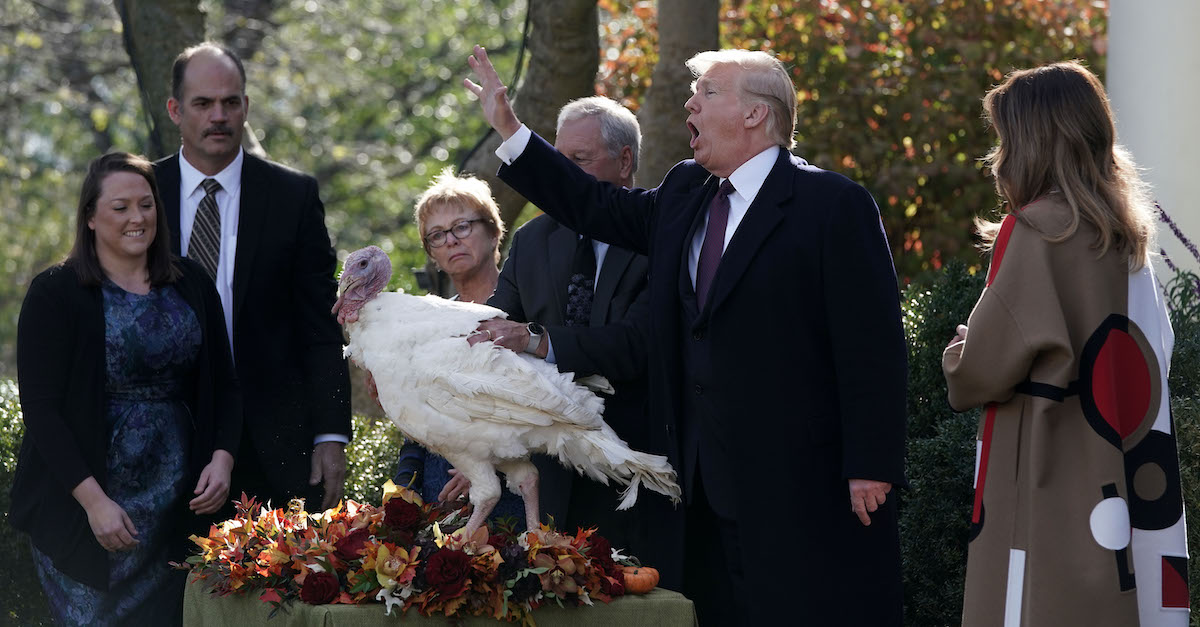 The American Bar Association (ABA) has decided to piggyback off of Chief Justice John Roberts' Wednesday rebuke of President Donald Trump with the release of a Thanksgiving meditation of sorts.
ABA President Robert Carlson, who recently ruffled some feathers by saying a vote to confirm Brett Kavanaugh to the Supreme Court should wait until after the FBI investigated allegations against him, released a statement Wednesday afternoon. Carlson's only mention of Trump's name came from a Roberts quote.
"The American Bar Association is committed to an independent, impartial judiciary that is free from political influence. An independent, impartial judiciary is critical to upholding our democracy and our system of government," Carlson said. "We agree with Supreme Court Chief Justice John Roberts' observation that we do not have 'Obama judges or Trump judges, Bush judges or Clinton judges,' and that an 'independent judiciary is something we should all be thankful for.'"
"Disagreeing with a court's decision is everyone's right, but when government officials question a court's motives, mock its legitimacy or threaten retaliation due to an unfavorable ruling, they intend to erode the court's standing and hinder the courts from performing their constitutional duties," he added. "As we celebrate this Thanksgiving holiday, let us all count our blessings as Americans – free speech; free press; an independent, impartial judiciary; and the ability of every person in our country to stand up and speak out in favor of the rule of law."
As Law&Crime reported earlier, Roberts took the rare step of criticizing a sitting president for something they said. He was not pleased that Trump labeled U.S. District Judge Jon Tigar an "Obama judge" after Tigar ruled against Trump's migrant asylum policy.
Tigar blocked the Trump administration from banning asylum seekers who didn't enter at an official port of entry.
"Whatever the scope of the President's authority, he may not rewrite the immigration laws to impose a condition that Congress has expressly forbidden," Tigar said. "[Congress] clearly commanded […] that any alien who arrives in the United States, irrespective of that alien's status, may apply for asylum — 'whether or not at a designated port of arrival.'"
Trump replied to that by saying "The 9th Circuit is something we have to take a look at because it is not fair." He also called Tigar an "Obama judge."
Roberts clearly saw the comment from the head of the executive branch as a threat to an independent judiciary; the ABA clearly thought the same.
[Image via Alex Wong/Getty Images]
Have a tip we should know? [email protected]