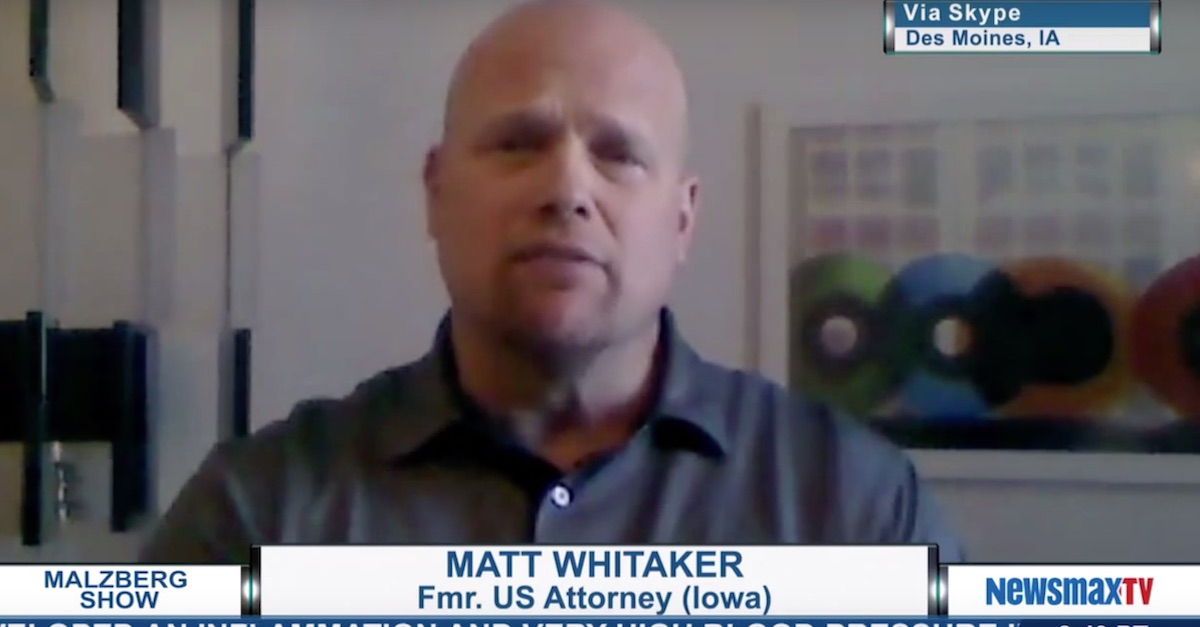 Acting Attorney General Matthew Whitaker is decidedly opposed to same-sex marriage.
During a failed Iowa Senate campaign in 2014, Whitaker was interviewed by the "Christian Conservative" website Caffeinated Thoughts on myriad issues near-and-dear to the conservative movement. Throughout the course of a lengthy Q&A, same-sex marriage naturally popped up on a couple of different occasions.
Interviewer Jacob Hall gave Whitaker the following wind-up, "A lot has changed under the current administration with regards to the definition of marriage. What's your position and what is your end game for the debate?" To which Whitaker replied:
I believe marriage is between one man and one woman. Throughout history it's traditionally been up to the churches and to God to define that. I don't have an omnibus solution. Certainly it's affecting all sorts of parts of our country. Here in the state of Iowa we can't even get our elected officials to do anything about it and that's really frustrating. It's affecting our military. There are chaplains in the military under a lot of pressure to go against their religious beliefs. But what can I do as one freshman senator in the U.S. Senate?
Recall, in 2014 same-sex marriage had not yet become the law of the land.
At the beginning of that year, the federal government–by way of Eric Holder's Department of Justice–made the minor move to recognize same-sex marriages which had been performed in Utah over the course of a few weeks. After that, various judicial decisions across the United States and in the federal court system all but systematically upended multiple voter-approved bans on same-sex marriage. The Supreme Court validated these decisions but refused to take up a direct challenge to any same-sex marriage bans.
Louisiana led the counter-revolution against equality under the law regarding marriage and the Sixth Circuit Court of Appeals followed suit. Simultaneously, more bans fell by the wayside as other state and federal courts weighed in on the matter. By the end of 2014, most Americans lived in states where same-sex marriage was legal.
Very little of this legal progress actually had anything to do with Barack Obama's presidency, though Democratic Party higher-ups were increasingly willing to endorse the idea–after same-sex marriage became a majority-approved polling position that same year. (The Obama White House took a bit longer.)
It was against this backdrop that Whitaker took his jabs at the 44th president.
"[W]hat can I do as one freshman senator in the U.S. Senate?" Whitaker told the conservative outlet. "Give me the bills and I'll vote for them, but the president has done significant damage all over the country. There will be an unbelievable, long-term negative impact he's leaving."
Though Whitaker signaled his willingness to tackle the progressive agenda at the federal level, he appeared to contradict himself at another point in the same interview when he asked what issues he considered non-negotiable. Candidate Whitaker explained:
I don't believe I'd negotiate on marriage, although I believe that's primarily a state issue.
Whitaker went on to lose the Republican Party primary to eventual Iowa Senator Jodi Ernst.
[image via YouTube screengrab]
Follow Colin Kalmbacher on Twitter: @colinkalmbacher
Have a tip we should know? [email protected]