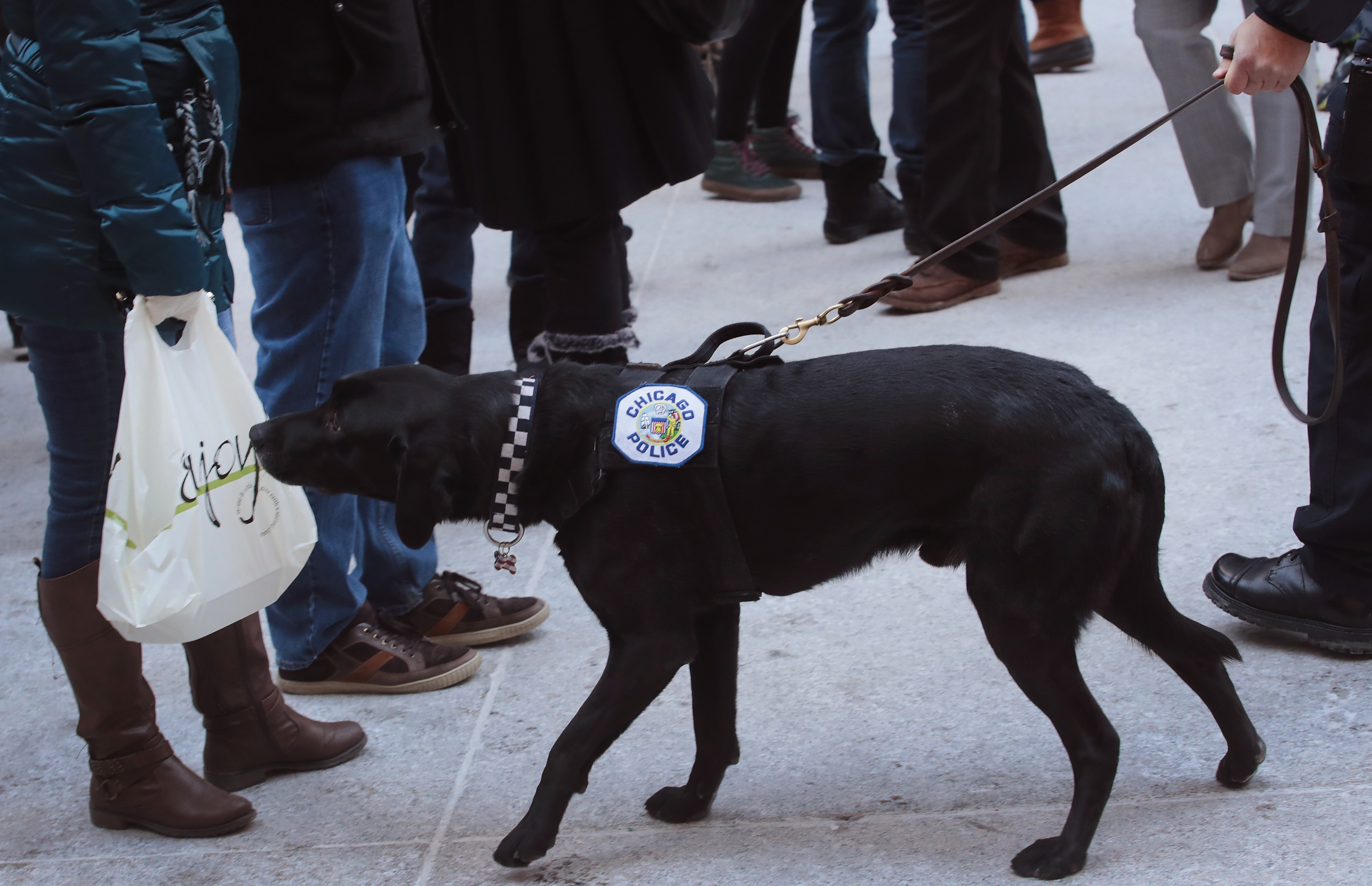 Police in Illinois are waging an odd campaign against plans to legalize marijuana there. If lawmakers go ahead with such proposals, police warn, departments will be forced to euthanize their K-9 units.
Chad Larner is the training director of the K-9 Training Academy in Macon County, Illinois. He pushed back against the idea that the Prairie State's 275 or so police dogs could be retrained in the event of marijuana legalization–discounting this possibility because it could amount to "extreme abuse" of the animals and because the dogs are trained not to be social.
The Decatur Police detective warned that local police departments will probably just kill their dogs instead. In comments to the Bloomington-Normal daily newspaper The Pantagraph, Larner said:
We do not want to subject innocent citizens or motorists who travel through Illinois…to unlawful search and seizures. That is our main priority.
But why kill the dogs? In additional comments to The Pantagraph, Larner said many police dogs aren't trained to be social due to the nature of their work, so those dogs would have to be put down.
Macon County Sheriff Howard Buffett also joined in on the ominous warnings, insisting that Illinois' police dogs would have to be replaced. But Buffett appeared to stop short of endorsing the idea of killing police dogs that could no longer be used to sniff out marijuana. He said, "The biggest thing for law enforcement is, you're going to have to replace all of your dogs. So to me, it's a giant step forward for drug dealers, and it's a giant step backwards for law enforcements and the residents of the community."
Law&Crime reached out to Larner and Buffett for clarification on their statements, but no response was forthcoming at the time of publication.
Pro-marijuana activists in the Land of Lincoln aren't having any of this dead dog talk. Dan Linn, executive director of Illinois' state chapter of the National Organization for the Reform of Marijuana Laws (NORML), said, "The idea that legalizing for adults to have an ounce on them will equal…all these dogs being euthanized, that seems kind of ridiculous and hyperbolic."
Assistant Police Chief Steve Petrilli of the Normal Police Department — not to be confused with NORML, this is actually what the department is called — also dismissed the idea of euthanizing former K-9 cops. While Petrilli warned about the "financial implications" of retiring pre-trained police dogs he also said retired K-9s typically continue to live with their handlers.
Apparently unaware of the broader context in which his remarks were originally reported, Petrilli provided a statement to Law&Crime on the subject, saying, "Obviously, I would not support any attempt to euthanize a K-9."
[image via Scott Olson/Getty Images]
Follow Colin Kalmbacher on Twitter: @colinkalmbacher
Have a tip we should know? [email protected]