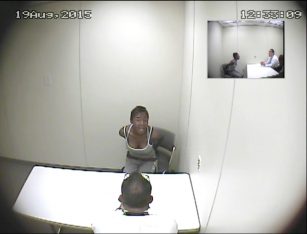 A teenage suspect accused of involvement in a brutal machete murder in Florida lashed out during her interrogation, screaming hysterically while trying to convince the police she was innocent of any crime.
"I did not kill that boy, I promise!" Desiray Strickland, the 19-year-old suspect, screamed at her interrogator.
The Miami Herald newspaper obtained video of the interrogation and posted it online on Wednesday morning.  According to the newspaper, Strickland is charged in connection with the murder of Jose Amaya Guardado, a 17-year-old who was found chopped up and buried in a shallow grave in Homestead, FL back in 2015.  Strickland's boyfriend is the accused ringleader in the killing.
WATCH:
Have a tip we should know? [email protected]