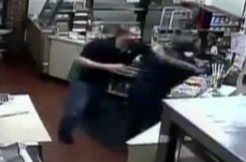 This is what happens when you rob the wrong gas station. Surveillance footage captured a fight between a gunman and the baddest clerk ever.
A gunman walked into a store Jan. 26, according to Brevard County police in Florida. As one does, he allegedly demanded money, and the clerk seemed to concede, pulling out the cash register.
Plot twist: The clerk's reportedly a military vet who has done several tours in Iraq. A fight ensued. In the video, the clerk grappled with the alleged robber, landing flush punches. The gunman was disarmed, but escaped. Barely. I won't waste your time detailing the whole thing because you can watch it here:
Look at the clerk's badass walk toward the end!
Police say the weapon was actually an airsoft gun, and that the man dove into the passenger side of a maroon, older model four-door car with a white top. The gunman has been described as a white man, 5'8" tall, between 19 and 22-years old.
[h/t Fox 13]
–
>> Follow Alberto Luperon on Twitter (@Alberto Luperon)
Have a tip we should know? [email protected]