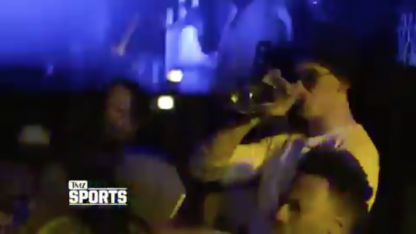 Hours after Johnny Manziel's domestic violence case was sent to a grand jury, the controversial athlete and former 1st round draft pick was allegedly spotted chugging champagne straight out of the bottle at the Story nightclub in Miami, according to video obtained by TMZ Sports.
The Cleveland Browns quarterback is facing potential domestic violence related charges after his ex-girlfriend, Colleen Crowley, claims that he not only threatened to kill her, but hit her with so much force that she can no longer hear out of her left ear. The Dallas Police Department has not charged Manziel, but a grand jury will decide whether there is enough evidence to indict him on a misdemeanor domestic violence charge.
Chugging champagne out of the bottle just hours after Dallas officials announced grim legal news is troubling, but not out of character for the soon-to-be-unemployed former Heisman Trophy winner. Manziel's partying has been well-documented by the media. In fact, the 23-year-old spent two months in rehab last season, apparently to no avail.
The Cleveland Browns are expected to release the former Texas A&M Aggie on March 9, when the new NFL year begins. Browns Coach Hue Jackson said the organization plans to "take a stand" against Manziel's antics, which resulted in Manziel being demoted to third-string last season. "That behavior will not be tolerated as we move forward," Jackson added.
[h/t Chron]
[Screengrab via Chron]
Have a tip we should know? [email protected]