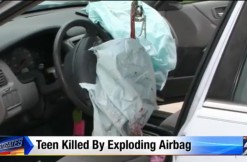 A teen girl was recently killed by an airbag near Houston, and one lawyer says the automaker is still liable for her death despite their recall efforts.
17-year-old Huma Hanif died in a March 31 car accident while driving her 2002 Honda Civic. That's when shrapnel from her Takata airbag punctured her neck.
"It was a minor accident, fender-bender," barbershop owner Rudy Torres told KTRK. He said he saw the accident, and the aftermath when Hanif walked out of her car, then collapsed. "She should have walked away from the accident. She should have walked away from it. She had a deep laceration on the side of her throat. It looked like debris from the airbag."
Fort Bend County Sherrif's Deputy Danny Beckworth confirmed to The Dallas Morning News that it was a "moderate" crash.
Investigators later confirmed that the airbag caused her death. Reuters says it was the 10th death linked to a Takata airbag nationwide. On top of that, over 100 injuries have been tied to the defective product. Takata and 14 automakers recalled it five-years-ago, urging the owners of 24 million U.S. vehicles to get their airbags fixed at authorized dealers.
In a statement obtained by Click 2 Houston, Honda claimed they had sent Hanif a recall notice as a registered owner of the Civic. "Our records indicate that the recall repair was never completed," they said.
No legal action has been announced, but one lawyer who practices airbag litigation told Law Newz that Honda is still open to a lawsuit.
"Even though they sent out recall letters, they're still the ones who put the airbags out there," attorney Joseph Craven, of the Carlson Law Firm in Houston, said. Nonetheless, he couldn't comment much on a hypothetical case for Hanif since no suit has been filed.
Takata currently faces multidistrict litigation in Florida.
[h/t KTRK]
[screengrab via Click 2 Houston]
–
Follow Alberto Luperon on Twitter (@Alberto Luperon)
Have a tip we should know? [email protected]