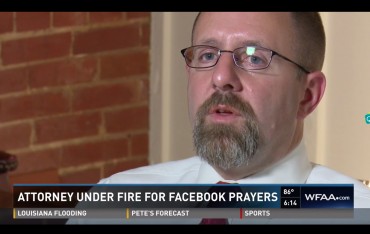 A Texas defense attorney is involved in a rather bizarre dispute with the Ellis County District Attorney over Facebook posts.  Defense lawyer Mark Griffith says he is just praying for the Lord's help while he is representing a client doing a trial, but D.A. Patrick Wilson claims Griffith is essentially violating legal ethics rules under the guise of prayer.
1080 KRLD reports the matter has come to a head recently after D.A.'s office has twice "convinced judges to stop Griffith from posting running commentary of a trial in his prayers on Facebook."
"No lawyer is allowed to make running commentary in the public forum regarding witnesses, the character of witnesses, the opinion of the guilt or innocence of defendants or suspects in criminal cases," D.A. Wilson told KRLD. "This has everything to do with maintaining the integrity of our judicial system. And if he wants to fight that fight [over religion] with the state bar of Texas, good luck."
Here are some of the Facebook posts:
In a statement to WFAA, Wilson added, the motions are "absolutely not about the right to prayer."
WATCH:
Griffith, on the other hand, strongly disagrees, telling WFAA he believes this is all about religion and he is not going down without a fight.
"If you want to pick a fight with me about my religion you've probably picked the wrong person," Griffith said.
He echoed similar sentiments in another interview with CBS DFW.
"What he attacked was my firm's personal Facebook page and prayers mentioned by me prior to trial and during trial. And there's not going to be a motion, and there's not going to be any order from any court, that's going to keep me from praying and asking for God's wisdom as I'm fighting for his children."
Again, Wilson says it is not about religion or freedom of speech.  His major concern is that potential jurors might ignore the court's admonishment to not view any accounts of the trial in the news or on social media.  In doing so, Wilson worries they might come across Griffith's Facebook page and see a play by play of the trial.
"Unless someone knows how to completely lock down and prohibit jurors from even looking at social media during the course of a trial, this is the only way to appropriately control a trial. And prayer has nothing to do with it," Wilson said.
So far, the judge's ruling does not totally prevent Griffith from posting prayers.  However, it does limit him from posting any information relevant to the case online during the trial.
Wilson says he plans to appeal the ruling.
Have a tip we should know? [email protected]