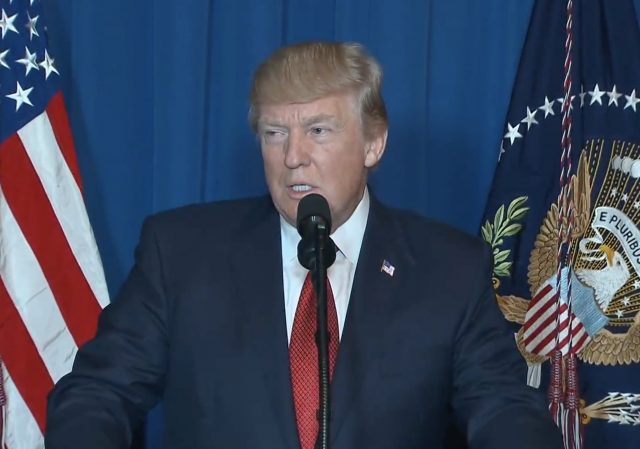 The reaction that President Donald Trump is getting from Democrats for firing FBI Director James Comey during a federal investigation of Russian ties to the Trump campaign is hardly surprising. The consequences, however, could be severe, according to two Democratic members of Congress. Reps. Ruben Gallego (D-AZ) and Mark Pocan (D-WI).
In a conference call with the Progressive Change Campaign Committee, Gallego and Pocan said that Trump's decision to fire Comey at this time could be enough to bring Democrats together to move for impeachment, The Hill reported.
"We are certainly moving down that path," Gallego said. "There is a lot of runway until we get there, but the president is not helping himself by firing the person investigating him. … We don't have the numbers to do something right now, but when it comes to a point when we feel there is no other recourse, you'd have — I think — we'd have the full support of the Democratic caucus." This indicates that any efforts to impeach Trump would likely wait until after midterm elections, when Democrats could potentially retake control of the House, the body that votes whether to impeach.
Also, by that time, more information regarding Comey's dismissal might be uncovered. Should Democrats learn that there was foul play, there could be grounds for impeachment charges for obstruction of justice. Rep. Pocan said that impeachment would be an option "if there was obstruction of justice by firing FBI director. … We're seeing Democrats and Republicans concerned with timing of this decision. … We would first need a majority in Congress or some Republican votes … but we need to keep every tool available to make sure president follows the law."
Senator Elizabeth Warren said on Wednesday that she indeed believes that Trump fired Comey in order to curtail any investigation into his campaign's ties to Russia. Should members of the House agree with that assessment, and if they gather evidence to back that up (and that's a huge if), they could potentially move for impeachment.
Have a tip we should know? [email protected]