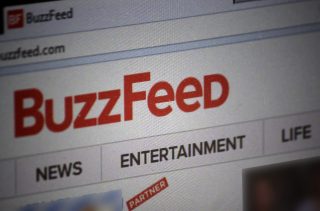 Buzzfeed has come under intense scrutiny this week for publishing an unverified dossier from a former British spy, which claimed that Russia had information on Trump and was essentially blackmailing him.  As part of their introduction to the documents, Buzzfeed published a disclaimer of sorts.
"The dossier, which is a collection of memos written over a period of months, includes specific, unverified, and potentially unverifiable allegations of contact between Trump aides and Russian operatives, and graphic claims of sexual acts documented by the Russians," the Buzzfeed disclaimer reads. In addition, the editors acknowledge that the report contains some obvious errors like misspellings. Trump has repeatedly called the allegations "fake news." On Friday morning, Trump even floated the idea that the former British spy, who has been identified as Christopher Steele, could be in hiding out of fear he will be sued.  Others have even urged Trump to go after Buzzfeed in a defamation suit. So, as a legal site, we had to ask, could Buzzfeed be held liable for publishing this unverified information?
Well, that, of course, hinges on one crucial question. Is the information true? If the information is true (doubtful that all of it is), there is obviously no defamation case to be had. However, there have already been quite a few articles that have come out that raise serious questions about much of the dossier's veracity. Therefore, the question of a defamation suit is a legitimate one. We reached out to several top First Amendment attorneys, and while they say it would be a tough case for Trump to win, there are some unresolved issues that he could use to press forward. In other words, it wouldn't be an automatic loser case for the Donald.
"Buzzfeed could find itself in a situation in which having acknowledged that it was printing unverified defamatory material of which it had serious doubts; as to its truth, it might not have the benefit of the constitutional protections of the actual malice rule," First Amendment attorney Floyd Abrams explained to LawNewz.com. The actual malice rule is a condition that is required to prove a defamation case regarding a public official that says the defendant must have knowledge that the information was false or that it was published with reckless disregard of whether it was false or not.
"What Mr. Trump would have to weigh, as any other libel plaintiff  is whether he really wants to endure probing discovery and possibly a jury trial on the issue of substantial truth of the allegations," Abrams continued.
Susan Seager, a First Amendment attorney, believes that Buzzfeed would have a number of good defenses if Trump did sue:
 I think that this is paradigmatic case where a court should held that Buzzfeed is protected by the neutral report privilege because this document was elevated to a very high status by the U.S. intelligence officials when the officials discussed it with President Barrack Obama and President-elect Donald Trump. I think the source — the British intelligence officer is a reliable source and the matter is a matter of public concern.

There could also be an actual malice defense — that Trump is a public figure, who must prove actual malice. Buzzfeed could allege that it believed that this document was circulated within the highest level of the U.S. government and it believed it had an accurate version of the document. But I don't think that Buzfeed could argue that it believed that the document itself was truthful – it said itself it did not know if it was truthful or not.
Eugene Volokh, who publishes The Volokh Conspiracy for The Washington Post, also had very interesting analysis on the issue. He says the legal result for Buzzfeed would all hinge on how 1) the courts interpret the neutral reportage privilege and 2) whether a court would broadly interpret a federal law that protects online publishers from being held liable for user comments at the end of articles. The neutral report privilege has been adopted by some courts across the country and it basically protects the media when unproven allegations are made by a reputable person or are a matter of public concern. The British spy has been thought to be of a reputable reputation, and this issue was obviously of public concern since it was even brought to the attention of both President Obama and Trump during a reported intelligence briefing.
As you can see, this is a very complicated issue, with no clear legal answer. Therefore, if Trump (or maybe his attorney Michael Cohen, who was also named) were to sue, they might not lose or at least not right away.  We'll be watching to see what happens.
[image via shutter stock]
Have a tip we should know? [email protected]
Rachel Stockman - President / On Air Host