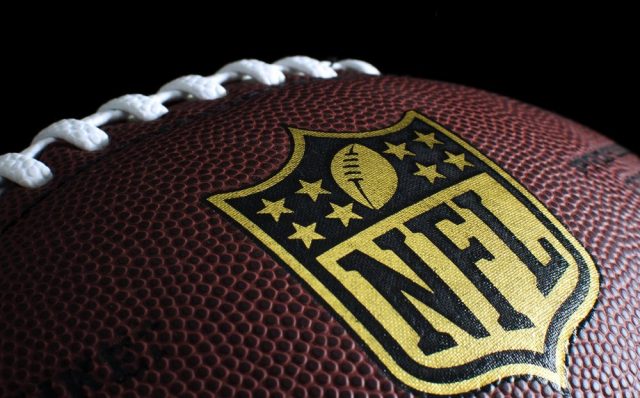 Bailey Davis and Kristan Ann Ware, two former NFL cheerleaders, have filed complaints and arbitration demands against the NFL and their respective teams. Their gripe? Gender discrimination. It may be difficult to muster immediate sympathy for cheerleaders who appear to capitalize on a hyper-sexualized environment, and later, sue for gender discrimination. But the details here coalesce to tell the story of an antiquated organization, a culture of outright misogyny, and young women who have taken on a major challenge without even the hope of personal benefit.
Before you start arguing that cheerleaders can't complain about being objectified when they're busy shaking their money-makers, get this. Bailey Davis wasn't pushed to be more sexy – she was disciplined for showing too much skin. She'd posted "inappropriate" pictures to her private Instagram account, which showed her in a one-piece body suit, and making what her supervisor deemed, according to the complaint, "a dirty face." The Saintsations had a rule to protect their [apparently, wholesome] image; cheerleaders were prohibited from "appearing nude, semi-nude or in lingerie." Excuse me while I roll my eyes.
🚨UPDATE🚨 Saintsations Auditions will now be held on Friday, April 20! The first prep class is scheduled for March 25! Save the dates and stay tuned for more information about registration. pic.twitter.com/mZo5ykdBx0

— Saintsations (@Saintsations) March 7, 2018
Kristan Ann Ware had a somewhat different, but even weirder problem. She'd been a Dolphins cheerleader who allegedly faced retaliation after making social media posts relating to her religion and virginity.
If you're thinking, "the NFL is a private employer and can prohibit whatever it likes," you're only partly correct. Private employers are bound by state and federal law. They can prohibit what they like, but those rules cannot discriminate on the basis of gender, and cannot unduly infringe on an individual's right to practice his or her religion. No employment contract can waive those rights, regardless of how much money (or in this case, how little) an employee gets paid.
If what Bailey and Ware have alleged is true, the NFL is playing the part of the ultimate pimp; it sends out its half-dressed women while paying them $10 an hour, and then slut-shames them when they seek control over their own bodies during their personal time. It harshly restricts all aspects of these women's lives — public, private, and social media, while making no parallel demands on its male employees.  The message is as clear as it is vile: for the great privilege of being part of the NFL machine, these young women must surrender their bodies.
The gross disparity between the League's alleged treatment of men and women is nothing short of [incredibly unsurprising] misogyny. The non-fraternization policy is perhaps the most egregious example of gender inequality; the NFL imposes a virtual no-contact order on players and cheerleaders, but only extends the obligation to the cheerleaders. These women are expected to leave a party, bar, or restaurant if a player enters – even if there is no contact between the two, and even when the cheerleader doesn't recognize the player; the cheerleaders are even expected to avert their eyes when players pass.  Eeuw. The guys, of course, are free to do whatever they like. It's as if the NFL has declared a league-wide policy of victim-blaming, saying, "since we know trouble is bound to result when these men and women hang out together, let's just decide up front that any resulting problems are the girls' faults." Not a good look for an organization whose brand has become synonymous with violence against women.
Although cheerleaders and players certainly hold different roles (and receive shockingly different paychecks) within the NFL, they cross over on the issue of brand ambassadorship; both are part of the show, and both represent the organizations' brands. That the NFL and its teams have chosen to protect their brands by restricting only women is neither pragmatically reasonable nor legally defensible.
I interviewed Sara Blackwell, counsel for the ex-cheerleaders, and she remarked that the league's discrimination was exemplified in its diametrically disparate tolerance for employees' religious practices:
"A player can't kneel and give glory to God on the field, while the League simultaneously disciplines a cheerleader for saying that she's a virgin because of her religion. Both are representatives of and brand ambassadors for their team, and in that sense, they are similarly-situated. They should not be treated differently."
Of course, this set of facts brings up not only gender-based discrimination, but religious accommodation claims as well, which Ware is also pursuing.
Viewed through the lens of this gender-based disparity, the complainant cheerleaders look less like disgruntled employees and more like principled advocates for a long-overdue change. Throw in the fact that even non-player male NFL entertainers – like those who work as mascots—are also exempt from the restrictive rules binding cheerleaders, and it's almost impossible to imagine these women losing.
Davis and Ware have filed complaints (with the EEOC, and the Florida Commission of Human Relations, respectively) against the NFL and their teams (the actions are proceeding separately for a number of procedural reasons), and their lawyer has made a bold move. Blackwell has proposed a full settlement of both clients' claims in exchange for nothing more than $1 in damages and a meeting with NFL Commissioner Roger Goodell in which the parties can discuss the implementation of fair and equitable rules.
That's not one you hear every day – a lawyer with two potentially valuable claims against an absurdly deep-pocketed defendant, who is willing to forego money damages in exchange for a meeting that might prove completely fruitless. Blackwell talked with me about her motivation for this risky legal maneuver:
"I am an advocate. When I take on clients, they have to also have advocacy as an ideal. Here, the main goal is to get fair and reasonable rules that are free of discrimination and harassment. I hope that this settlement offer will indicate to [the NFL] that we're all on the same side.

It's very possible that we could go to this meeting, and they'd sit there and laugh at us, and we would have waived damages and gotten nothing in return. But if they're true to what they believe and we're true to what we believe, and we're all on the same side, then I think this is the way to get what we actually are striving to achieve."
Speaking of the NFL's goals, here's what NFL spokesman Brian McCarthy said about these cases:
"The NFL and all NFL member clubs support fair employment practices. Everyone who works in the NFL, including cheerleaders, has the right to work in a positive and respectful environment that is free from any and all forms of harassment and discrimination and fully complies with state and federal laws. Our office will work with our clubs in sharing best practices and employment-related processes that will support club cheerleading squads within an appropriate and supportive workplace."
Great, so this should be a no-brainer.
Blackwell pointed out that her clients have taken on this fight without even the hope to be made personally whole:
"My clients are no longer cheerleaders, so they don't even benefit from this. It's the cheerleaders that are there and the ones that are coming up in the future who will benefit. Feminism is about more freedom, not less freedom. That's what we're fighting for."
In Blackwell's settlement proposal to the NFL, she threw down the gauntlet:
"If the NFL is serious about this statement, then this should be an acceptable settlement demand. It is one that is virtually free for the NFL and for the NFL teams and it will ensure the positive and respectful environment the NFL states is the right of the NFL cheerleaders.

This settlement offer, if no response is provided by NFL, expires at the end of the business day on May 4, 2018."
Regardless of either the law or the facts here, any defense team would be thrilled when a potential litigant agrees to drop a case in exchange for a meeting. As Blackwell put it, "if the teams are already doing what we propose, then adding these rules and regulations does nothing to them. If the teams are not doing this, then it costs them nothing to abide by these rules and put them into place." Blackwell's proposal, which neither asks for an admission of fault, nor involves any monetary exchange, is a gift to the NFL; it allows the organization to do right by its employees and reap the PR benefits of promising to treat women like actual people.
Let's see if Goodell can manage not to fumble this one.
This is an opinion piece. The views expressed in this article are those of just the author.
Elura Nanos - Columnist & Trial Analyst, Law & Crime; CEO Lawyer Up