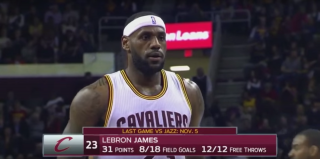 Sports fans get a real thrill of watching their favorite players and teams take the field or court to play an exhilarating game. But sports fans get an equal thrill when video games like Madden NFL or NBA 2K are released. These video games provide fans an interactive opportunity to be a part of the game. Plus, these games have evolved so much over the year that the graphics are beyond realistic. Yet, a recent lawsuit filed in the Southern District of New York could have one major video game company in hot water for copyright infringement because of these realistic graphics.
In a federal complaint filed on Monday, Solid Oak Sketches, the named plaintiff in this suit, alleged that Take Two Interactive and 2K Games, the video game creators of the critically acclaimed NBA 2K video games, infringed on the use of select tattoo designs that etched are on notable basketball players such as LeBron James, Kobe Bryant, and Eric Bledsoe. Some of the tattoo designs that the plaintiff alleges were infringed include, but are not limited to, the use of LeBron's "303" tattoo on his right forearm and Kobe Bryant's crown with butterflies tattoo on his right forearm. Exhibits contained in the plaintiff's complaint not only shows that multiple tattoo designs are protected via federal US copyright registration, but there are license agreements between the Solid Oak and the tattoo artists of these tattoo designs that assert copyright ownership as well. According to the complaint, Solid Oak Sketches made attempts to contact Take-Two and 2K Games about the infringements but negotiations ultimately terminated, leading to this complaint being filed. LawNewz.com reached out to the plaintiff's attorney Darren Heitner of Heitner Legal for comments on the case but declined.
Copyright infringement is a major part of intellectual property law that bears some explanation. First, what is a copyright? A copyright, as defined under 17 USC § 102 (also known as the Copyright Act), is an original work of authorship such as a painting, a photograph, a movie, or musical work. Originality, as defined in the iconic Supreme Court decision of Feist v. Rural Telephone Service, is work that is created by its author with a minimal amount of creativity. The owner of a copyright is usually the creator or author of the work, unless there is transfer of ownership from one person to another. So for example, if you take a selfie of yourself, you own the copyright to that photo. If you write a poem for your literature class, you own the copyright to that poem. Copyrights are published the minute a work is created, but copyrights can be registered through the US Copyright Office just as added measure of protection for the author of the work.
So with this basic understanding of copyright law in place, how can an author of a copyright assert an infringement claim against defendant? 17 USC § 106 of the Copyright Act affords the author exclusive rights to his work; as a matter of law, no one can use a copyright owner's work without the owner's consent. If a copyright owner believes that an infringement occurred, according to Feist, the burden falls on the plaintiff to prove actual ownership of the copyright and the copying of constituent elements of the work that are original.
In this case, we can definitely establish that these tattoo designs are protected under copyright law. They are indeed original works of art, they are creative and unique, they are pictorial in nature, and Solid Oak is the legal owner of these copyrighted tattoo designs. This information is made available to us thanks to the exhibits in the complaint, which contain license agreements with the tattoo artists as well as the registered copyrights in the US Copyright Office. As for the actual copying, this would require looking at the actual tattoo design and comparing it to the way that Take-Two and 2K designed the tattoos in the game. If Take-Two and 2K's intent were to create a realistic gaming experience for the die-hard basketball fan, you bet they would make every attempt to replicate pixel-by-pixel the look of a player, from the way the players wear their uniforms and shoot a ball to even the tattoos that are etched on their bodies. The fact that the defendants are making tons of money from the sale of the NBA 2k16 video game makes this case worse, as this is money that the tattoo artists are potentially losing out on. Based on what available evidence we have, this is a clear-cut win for Solid Oak.
This is not the first time a tattoo artist and a video game company have gone head-to-head over the use of tattoos in sports video games. EA Sports worked out a deal with San Francisco 49ers QB Colin Kaepernick, the NFLPA, and Kaepernick's tattoo artists to allow EA Sports to reproduce Kaepernick's tattoos in the production of Madden 15. This situation never made its way to a courtroom, but it's worth noting that EA Sports never used Kaepernick's actual tattoos prior to Madden 15 to avoid the allegation of copyright infringement.
If this case ends up running its full course in trial, this decision could potentially be a pivotal case in the intellectual property world. However, I have an INK-ling that this case will end in a settlement.
Tony Iliakostas is a sports law contributor for LawNewz. He is the founder and host of his own sports law video blog called "Law and Batting Order." You can follow Law and Batting Order on Facebook and Twitter, and you can follow Tony on Twitter.
[Screengrab via NBA TV]
Have a tip we should know? [email protected]