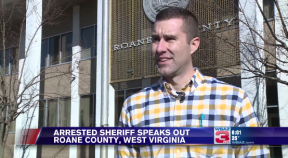 SPENCER, W.Va. (AP) — A prosecutor says a newly elected West Virginia sheriff who admitted he was a meth addict and was charged with stealing the drug from a police locker has pleaded guilty to a felony and resigned from office.
Bo Williams entered the plea to a charge of entering without breaking Wednesday in Roane County Circuit Court.
County Prosecutor Josh Downey says Williams was accused of taking methamphetamine from the storage area when he was a Spencer police officer last fall. He resigned in December, a month after being elected sheriff. He took office this month.
According to a criminal complaint, meth was found in Williams' desk and police vehicle. Downey said Williams told him and two others in November that he had been addicted to meth for more than a year.
[image via screengrab/WSAZ3]
Have a tip we should know? [email protected]