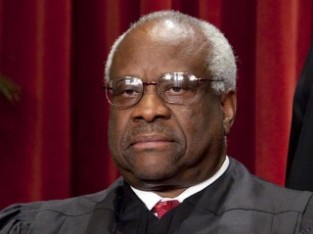 Clarence Thomas is only the second African-American justice to ever serve on the Supreme Court.  Despite this accomplishment, however, he is barely mentioned at the newly opened Smithsonian National Museum of African-American History and Culture.
According to new reports, Thomas is only mentioned in the museum as a footnote in exhibits featuring the woman who accused him of sexual assault, Anita Hill.
One exhibit features a picture of Hill along with the caption, "Anita Hill accused a nominee to the U.S. Supreme Court, Clarence Thomas, of sexual harassment. Her testimony before the Senate Judiciary Committee provoked serious debates on sexual harassment, race loyalty, and gender roles."
Another exhibit, also featuring a picture Hill, includes the caption, "In 1991, Anita Hill charged Supreme Court nominee Clarence Thomas with sexual harassment.  This event transformed public awareness and legal treatment of sexual harassment. Outraged by Hill's treatment by the all-male Senate committee, women's groups organized campaigns to elect more women to public office."
Hill's allegations have never been proven and Thomas has always denied the allegations. During his confirmation hearings he memorably told Senators, "This is a circus. It's a national disgrace And from my standpoint, as a black American, it is a high-tech lynching for uppity blacks who in any way deign to think for themselves … and it is a message that unless you cowtow to an old order, this is what will happen to you."
Yet, there is no mention of this side of the story at the museum  — or any mention of Thomas' other career achievements in the area of civil rights — and the oversight is concerning to some.
"Justice Thomas is the longest-serving black justice in our history, he's amassed over 500 opinions," lawyer Mark Paoletta recently told Fox News.  "And yet you would learn nothing of that in this museum, and that's a shame."
He added, "Clarence Thomas has his own views — that's his sin. He believes in individual rights, not group rights. That's led him to oppose racial preferences, and for that he's banished" by the museum.
A spokesman for the museum reportedly refused to address specific questions about Thomas' absence.
Have a tip we should know? [email protected]