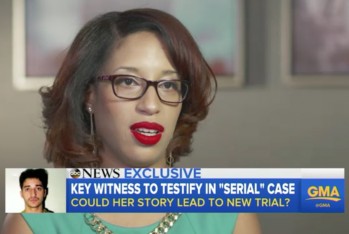 Two former high school classmates of Adnan Syed, the focus of the hit podcast Serial, are calling into question the credibility of a key alibi witness in the case, according prosecutors in a new court filings.
The Baltimore Sun reports two former Woodlawn High School students recently provided sworn statements to the Maryland Attorney General's Office that reportedly accuse key alibi witness Asia McClain of stating she would "make up a lie" to help Syed's case. Additionally, the statements are also said to detail a 1999 incident at the high school in which the two classmates claim McClain said she wanted to help Syed because she believed in his innocence.
According to the Sun, the two former students, who are sisters, first reached out to McClain and questioned her claims in a series of Facebook posts.  McClain was a key figure in both the Serial podcast and at Syed's post conviction hearing earlier this year.  McCain claimed that she saw Syed at the Woodlawn library during the timeframe in which prosecutors alleged he killed his former girlfriend, Hae Min Lee.
Syed was convicted of Lee's murder in 2000, but a judge threw out the conviction in June.  Although he did not base his decision on McClain's alibi testimony, it is believe her statements could come into play at a future proceeding.
This reportedly led the two classmates to finally speak out after more than a decade.  One week after the ruling overturning the conviction, the state claims to have received an unsolicited email from the sisters that says, in part:
"Both my sister and I (more so my sister) argued with Asia about how serious this situation was. She just said that it wouldn't hurt anything — that if he was truly guilty, then he would be convicted. I'm not sure what can come of this information but I felt I had to let someone know."
The newspaper also reports a supplemental brief filed as part of the state's appeal includes Facebook messages from the sisters to McClain, stating, "I think it's sad he may actually be set free because of you and this fabricated story."
"The State submits that supplementing the record with affidavits that directly undermine McClain's truthfulness would reinforce the grounds for denying Syed's petition and would provide the post-conviction court an opportunity, with a more complete record, to resolve the McClain-alibi contention as a matter of law," Deputy Attorney General Thiru Vignarajah wrote in a supplemental brief, according to the newspaper, arguing the new material should be included in the record on appeal.
Attorney Gary Proctor, who represents McClaim, was asked about the sisters' statements on Monday.
"Given that the case is now before an appellate court, we question the timing of these bizarre, and wholly factually untrue, allegations," Proctor reportedly told the newspaper.
Earlier this month, McClaim reportedly told the newspaper, "I will say that these allegations are false, and that I can prove it."
Have a tip we should know? [email protected]