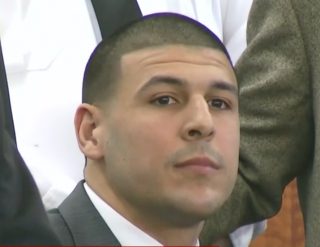 The fate of former New England Patriots star Aaron Hernandez is in the hands of the jury.
Do you think he is guilty or not guilty?


Hernandez is charged with two counts of first-degree murder, three counts of armed assault with intent to murder, one count of assault and battery by means of a dangerous weapon, one count of unlawful possession of a firearm, and one count of intimidation of a witness.
Prosecutors allege that Hernandez pulled the trigger on two men in a car after they spilled a drink on him and laughed at him in a Boston nightclub.  They claim Alexander "Sherrod" Bradley was with him when he fired the shots.  Bradley testified, but the defense argued that Bradley really killed the men himself over a drug deal gone bad.  Hernandez is accused of later shooting Bradley in the face in Florida.  Bradley initially refused to cooperate with a police investigation into who shot him, but later sued Hernandez civilly, outing him as the alleged shooter.  Prosecutors allege Hernandez shot Bradley in an attempt to keep him quiet over the double murder.
Have a tip we should know? [email protected]
Aaron Keller - On Air Host