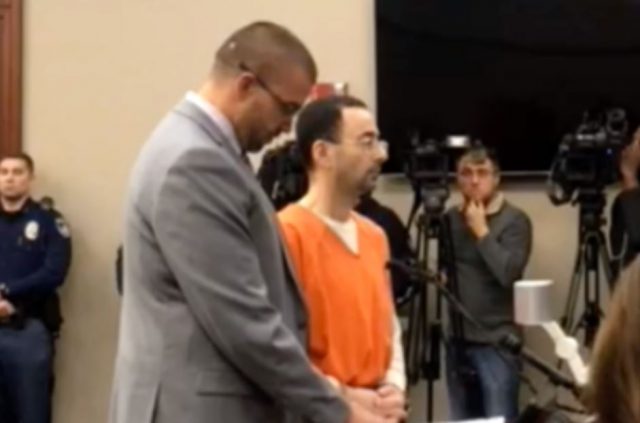 GRAND RAPIDS, Mich. (AP) — A Michigan sports doctor is getting the first of three prison sentences that will likely keep him locked up for decades for assaulting female gymnasts and possessing child pornography.
Federal prosecutors are seeking a 60-year sentence Thursday for Larry Nassar, who had more than 37,000 images of child porn on electronic devices. Separately, he'll be sentenced in state court in January for molesting gymnasts with his hands.
Nassar, 54, worked at Michigan State University and at USA Gymnastics, the Indianapolis-based group that trains Olympians.
"Underneath this veneer lurked a predator," Assistant U.S. Attorney Sean Lewis said.
Olympians Aly Raisman, McKayla Maroney and Gabby Douglas say they were victims when Nassar worked for USA Gymnastics and accompanied them at workouts or international events.
Nassar is a "monster" who "left scars on my psyche that may never go away," Maroney said in a letter to U.S. District Judge Janet Neff.
In a court filing, defense lawyers said Nassar "deeply regrets the pain that he has caused the community."
The child pornography was discovered last year when Nassar was being investigated for assault.
Aside from the criminal cases, more than 100 women and girls are suing Nassar. Michigan State and USA Gymnastics are defendants in many of the lawsuits.
Have a tip we should know? [email protected]