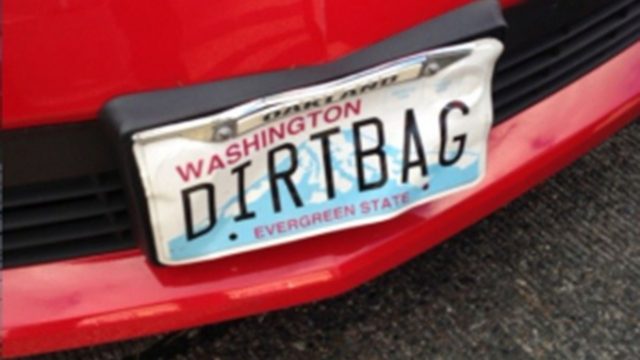 A driver of a red Camaro with the fitting vanity plate 'DIRTBAG' was arrested after a road rage dispute that ended with him punching a cop.
The incident, which was described as a "series of bad decisions" by the Bellevue Police Department, started with the driver getting frustrated over a long wait at the car wash. Upset that the person in front of him wasn't moving faster, he rear ended their vehicle.
One of the drivers who got hit then got out of his car to assess and photograph the damage but was quickly approached by the driver of the red car. The man, who was wearing a security guard uniform, exited his vehicle and pointed a gun at the other driver who immediately called 911.
When authorities arrived at the scene, the driver of the Camaro refused to get out of the car, resulting in police needing to physically remove him from it. During the scuffle, one officer was punched in the face.
An officer used a Taser to restrain the man but as he was being put into handcuffs, he yelled racial slurs at the victim and threatened to kill the three officers. Authorities are investigating if this was a hate crime.
The man, who remains unnamed at the time, was apprehended and is now expecting to be charged with first degree assault with a firearm, assault on police officer, malicious harassment, obstructing police, and resisting arrest. He has waived his bail hearing and wants to hire a private lawyer.
[Image via Bellevue Police Department]
Have a tip we should know? [email protected]