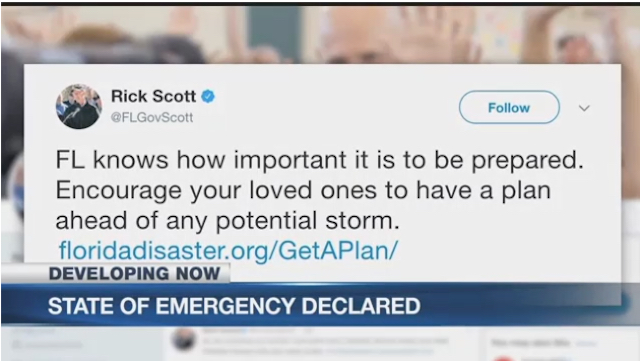 As Hurricane Irma bears down upon the southeastern United States, Florida officials have issued mandatory evacuation orders for all residents and visitors in the Florida Keys.
Monroe County Emergency Operations Center Director Martin Senterfitt, said:
We're emphatically telling people you must evacuate, you can not afford to stay on an island with a Category 5 hurricane coming at you. Most of this island chain is only three to five feet above sea level. With the surges we're expecting this is not the place to be.
Miami residents living in low-lying have also been advised to get out of town, but those orders are not (yet) mandatory.
So, what happens if you just decided to stick the storm out and ignore a mandatory evacuation order?
LawNewz originally analyzed this issue on a state-by-state basis during Hurricane Matthew in 2016. In regards to Florida, we speculated that in limited cases a person could find themselves guilty of obstruction for impeding relief efforts by choosing to stay, but that analysis was somewhat inconclusive.
This time around, we contacted Mr. Senterfitt directly. In a phone call, he said that ignoring a mandatory evacuation order was a crime.
Looking through the 2017 Florida Statues yields zero results for the mention of "mandatory evacuation"–or any permutation thereof–in relation to any sort of criminal penalty for residents who choose to ignore such orders and stay. The phrase is only mentioned in a few statutes and those only diminish the liability of gun-owners and property owners under certain situations in the event of such mandatory evacuations.
The law does provide for the governor's ability to enforce emergency rules and regulations if a state of emergency has been declared–and Florida Governor Rick Scott has declared exactly that for every county in the state.
Theoretically, this could mean Scott might commit political and humanitarian malpractice by directing precious and limited resources towards folks who hang around and brave out the storms and then charge them with crimes for the trouble they've caused the state and relief personnel by getting themselves into dangerous situations as a result of ignoring mandatory evacuation requests…but this turn of events is so implausible that it's all but an effective impossibility.
So, what happens if you ignore those mandatory orders? It's unlikely the state is going to throw any potentially on-point books at you. They've got better things to do.
Don't misread this: you're not being advised to stay in the hurricane's path and you may well find yourself facing criminal prosecution after the flood for staying, however unlikely that is, but if you choose to stay: stay safe and don't expect the government to help you.
[image via screengrab]
Follow Colin Kalmbacher on Twitter: @colinkalmbacher
Have a tip we should know? [email protected]