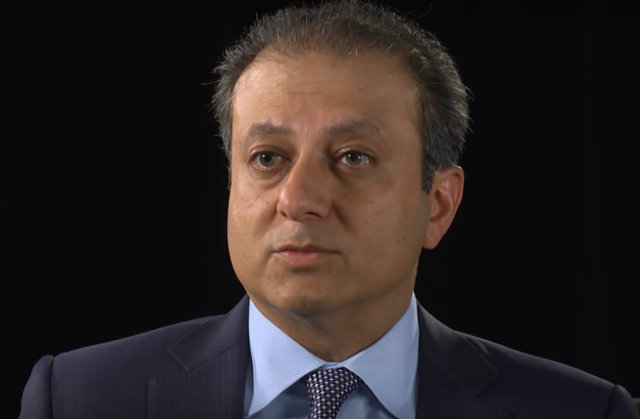 Former U.S. Attorney Preet Bharara, who was fired by Attorney General Jeff Sessions after he refused to resign, was probing whether Fox News executives illegally obtained reporters' phone records, and committed fraud by hiding financial payments to some women who accused former CEO Roger Ailes of sexual harassment, according to a report by New York Magazine reporter Gabriel Sherman.  Sherman reports, "Sources told me that that prosecutors have been offering witnesses immunity to testify before a federal grand jury that's already been impaneled."
Last month, an attorney for former Fox News personality Andrea Tantaros said in court, as first reported by The Hollywood Reporter, that his client had gotten a subpoena from the U.S. Attorney's office.
Andrea Tantaros lawyer says he has gotten subpoena from Preet Bharara's office. Grand jury said to be empaneled.

— Eriq Gardner (@eriqgardner) February 15, 2017
President Donald Trump reportedly told Bharara earlier this year that he would be kept on during the new administration. But, something sparked a change of course late last week.  Attorney General Jeff Sessions sent out a letter Friday asking for the resignations of Bharara and 45 other Obama-era U.S. Attorneys who were still in place.
The New York Times reports that Marc Mukasey, the son of former Attorney General Michael Mukasey, is being considered to replace Bharara as U.S. Attorney for the Southern District of New York. As Sherman notes, Mukasey also "happens to be" Ailes's personal lawyer.
In a previous statement from February, a Fox News spokesperson said, "Neither FOX News nor 21CF has received a subpoena, but we have been in communication with the U.S. Attorney's office for months — we have and will continue to cooperate on all inquiries with any interested authorities." The network declined to comment on Sherman's latest reporting.
[Screengrab via WMHT]
Have a tip we should know? [email protected]
Rachel Stockman - Editor in Chief / On Air Host