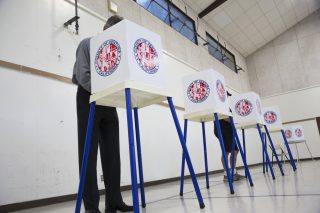 The U.S. Supreme Court has turned down Ohio Democrats' request to allow a federal judge's order to take effect. The order would have put a stop to so-called voter intimidation by the Donald Trump campaign, and his supporter Roger Stone, who runs a poll watching operation.
Justice Ruth Bader Ginsburg denied the request but said in a statement that she is"[m]indful that Ohio law proscribes voter intimidation … Harassment in violation of the election law' includes an 'improper practice or attempt tending to obstruct, intimidate, or interfere with an elector in registering or voting at a place of registration or election." Interestingly, SCOTUS did not ask for a response from Republicans.
On November 4, the U.S. District Court for the Northern District of Ohio issued a temporary restraining order ("TRO") against the Trump Campaign (and also interestingly the Clinton campaign), enjoining them from intimidating, harassing, or coercing voters.  However, the Sixth Circuit reversed Judge Gwin's order.  The Democrats appealed to the U.S. Supreme Court, which refused to uphold the trial court's order.
"Also notable, Justice Ginsburg did not recuse herself, despite earlier comments critical of Donald Trump. I expect her to be criticized for that, but I think it is clear from this that she would not recuse in any other Trump-related election litigation," said election law expert Rick Hasen.
Elura Nanos contributed to this report. 
Have a tip we should know? [email protected]
Rachel Stockman - President / On Air Host