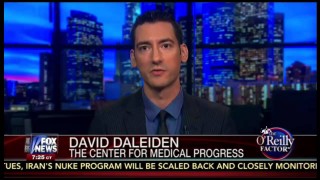 In a very unusual move, a Texas grand jury that was investigating alleged misconduct by officials at Planned Parenthood, instead decided to turn the tables. This afternoon the grand jury returned an indictment against the two anti-abortion activists who actually made the videos they were investigating.
David Daleiden, the director of the Center for Medical Progress, is now facing felony charges, including tampering with a governmental record, and a misdemeanor charge related to purchasing human organs. Sandra Merritt, another center employee, was charged with one 'count of tampering with a government record.
You might recall, Center for Medical Progress, an anti-abortion group, was behind the secret videos, which purported to show Planned Parenthood officials discussing the sale of aborted fetuses for research.  The Harris County district attorney says they have cleared Planned Parenthood of any wrongdoing. LawNewz.com is following this story very closely, stay here for updates.
[h/t New York Times, Screengrab via Fox News]
Update 9:46 P.M:
Ken Paxton, the Texas Attorney General released this statement:
"The fact remains that the videos exposed the horrific nature of abortion and the shameful disregard for human life of the abortion industry. The state's investigation of Planned Parenthood is ongoing."
David Daleiden from The Center for Medical Progress released this statement:
"The Center for Medical Progress uses the same undercover techniques that investigative journalists have used for decades in exercising our First Amendment rights to freedom of speech and of the press, and follows all applicable laws. We respect the processes of the Harris County District Attorney, and note that buying fetal tissue requires a seller as well. Planned Parenthood still cannot deny the admissions from their leadership about fetal organ sales captured on video for all the world to see."
Have a tip we should know? [email protected]
Rachel Stockman - President / On Air Host