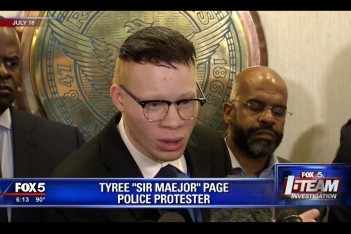 An outspoken member of the Black Lives Matter movement in Atlanta, GA is on probation for perhaps the last reason one might imagine. Fox5Atlanta.com reports Tyree "Sir Maejor" Page, the leader of BLM of Greater Atlanta, has been arrested multiple times in the past few years for impersonating a police officer.
According to the report, Page was first charged with impersonating an officer after an incident in December 2014 where he allegedly handcuffed an African American woman while "wearing a replica of the Atlanta police officer uniform." A police report obtained by the news station says Page was also armed with a .45 semi-automatic pistol at the time of the incident.  Page told officers he was working as a security guard at the time.
Page was reportedly at it again in October 2015 when he was arrested outside a MARTA station after demanding to see identification from an individual who happened to be an Atlanta Police Department sergeant.  At the time of that arrest, police say Page was in tactical gear and was wearing a bulletproof vest.
WATCH:
Finally, the news station uncovered court records indicating another arrest after a particularly brazen incident in January of 2016 where Page allegedly impersonated an FBI agent to get past security at a state office building.  Page was allegedly armed during this incident as well, with one witness telling police, he "had more weapons than I ever seen an officer wear."
In addition to claiming he was a security guard, Page also reportedly told police he was dressed in tactical gear because he was bounty hunter.  However, neither the Fulton County Sheriff's Office or the DeKalb County Sheriff's Office had any record of Page registering as a bounty hunter.
Amazingly, even after allegedly impersonating a federal agent, which is a federal crime punishable by up to three years in prison, prosecutors agreed to a plea deal that kept Page out of jail.  Page pleaded guilty to lesser charges of obstruction and carrying a weapon in an unauthorized location and was placed on two years probation.
Despite the charges, Page was still part of a group of Black Lives Matter of Atlanta protesters that met with Mayor Kasim Reed earlier this year to demand greater police accountability.  Page evidently parted ways with BLM of Atlanta a few months ago, although it is unclear what led to the split.  Nonetheless, Page remains active in the movement and he recently started a new chapter called Black Lives Matter of Greater Atlanta.
Fox 5 confronted Page about the arrests earlier this week, but he refused to be interviewed and shut the door in the face of the reporter.
Have a tip we should know? [email protected]