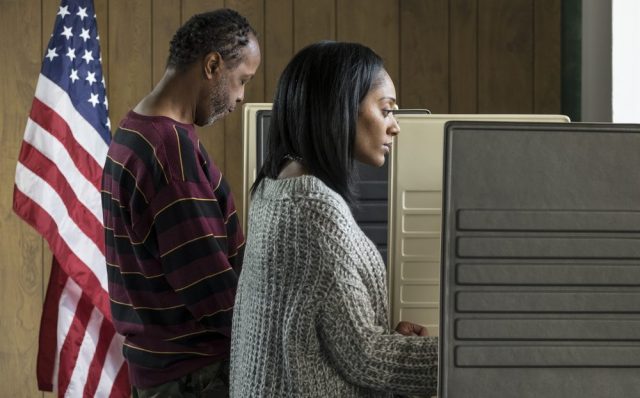 The American Civil Liberties Union filed a federal lawsuit on Monday, claiming that the voting commission that President Donald Trump established through an executive order violates federal laws. The Commission on Election Integrity, led by chairman Mike Pence and vice chair Kansas Secretary of State Kris Kobach, has failed to provide proper transparency and public accessibility, the complaint says, and it allegedly violates a requirement to have members representing a variety of viewpoints.
According to the Federal Advisory Committee Act FACA, commissions like Pence-Kobach must adhere to certain requirements for transparency and accessibility to the public. Despite this, the complaint alleges, the Pence-Kobach Commission has not made the location of its office known to the public. Additionally, the Commission's Designated Federal Office works in the Office of the Vice President, which is located in a building not open to the public without an individual appointment.
Furthermore, the Commission's first meeting was not made public, nor was there the required public notice beforehand, and no records from the meeting were made public, the lawsuit claims.
"This process is cloaked in secrecy, raising serious concerns about its credibility and intent. What are they trying to hide?" said Theresa Lee, a staff attorney with the ACLU's Voting Rights Project.
Not surprisingly, the ACLU isn't just upset about how the Pence-Kobach Commission conducts business, but they also take issue with the business itself. They cite President Trump's claim that the reason why Hillary Clinton won the popular vote in November's election by nearly 3 million votes is because of illegal voting.
"President Trump has continued to assert, contrary to all available factual evidence and the findings of the FEC, that he won the popular vote," the lawsuit says.
With that in mind, the ACLU also expressed concern that President Trump's personal beliefs and statements will color the Commission's findings. The lawsuit notes that the Executive Order establishing the Commission doesn't have any provision to assure that its recommendations "will not be inappropriately influenced by the appointing authority," meaning President Trump. Such provisions are expressly required by the FACA.
The ACLU also cites FACA as requiring that the Commission be "fairly balanced in terms of the points of view represented," yet it accuses the Commission of being "stacked with individuals who have endorsed the President's false statements about the popular vote." Specifically, the complaint says that, at least four out of six of the people first selected for it "have a record of making exaggerated and/or baseless claims about voter fraud, and/or have implemented or supported policies that have unlawfully disenfranchised voters."
Sophia Lin Lakin, another attorney with the ACLU's Voting Rights Project, called the Commission "alarmingly suspect," saying, "Our election process must be secure, fair, and transparent."
LawNewz.com reached out to Secretary Kobach for comment, and will update should he or his office respond.
Have a tip we should know? [email protected]