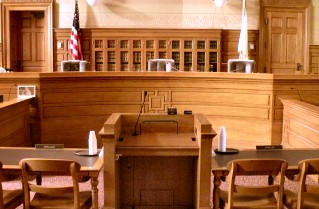 The war on injustice in the legal system begins in Massachusetts this fall. Polling there suggests over 80 percent of voters believe the state's legal system is discriminatory–with such discrimination based on income and race–while fewer than half believe the Bay State's legal system works at all.
In the same poll, commissioned by the ACLU of Massachusetts, nearly three-quarters of voters said the state's criminal justice system works differently for different people. And, notably, voters are much more likely to prize a district attorney committed to racial justice than one with prior experience as a prosecutor.
Executive director of the ACLU of Massachusetts, Carol Rose, said, in a statement:
"This poll shows clearly that Massachusetts voters feel the criminal justice system is biased and ripe for reform. For far too long, the system has given preference to the connected and the wealthy, and Massachusetts voters say it's time for change. At the ACLU of Massachusetts, we remain committed to fighting for racial justice, ending over-incarceration and ensuring a fair justice system for everyone."
Enter: The "What a Difference a DA Makes" campaign. A voter education campaign set to be launched in the coming months by the ACLU of Massachusetts and allied organizations. It's actually a retread of a similar campaign organized by the ACLU of Northern California in 2010. That original campaign is still ongoing.
The stated purpose of the Massachusetts front is to educate the public on the role that district attorneys play in the legal system, to highlight the more or less singular power district attorneys exert over people's lives and, ultimately how to hold district attorneys accountable.
Fewer than half of those polled understood the true impact district attorneys have on the day-to-day operations of the state's legal system and that district attorneys are given large amounts of autonomy in order to make such an impact. Nearly four in ten voters did not understand that district attorneys are elected.
The poll also showed, however, that over 80 percent of voters were more likely to pay attention to district attorney elections when educated about district attorneys' true power and autonomy.
Without going so far as to single out individual district attorneys–at least initially–the ACLU of Massachusetts believes prosecutors have "too often" stood in the way of much-needed criminal justice reforms like the repeal of mandatory minimum sentencing.
Such statistics provide an opening for the ACLU of Massachusetts. Indeed, these findings have prompted the civil liberties organization to mount a state-wide challenge against sitting prosecutors–though not in so many words.
LawNewz.com attempted to contact Rahsaan Hall, director of the Racial Justice Program for the ACLU of Massachusetts on the issue of direct challenges to sitting district attorneys and how such campaigns might play out in real time. As of the time of publication, no response was forthcoming. If and when Hall or anyone else from the ACLU of Massachusetts responds, this post will be updated to reflect their response(s).
In any event, it's exceedingly unlikely the ACLU's campaign will go after current district attorneys by accusing them of outright racial prejudice.
[image via MassGov]
Follow Colin Kalmbacher on Twitter: @colinkalmbacher
Have a tip we should know? [email protected]