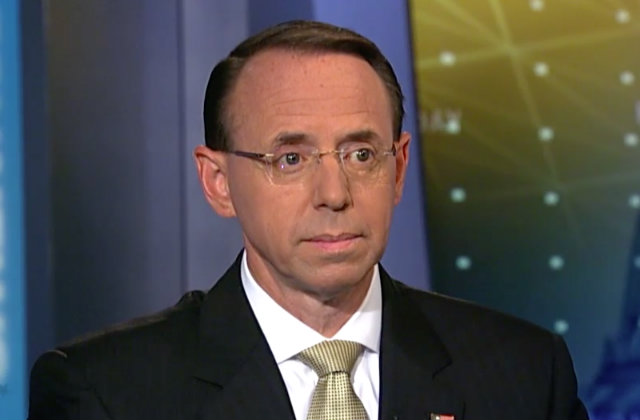 President Donald Trump is reportedly keen on firing Deputy Attorney General Rod Rosenstein.
According to an anonymously-sourced Saturday report by CNN's Sara Murray, Kara Scannell, Dana Bash and Pamela Brown, President Trump "has been venting about Rosenstein" over the past several weeks.
Apparently that "venting" has even led to Trump-led discussions about obtaining Rosenstein's ouster.
The report claims four distinct sources with knowledge of the Trump-Rosenstein situation. Two of those sources claim that Trump has been actively pursuing the possibility of firing Rosenstein. According to those two sources, Trump has lately been making comments such as:
Let's fire him, let's get rid of him.
The tenor of those comments and the context in which they are delivered is not particularly detailed in CNN's report. That report does go on to note, however, that Trump's advisers have had to repeatedly dissuade the president from following through with his threatened removal of Rosenstein–suggesting that Trump is, at least, seriously unhappy with Rosenstein's performance.
On the other hand, at least one of those sources splashed some lightly chilled water on the idea that Trump's telegraphed disdain for Rosenstein augurs any particular insight into a potential firing. That source described Trump's anti-Rosenstein outbursts thusly:
When this [Rosenstein issue] comes up — everyone says [of Trump's comments], 'That's the death march. That's not going to accomplish anything,'
As Deputy Attorney General, Rod Rosenstein directly oversees special counsel Robert Mueller–and therefore his ongoing probe into Russia-related 2016 presidential campaign shenanigans.
Trumpland was rocked on Thursday evening by reports that President Trump attempted to fire Mueller back in June but was held back when White House counsel Don McGahn refused to issue Mueller's termination order. Legal experts were quick to pounce on the news–and suggested that, if true, Trump's attempted firing of Mueller just makes the latter's case for obstruction of justice all the more easy to obtain.
The White House disputed both reports and rubbished them as "fake news" as Trump spends the weekend at an elite confab in Davos, Switzerland.
Responding to Saturday's news, Trump's attorney Ty Cobb said:
We do not find it to be a coincidence that there is an onslaught of false stories circulating in what appears to be a coordinated effort to distract and deflect from new revelations about already reported bias and corruption. We continue to cooperate with the Special counsel and out of respect for that process will not weigh in further.
[image via screengrab/Fox News]
Follow Colin Kalmbacher on Twitter: @colinkalmbacher
Have a tip we should know? [email protected]