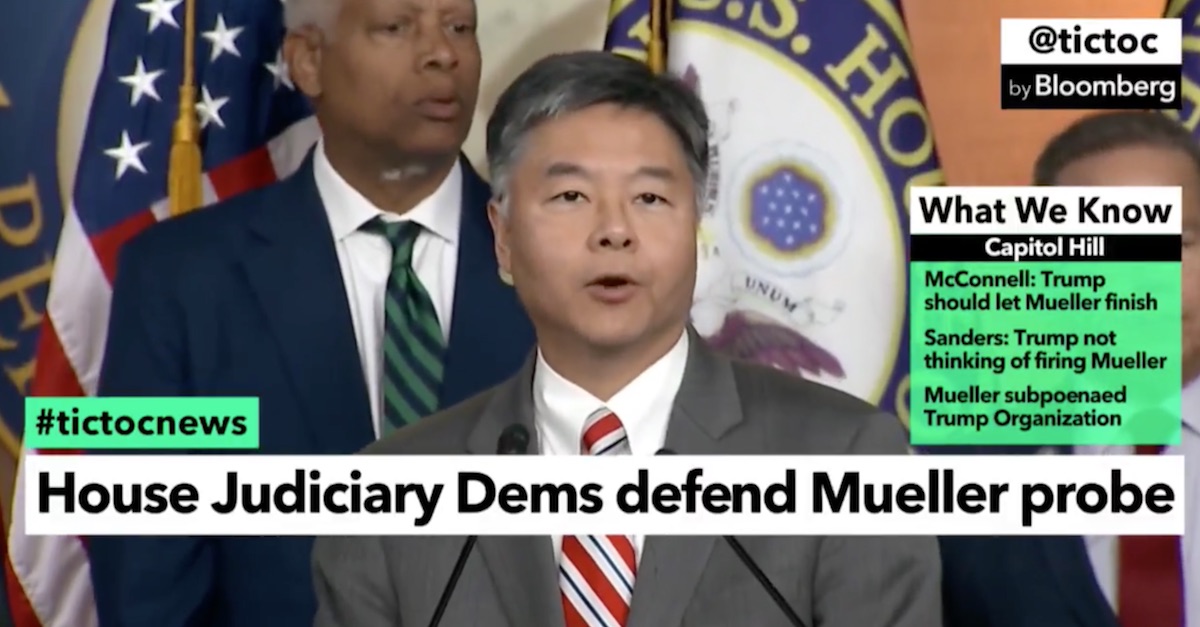 Rep. Ted Lieu (D-Calif.) repeated a legal phrase at a House Judiciary Committee press conference on Wednesday that he's been saying a lot lately in the context of President Donald Trump and his Twitter responses to the Robert Mueller probe: "Consciousness of guilt."
So what does it mean?
First, let's take a look at his recent tweets that included the same phrase in all caps and the Trump tweets in question.
For several days @realDonaldTrump has attacked Mueller. In addition to showing CONSCIOUSNESS OF GUILT, these attacks give Mueller time to prepare for the possibility that he, Sessions, or Rosenstein get fired.

I'm certain Mueller has a contingency plan. The truth is coming out. https://t.co/AR5vzsyjD1

— Ted Lieu (@tedlieu) March 21, 2018
Another CONSCIOUSNESS OF GUILT tweet by @realDonaldTrump. https://t.co/hBsmM865Sh

— Ted Lieu (@tedlieu) March 21, 2018
"Special Council is told to find crimes, whether a crime exists or not. I was opposed to the selection of Mueller to be Special Council. I am still opposed to it. I think President Trump was right when he said there never should have been a Special Council appointed because…..

— Donald J. Trump (@realDonaldTrump) March 21, 2018
Witch hunt tweet today & Twitter meltdown this weekend tells us @POTUS must really not like the questions Mueller sent him to answer.

What is @realDonaldTrump hiding from the American people?

If there was a Richter scale for CONSCIOUSNESS OF GUILT, Trump would be at an 8.0 https://t.co/B8F7ETC5ME

— Ted Lieu (@tedlieu) March 19, 2018
A total WITCH HUNT with massive conflicts of interest!

— Donald J. Trump (@realDonaldTrump) March 19, 2018
Next, let's listen to Lieu's remarks in the video of the press conference shared by Rep. Pramila Jayapal (D-Wash.).
He begins speaking at the 30-minute mark of the video.
We are seeing the president consistently try to undermine the #Mueller investigation. We cannot allow this. https://t.co/WwdnEZMEM8

— Rep. Pramila Jayapal (@RepJayapal) March 22, 2018
Lieu said that he would make three points, the first being that "Trump's actions scream consciousness of guilt."
"I'm a former prosecutor, we're trained to recognize consciousness of guilt. We can introduce evidence of consciousness of guilt in trial," he said. "And what is that concept? It's what would a guilty person do that an innocent person would not?"
He named not telling the truth, firing those investigating you, undermining those investigating you as examples, in his estimation, that clearly show consciousness of guilt.
A firing of Mueller, which Speaker of the House Paul Ryan (R-Wisc.) said he was assured was not on the table, would seem to further support Lieu's argument, if it were to happen.
A prosecutor would argue, it seems, that Trump's statements and actions should be admissible to prove obstruction of justice.
But the "consciousness of guilt" concept amounts to no more than circumstantial evidence. It may possibly be introduced in court to show a pattern of suspicious behavior, but it is hardly conclusive.
It is worth noting, though, that courts can and have admitted consciousness of guilt evidence citing Federal Rules of Evidence (FRE) 404(b), the subsection of Crimes, Wrongs, or Other Acts:
(1) Prohibited Uses. Evidence of a crime, wrong, or other act is not admissible to prove a person's character in order to show that on a particular occasion the person acted in accordance with the character.

(2) Permitted Uses; Notice in a Criminal Case. This evidence may be admissible for another purpose, such as proving motive, opportunity, intent, preparation, plan, knowledge, identity, absence of mistake, or lack of accident. On request by a defendant in a criminal case, the prosecutor must:

(A) provide reasonable notice of the general nature of any such evidence that the prosecutor intends to offer at trial; and

(B) do so before trial — or during trial if the court, for good cause, excuses lack of pretrial notice.
It is up to the judge to decide on the probative value of the evidence and its relevance to the case.
Trump's tweets, for example, could be a minefield in that regard.
[Image via screengrab from TicToc by Bloomberg]
Have a tip we should know? [email protected]