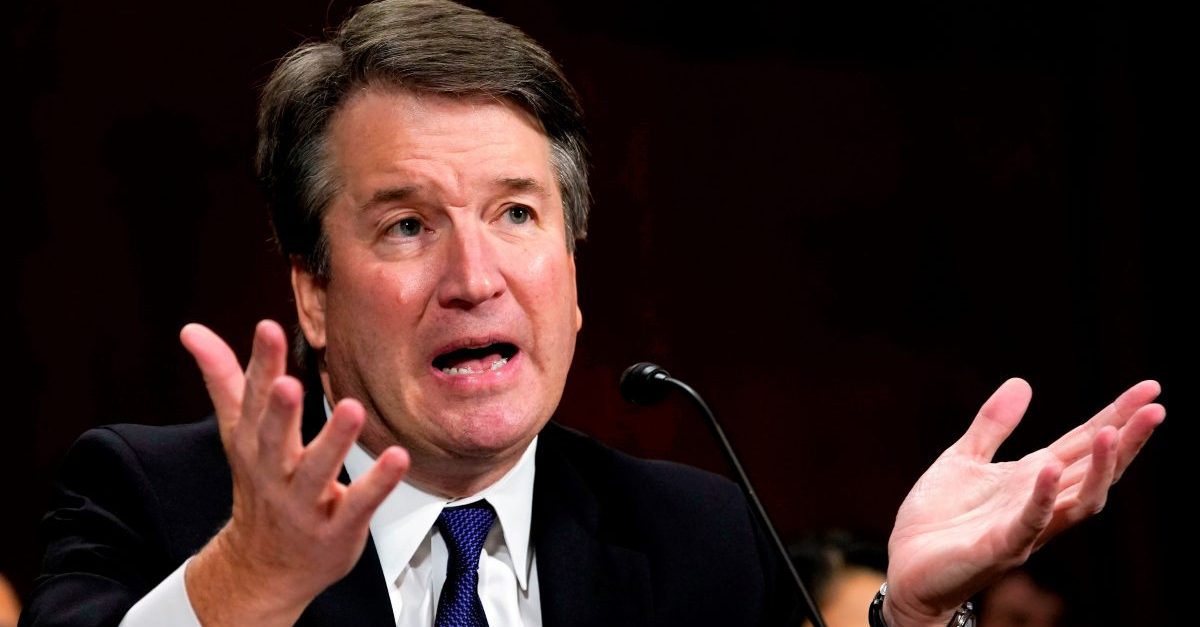 If you're thinking that Brett Kavanaugh's first week on the court is going to be spent at welcome lunches and orientation meetings, you'd be wrong. This week, Kavanaugh will likely be called upon to vote in a case that brings up illegal immigration, executive power, and intra-SCOTUS dynamics.
The case at hand is one brought by New York, along with a coalition of states, cities, counties, and mayors, who filed a lawsuit to stop questions about citizenship from making their way into the 2020 Census. Their argument: frighten away Census responses in places packed with undocumented immigrants, and you'll end up with skewed results that could hurt the states.
That lawsuit is still in the discovery phase, and plaintiffs have requested the depositions of Commerce Secretary Wilbur Ross and acting head of the Department of Justice's Civil Rights Division John Gore in order to gather information about the intent of the decision on the Census question. The Department of Justice has been arguing against these depositions, claiming that to force the high-ranking officials to provide testimony in these civil cases would be overly intrusive into executive authority and would constitute an improper distraction to senior officials with important duties.
In September, U.S. District Judge Jesse Furman ruled that Ross must submit to the deposition, because this case presents a sufficiently "exceptional circumstance," and because Ross' "intent and credibility are directly at issue in these cases." Furman (an Obama-appointee, and brother of Obama economic adviser) also noted in his decision that while the outcome is a relatively unusual one (indeed, a cabinet secretary has not been compelled to give testimony in almost two decades), the law underlying his decision had been quite clear. The judge wrote, "Applying well-established principles to the unusual facts of these cases, the court concludes that the question is not a close one."
According to the judge, Ross alone could provide important information about how conversations with Attorney General Jeff Sessions as well as those with "interested third parties such as Kansas Secretary of State Kris Kobach," may have influenced the decision to include the immigration question.
Last week, the Trump administration applied to the Supreme Court for a stay of Judge Furman's order; that application was handled by Justice Ruth Bader Ginsburg, who handles emergency appeals from the geographic region that includes New York. Ginsburg denied the government's request for a stay, but did carve out a possibility for the government to fully litigate its position on the matter, qualifying the denial by providing, "sufficient time for either party to seek relief in this Court before the depositions in question are taken." Those depositions are scheduled for October 10 and 11, the Second Circuit Court of Appeals is slated to rule on the issue on October 9 – and any further relief sought on the matter will now include a vote from newly-minted Justice Kavanaugh. The Second Circuit has already ruled that John Gore must submit to a deposition.
In the likely event that Justice Kavanaugh finds himself considering oral arguments about the legalities of Ross' deposition, he may well find himself the unwelcome subject of yet more national spotlight. Kavanaugh, an integral part of Kenneth Starr's investigative team, has long been vocal on the issue of executive power, immunity, and the burdens of civil lawsuits. Kavanaugh has encouraged Congress to adopt federal law granting immunity to presidents, writing: "We should not burden a sitting President with civil suits, criminal investigations or criminal prosecutions," and that, "Not even investigations should touch the great man at the desk in the Oval Office."
Certainly, Wilbur Ross is not the president, and a cabinet member is not the chief executive. Still, Kavanaugh has been clear that subpoena power should be wielded conservatively – a position that has potential to give him the deciding vote in a 4-4 split on the question of Ross' deposition. The fact that the deposition will probe administration policies on illegal immigration, and that it is scheduled just days after the most contentious SCOTUS battle in history places this particular vote in an unprecedented maelstrom of political discord.
Judge Furman's position about the clarity of the correct ruling may provide Kavanaugh sufficient basis for ruling against the DOJ in this case; such a vote might disappoint an administration that has been so squarely behind Kavanaugh during the confirmation process – but could deliver an important message regarding the new justice's judicial independence. Of course, Kavanaugh will vote alongside eight fellow justices – at least four of whom hold the power to shield him from the unwelcome position as tiebreaker.
Speaking to Politico on the matter, University of Texas law professor Stephen Vladeck opined that Chief Justice John Roberts might vote against a stay in part to save Kavanaugh from the political optics of casting the deciding vote in such a deeply political case.  Vladeck said, "So, if it's a bellwether for anything, it may be a bellwether for the chief justice as much as it is one for Justice Kavanaugh."
[Image via ANDREW HARNIK/AFP/Getty Images]
Have a tip we should know? [email protected]
Elura Nanos - Columnist & Trial Analyst, Law & Crime; CEO Lawyer Up