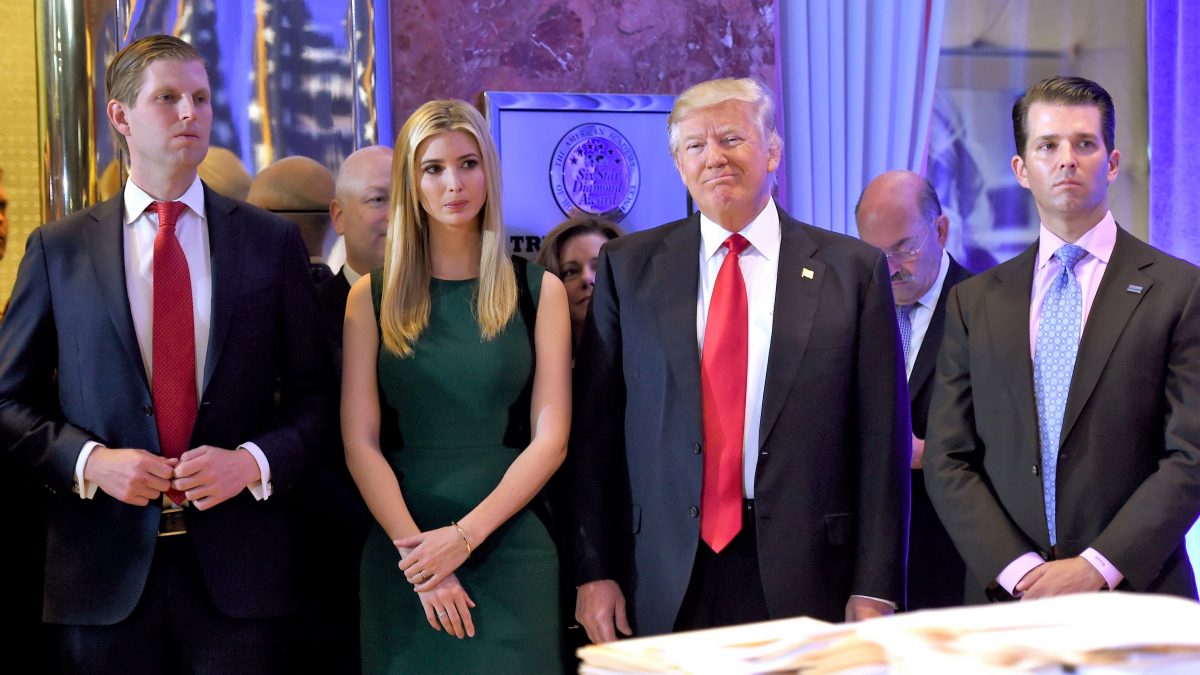 A New York State judge is emitting strong signals about what the defendants should do in a lawsuit filed by the New York State Attorney General's Office against the Donald J. Trump Foundation, President Donald Trump personally, and President Trump's children Eric, Ivanka, and Donald Jr. personally. Those signals can be summed up as follows: (1) conceding; (2) accepting punishment; and/or (3) settling. The judge also said that she shifted around other cases in her calendar to conduct key hearings in the case against Trump in October.
A transcript of the first hearing in the case, obtained by the Washington Post's David Fahrenthold and shared by him on Twitter, states that the judge that she will "probably" require that the Trumps "not sit on boards" regardless of whether or not they agree to that condition. "So, I think you should agree," the judge told their attorney(s).
Looking at the transcript for 1st hearing in the NY AG's lawsuit against @realdonaldtrump, his kids and his charity. One thing stands out… pic.twitter.com/8wv5vNyszo

— David Fahrenthold (@Fahrenthold) June 29, 2018
The case's bearing on the midterm elections seems to be weighing heavily on the Trumps. An attorney for Team Trump asked the judge if there was any way a hearing in the case could be scheduled in the second week of November — "after November 6th."
The judge said, "I have already scheduled a lot of things in November and December. I moved all of my October cases in anticipation of dealing with this. We will see; how about that? We will see."
The Attorney General's Office then told the judge that its desire was to settle the case "efficiently." An attorney for AG Barbara Underwood then said, "[w]e don't see . . . any reason to make a connection with the November 6th midterms."
The judge then said, "You know what, people are busy. So, if we need to have someone come in and testify, it might not be a good time at the end of October. It didn't occur to me that was an issue, but let's see; all right? I'm really hoping that you can resolve most of it or all of it between now and then."
One possible nefarious reason for the exchange might be that Team Trump is worried about a negative hearing, deposition, or ruling occurring just before a critical election. One less nefarious reason for the exchange might be that President Trump has campaign commitments and does not believe he has time to be deposed around that time — if it comes to that.
The New York Attorney General's Office is asking that President Trump's children be barred from sitting on the board of directors of any nonprofit organization for one year. The AG's office accused the Trump children of failing to properly oversee their father's foundation. As board members, all three had a fiduciary duty to monitor the organization and to attend meetings, the AG has alleged. The Board of Directors has allegedly not met since 1999.
The AG's office wants President Trump himself to fork over millions in damages and be subjected to a ten-year ban in serving on any nonprofit board.
The judge, Saliann Scarpulla, asked Trump's attorney whether the president planned to assert in this case that he could not be sued while in office. The attorney said he was not prepared to answer that question at a hearing this week.
[Photo by TIMOTHY A. CLARY/AFP/Getty Images]
Have a tip we should know? [email protected]
Aaron Keller - Deputy Editor-in-Chief