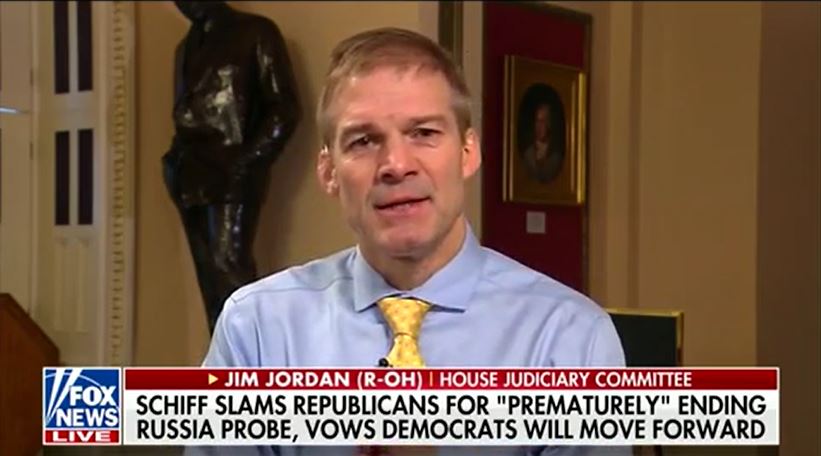 Republican Congressman Jim Jordan of Ohio went on Fox News this week to accuse former Director of National Intelligence James Clapper of leaking classified information concerning the Trump/Russia investigation to CNN. Rep. Jordan claimed the link between the leak and Clapper was confirmed by the report of Republicans on the House Intelligence Committee into whether collusion or coordination between the Trump campaign and Russian operatives had, indeed, occurred. Citing the report, Jordan says Clapper tipped off CNN about the Steele Dossier, which was published by BuzzFeed days later:
Clapper actually was the guy leaking information. Specifically, leaking information, I believe, from that January 6th meeting where they briefed President Trump, then President-elect Trump, on the dossier. Someone at CNN got information. We think it was Mr. Clapper who gave it to them, and then a few days later BuzzFeed prints the entire dossier.

[ . . . ]

Mr. Clapper was leaking information.  Here's one of the top intelligence people in the government at the time leaking to the press.
Jordan went on to slam the FBI's use of the "fake and salacious" "opposition research" Steele Dossier to obtain a warrant through a FISA court to "spy on a fellow American citizen."
The House Intelligence Committee report is said to have concluded the Trump campaign did not collude with Russia regarding the 2016 election, but critics have said the report was premature, contains gaps, or both.
Democrats on the House Intelligence Committee just released a status report to share with the American people the work left undone in the Russia investigation when the Majority decided to shut it down.

Our work will continue — there's a lot left to do: https://t.co/N1ixXllC1D

— Adam Schiff (@RepAdamSchiff) March 13, 2018
The full report has not yet been released pending a declassification review, but people are talking about it nonetheless.
THE HOUSE INTELLIGENCE COMMITTEE HAS, AFTER A 14 MONTH LONG IN-DEPTH INVESTIGATION, FOUND NO EVIDENCE OF COLLUSION OR COORDINATION BETWEEN THE TRUMP CAMPAIGN AND RUSSIA TO INFLUENCE THE 2016 PRESIDENTIAL ELECTION.

— Donald J. Trump (@realDonaldTrump) March 13, 2018
More House Intelligence Committee findings:
– The economy was surprisingly robust in October 1929
– The RMS Titanic arrived safely at port in New York City
– The Hindenburg's maiden flight went quite well
– Richard Nixon's honesty and integrity as president were unimpeachable

— Joy Reid (@JoyAnnReid) March 13, 2018
Enter law professor Jonathan Turley, who picked up on Jordan's accusations here. Turley points out that Clapper skated on another alleged crime, only to now be accused of committing another one. He also points out that if Jordan's claims are not true, Jordan is the one in trouble. As Turley explains it:
If the allegation is true, Clapper would have run out the clock on one alleged crime only to face a new allegation.  If it is not true, Clapper could have a defamation case.  The Speech and Debate Clause does not afford members immunity for statements made outside of Congress.  This is clearly a statement of fact and not simply opinion.
Turley also points out that Clapper's role as a CNN contributor is also in question. Turley wants to know when Clapper was approached for that role.
[Image via Fox News screengrab]
Have a tip we should know? [email protected]
Aaron Keller - Deputy Editor-in-Chief