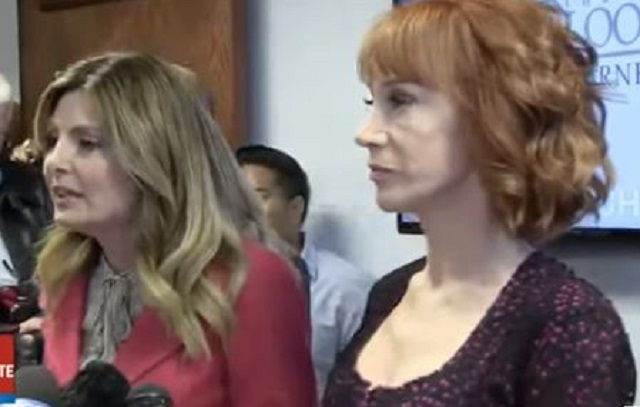 Kathy Griffin is probably the most well-known comedian in the world right now–but that doesn't mean she's got work. In fact, apparently the opposite is true.
At a press conference today with attorney Lisa Bloom, Griffin explained that her professional reputation is in tatters following the controversial photoshoot in which the 56-year-old comedian held up a mock version of President Trump's severed and bloodied head.
So far, Griffin has had at least five venues cancel previously scheduled engagements. She's been fired as co-host of CNN's New Year's Eve Live. And even Griffin's old friend, Senator Al Franken (D-Minn.) is too afraid to be seen with her in public.
The assembled Griffin legal team laid the blame for the comedian's sudden surge in unemployment directly at the President's doorstep.
Bloom said:
The message is clear: Criticize the president, lose your job … For the first time in history, the President of the United States and his family is attempting to ruin a comedian.
Griffin then echoed her attorney's comments, saying:
I'm not afraid of Donald Trump. He's a bully. I've dealt with older white guys trying to keep me down my whole career. [But now] a sitting President and his grown children–and the first lady–are trying to ruin my life forever.
The reporters in attendance frequently attempted to steer Griffin back to her reaction to the loss of her CNN job. Visibly emotional, Griffin responded, "I've had everybody turn on me, but I just want to make everybody laugh," she said, through tears. "I'm not laying down for this guy. It's scary to be a citizen. But it's a great time to be a comedian."
Bloom herself was a bit more blunt about the loss: "It's censorship," she said.
Lending some credence to that claim–and perhaps more shocking than the photoshoot itself–Griffin is currently the subject of a Secret Service investigation , a development which has forced the comedian to hire criminal defense attorney Dmitry Gorin.
In addition to hiring Bloom and Gorin, Griffin has also retained the counsel of Alan Isaacman, the attorney who successfully represented famed pornographer Larry Flynt in his landmark defamation defense before the Supreme Court in Hustler Magazine v. Falwell.
[image via screengrab]
Follow Colin Kalmbacher on Twitter: @colinkalmbacher
Have a tip we should know? [email protected]