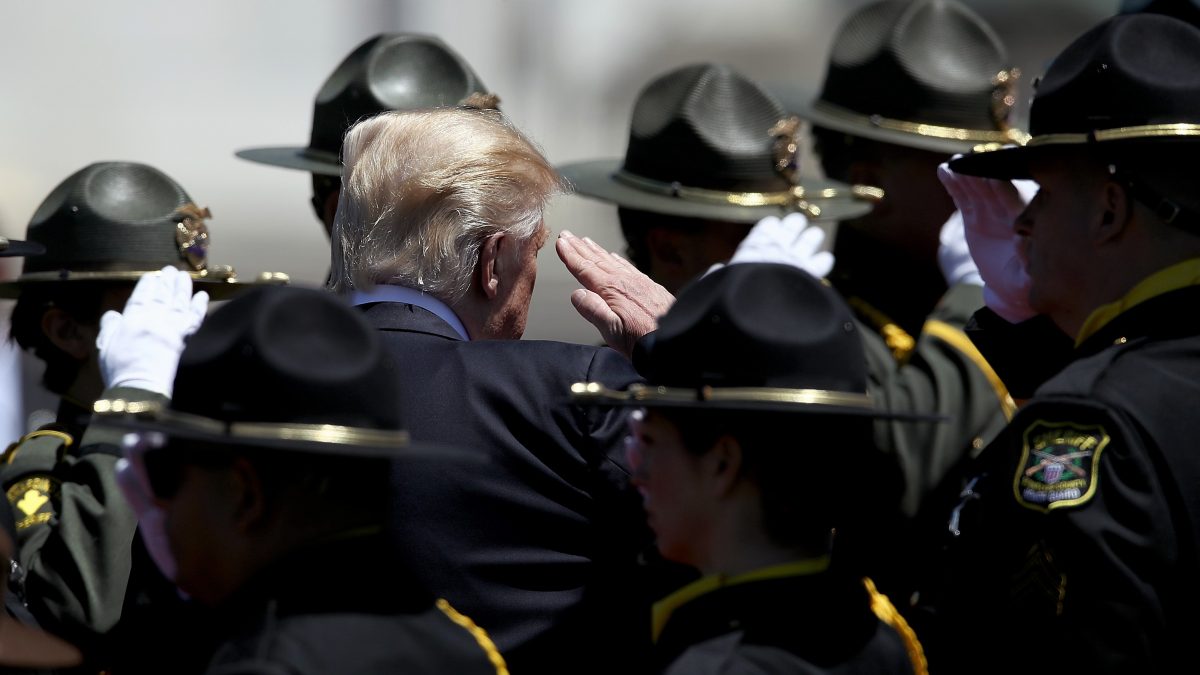 This week, on the eve of the Fourth of July, the U.S. Department of Justice rescinded a group of guidance documents and other government literature which expounded upon — or interpreted — various underlying federal laws, regulations, grant programs, and the like. The documents — broadly speaking — discussed legal protections for the young, the elderly, the poor, students, immigrants, non-native English speakers, home buyers, and home owners.
One of the documents curiously involved research into school resource officers by the National Institute of Justice, a DOJ program which studies law enforcement techniques, technologies, and conducts some social science research into what's happening in American communities. One initiative of the NIJ is the Comprehensive School Safety Initiative. One of the documents rescinded by the DOJ contains a call for research into school resource officers. (They're the police officers stationed in schools.) The rescinded document expounded on the details of a 2016 grant program, which is more fully described here.
According to the now-rescinded April 6, 2016 Obama-era document, "NIJ is interested in the activities and functions of School Resource Officers (SROs) and other law enforcement and security officers operating in schools and in coordination with schools." What follows is a nearly page-long laundry list of issues the NIJ encouraged grant applicants to "consider," which include how SRO actives are documented, how SROs are trained, how SROs are supervised, how SROs are assigned, and how SROs make arrests in schools.
The document further encouraged schools to work together with courts, police, attorneys (both prosecutors and defense), and welfare authorities to work together on alternative discipline programs which limit school-based arrests. It also encouraged schools to "build diversion programs that reduce misbehavior . . . while . . . minimizing the severity of negative outcomes for students" and to study the impact of "race, national origin (including English Learners), sex, and disability" on the discipline process. In other words, the goal of the program under the Obama Administration was to try to guide good behavior through means other than harsh punishment.
Curiously, the rescission of the document expressing interest in studying the effectiveness and methods of SROs comes after President Donald Trump trashed the Florida SRO whom he deemed a "coward" for failing to rush into the Marjory Stoneman Douglas High School in Parkland, Florida, in February. That officer later said he did not rush into the school because he thought the gunfire was coming from outside (where he was located). NPR later reported that Trump wanted school resource officers in every school, despite questions about their overall effectiveness.
Grants under the Comprehensive School Safety Initiative were $68 million, $69 million, and $67 million during the Obama Administration years of 2014, 2015, and 2016. They dropped to $42 million under the Trump Administration in 2017. According to grant summary sheets, many of the grants were awarded to universities and think tanks who were conducting studies of schools.
Attorney General Jeff Sessions said Tuesday that the rescissions were the result of oversteps from "previous administrations":
"[A]gencies often tried to impose new rules on the American people without any public notice or comment period, simply by sending a letter or posting a guidance document on a website. That's wrong, and it's not good government. In the Trump administration, we are restoring the rule of law. That's why in November I banned this practice at the Department [of Justice] and we began rescinding guidance documents that were issued improperly or that were simply inconsistent with current law."
Law&Crime reached out to the Office of Justice Programs, which manages the NIJ, for clarification on three key questions:  (1) whether the NIJ is continuing to study School Resource Officers, and to what extent; (2) if so, what legal authority, guidance letter, or "Dear Colleague" letter currently in effect explains the parameters of the NIJ's interests in School Resource Officers; and (3) what precipitated a dip from $67 million in 2016 to $42 million in 2017 for grants under the Comprehensive School Safety Initiative. A spokesperson acknowledged the receipt of our questions, but has yet to issue a response. If one is received, Law&Crime will update this report.
[Image of President Trump at the 36th Annual National Peace Officers' Memorial Service – Win McNamee/Getty Images.]
Have a tip we should know? [email protected]
Aaron Keller - Deputy Editor-in-Chief