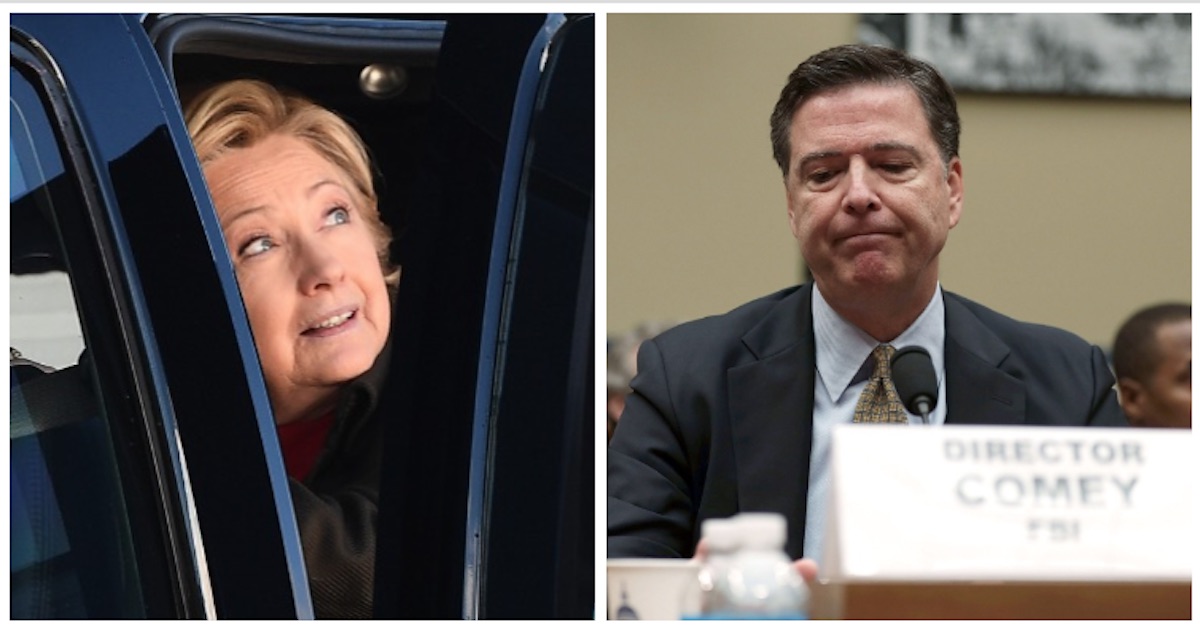 The U.S. Department of Justice's Office of the Inspector General (OIG) released a 500-page report Thursday detailing the results of a long-running inquiry into whether the Federal Bureau of Investigation (FBI) led by James Comey acted inappropriately leading up to the 2016 election with its handling of the Hillary Clinton email investigation.
Our attorneys and legal analysts spent hours sifting through the 500-page report. Here are the top takeaways, and most important legal points.
Foreign actors admittedly gained access to Hillary Clinton's emails.
Peter Strzok, who served as chief of the counter espionage section of the FBI during the Clinton investigation is quoted at length in the report noting:
It is more accurate to say we know foreign actors obtained access to some of her emails (including at least one Secret one) via compromises of the private email accounts of some of her staffers. It's also accurate to say that a sophisticated foreign actor would likely have known about her private email domain, and would be competent enough not to leave a trace if they gained access. But we have seen no direct evidence they did.
This comes as news. But Comey's original draft statement appears to somewhat bury the information here, too. That portion of Comey's statement claimed it was, "reasonably likely that hostile actors gained access to Secretary Clinton's private email account." The final version of Comey's statement said such hostile access was "possible."
Lynch's Staff Knew 'Immediately' the  Tarmac Meeting Was 'Problematic'
The report says Lynch's Deputy Chief of Staff "quickly realized that the tarmac meeting was problematic, because Clinton was not just the former President but was also the husband of someone who was under investigation."
The staffer said she was "shocked," and that everyone "just felt completely…blindsided."
Comey's Solo Announcement Was an "Unjustified Usurpation of Authority"
The OIG was clear that Comey's decision was a departure from "longstanding Department practice." It said, to "publicly announce the FBI's declination recommendation without coordinating with the Department was an unjustified usurpation of authority."
"[B]y making this public announcement about the FBI's charging recommendation, and by stating his view that 'no reasonable prosecutor' would bring charges, he effectively made the decision for the prosecutors because it would thereafter have been virtually impossible for them to make any other decision," OIG said. "Even if Comey had every reason to believe that Lynch and [Sally] Yates agreed with him, speaking unilaterally and publicly for the Department about a decision to decline prosecution is not a function granted to the Director."
"The authority to make such a statement had not been delegated to him by his superiors, the Attorney General and the Deputy Attorney General," it continued.
Interestingly, it says Comey "acknowledged this" but felt he had to act on his own.
Comey viewed the "'potential for damage to the institution' outweighed the need to follow Department practice, stating, '[I]n a normal circumstance it's the right of the Attorney General and Deputy Attorney General to make those decisions and the FBI Director should tell them, but this was not the normal circumstance."
Comey May Have Violated Regulations by Doing This
OIG cited C.F.R. § 50.2(b)(9) when saying Comey's unilateral decision may have violated both Department media policy and regulations.
"Additionally, Comey's decision to make an announcement without consulting or obtaining approval from Department leadership violated the Department's media policy and also may have violated regulations regarding the public release of information. See 28 C.F.R. § 50.2(b)(9)," OIG said.
C.F.R. § 50.2(b)(9) says the following about sticky situations and what personnel of the DOJ should do with release of information related to criminal actions:
[T]here will, of course, be situations in which it will limit the release of information which would not be prejudicial under the particular circumstances. If a representative of the Department believes that in the interest of the fair administration of justice and the law enforcement process information beyond these guidelines should be released, in a particular case, he shall request the permission of the Attorney General or the Deputy Attorney General to do so.
It says Comey had to ask the AG or Deputy AG for for permission.
But There Were Also "Substantive Issues" With Comey's Clearing of Hillary Clinton 
The OIG said the "substantive issues" with Comey's statement included criticism of former Secretary Clinton's uncharged conduct as "extremely careless," because it violated Department practice of "what others described as 'trash[ing] people we're not charging.'" It also said it was improper for Comey to comment on "what were prosecutorial decisions" — for instance the statement, "no reasonable prosecutor [would bring charges]" here.
The conclusion was, whether or not this was intended, Comey's statement "led to greater public confusion and second guessing, not greater public clarity," and again pointed to not coordinating with DOJ officials as a cause.
"By deciding not to consult with the Midyear prosecutors about their assessment of the Department's historical approach to and interpretation of the 'gross negligence' statute or their assessment of the evidence under the applicable legal standard, Comey lost the opportunity to hear the views of the career prosecutors responsible for prosecuting violations of the mishandling statutes," OIG said. "Based on our interviews, these prosecutors would likely have warned him about the substantive questions presented by his statement."
OIG said witnesses concluded Comey's presentation of the facts were "very skewed" or delivered with a "slant."
Most Rank-and-File FBI Agents Thought, "If I did this, I'd be prosecuted."
As partisan allegiances have shifted, flipped and tumbled in their estimation of the former FBI director, it's worth noting that Democrats were infuriated with Comey's public admonition of Clinton during his controversial press conference. The OIG report explains why this mild criticism of Clinton was included, "[W]itnesses told the OIG that Comey included this criticism to avoid creating the appearance that the FBI was "letting [Clinton] off the hook," as well as to "messag[e]" the decision to the FBI workforce to emphasize that employees would be disciplined for similar conduct."
Apparently, multiple FBI agents not involved in the investigation made their views of Clinton plain while the investigation was moving forward. According to the report, they "hated" her. Unnamed agents in Baker's earshot said things like: (1) "[Y]ou guys are finally going to get that bitch;" and (2) "[W]e're rooting for you." Peter Strzok took notes at a messaging meeting held on May 12, 2016 which described how FBI rank-and-file viewed the Clinton investigation, "If I did this, I'd be prosecuted."
Wiener Investigation Case Agent Was Concerned by How Slowly the Investigation was Moving 
While the probe was not known to have been reopened until October 28, 2016, when Comey sent a letter to Congress, the unnamed case agent investigating Weiner expressed concerns to OIG that in earlier than October they felt the investigation was being slow-walked.
"As early as October 3, the case agent assigned to the Weiner investigation expressed concern that no action appeared to be occurring with regard to the Clinton emails discovered on the Weiner laptop," OIG said. "He began documenting these concerns in contemporaneous emails and also discussed his concerns with his supervisor and the SDNY AUSAs assigned to the Weiner investigation."
Then there was this explosive quote from that agent was extremely "uncomfortable" about what was (or wasn't) going on:
The crickets I was hearing was really making me uncomfortable because something was going to come crashing down…. And my understanding, which is uninformed because…I didn't work the Hillary Clinton matter. My understanding at the time was I am telling you people I have private Hillary Clinton emails, number one, and BlackBerry messages, number two. I'm telling you that we have potentially 10 times the volume that Director Comey said we had on the record. Why isn't anybody here? Like, if I'm the supervisor of any CI squad in Seattle and I hear about this, I'm getting on with headquarters and saying, hey, some agent working child porn here may have [Hillary Clinton] emails. Get your ass on the phone, call [the case agent], and get a copy of that drive, because that's how you should be. And that nobody reached out to me within, like, that night, I still to this day I don't understand what the hell went wrong.
The agent said they tried to got the attention of former SDNY attorney Preet Bharara (who was fired by Trump and now appears on CNN as a legal analyst) through an unnamed assistant U.S. attorney. He also characterized the FBI as "lazy."
"I felt like if I went there and [AUSA 1] got the attention of Preet Bharara, maybe they'd kick some of these lazy FBI folks in the butt and get them moving," he said.
The case agent was specifically worried that politics would compromise the investigation.
"And I told [AUSA 1], I'm a little scared here. I don't know what to do because I'm not political. Like I don't care who wins this election, but this is going to make us look really, really horrible," the agent said. "And it could ruin this case, too. And…I said the thing that also bothers me is that Comey's testimony is inaccurate. And as a big admirer of the guy, and I think he's a straight shooter, I wanted to, I felt like he needed to know, like, we got this. And I didn't know if he did."
McCabe Emailed Comey One Day Before Clinton Probe Reopened, Comey Didn't Remember Laptop Mention
McCabe told the OIG about an email he sent Comey at 5:20 a.m. on Oct. 27 about an "absolutely urgent" matter that had been "sitting around for three weeks," that is the laptop situation.
Comey said that he didn't think he remembered what the email was about when he received it, but notably also said he didn't recall he had been notified about the laptop before.
"I remember now, but I didn't focus on it at the time. I was aware sometime in the first week or two of October that there was a laptop that a criminal squad had seized from Anthony Weiner in New York and someone said to me…kind of in passing, they're trying to figure out whether it has any connection to the Midyear investigation," he said. "And it's funny, when I was first reminded, I didn't even remember—by my staff saying, remember this is the laptop they mentioned to you. And I said, I don't remember being told."
Comey used different standards for Clinton email probe than for Clinton Foundation or Russia investigations.
While the report did not find that Comey's decision making was politically influenced, it did call into question why he decided to make his public announcement regarding his recommendation not to charge Clinton, and why he told Congress that the investigation was being reopened before the election. Comey has said he made these announcements in the interest of transparency, but the report said "Comey engaged in ad hoc decision making based on his personal views even if it meant rejecting longstanding Department policy or practice." It went on to ask "why transparency was more important than Department policy" when it came to the Clinton email investigation, "while, by contrast, Department policy and practice was more important to follow with regard to the Clinton Foundation and Russia investigations."
Comey wrongly acted with the election in mind.
Comey has indicated in the past that he had been influenced by the assumption that Hillary Clinton was going to win the election. The report notes that such political motivation has no place in FBI investigations. "In our view, assumptions about the outcome of an election should not affect how
the FBI or the Department applies longstanding policies and norms," it says.
One agent in the investigation felt DOJ wouldn't prosecute no matter what was on Weiner's laptop.
Text messages between an agent involved in the Clinton email probe and an FBI agent who was not involved discussed the unlikelihood that the search of Anthony Weiner's laptop would result in anything significant. An exchange between the two went as follows:
8:31 a.m., Uninvolved Agent: "A horrible shit sandwich. Still no [grand jury] I imagine. So, you find Huma lied; BFD. No one at DoJ is
going to prosecute."
8:33 a.m., Agent 1: "Rog – noone is going to pros[ecute] even if we find unique classified. [Grand jury] story was inaccurate – 50+ GJ
subpoenas and 2703d issued,"
8:37 a.m., Agent 1: "…We only had several warrants and alot of consent searches on media. I would have liked to use warrants for all because the consent agreements had limited scope. Reasonable scope, but I don't like to stand on the lawn and have the occupants throw out the evidence to us."
Basically, the agent involved said that no matter what they found, he didn't think the DOJ would prosecute. The agent also questioned the consent agreement made with the Clinton team regarding what materials they were going to search.
When the agent was asked for the basis of this opinion, the agent said:
I think this is me venting or complaining in a vein of, you know, but I have, I have nothing to substantiate. I don't have a statement. I don't have a, I don't have an action that someone wouldn't prosecute it if, if we found it.
Messages between Peter Strzok and Lisa Page showed the possibility of political bias influencing their work, but they denied it.
The report classifies certain concerning messages into three categories: those referencing Clinton and/or Trump, those regarding the Clinton investigation, and those regarding the Russia investigation. OIG said that while these messages did not necessarily show that the Clinton investigation was impacted by bias, it did cast doubt on the FBI's integrity in the eyes of the public, which OIG found troublesome. OIG also believes that Strzok's bias may have influenced his decisions regarding the Russia probe.
Some highlights of their biased talk include Page saying about Trump, "The man has no dignity or class. He simply cannot be president," and calling him a "loathsome human. Similarly, Strzok said, "I keep hoping the charade will end and people will just dump him," and called Trump "a fucking idiot." Another time, when Page expressed concern about the possibility of Trump becoming president, Strzok said, ""No. No he's not. We'll stop it."
Strzok admitted that it was unwise to say certain things on FBI devices, and acknowledged his personal leanings against Trump. Nevertheless, he told OIG that there is a "bright and inviolable line between what you think personally and belief and the conduct of your official business," and that his personal politics  "never transited into the official realm. In any way. Not in discussions, not in acts."
Page admitted being pro-Clinton and anti-Trump, but said she was simply venting to Strzok because she felt she couldn't talk about politics to other people due to her role on the Clinton email probe. "Because I was on the Clinton investigation, I actually felt extremely constrained from talking to anyone about politics at all," she told OIG.  "And so, Pete being a good friend, it was in a way a, like a safe place to sort of have a conversation about what was…the normal sort of news of the day because…we both knew that we weren't, it wasn't impacting anything that we were doing."
Page said that the reason they communicated via FBI-issued devices was because they were having an affair and wanted to hide it from their spouses.
Some of Strzok and Page's Text Messages May Still Be Missing
The report confirms that text messages sent between Strzok and Page between December 15, 2016 and May 17, 2017 were lost due to "issues with the data collection and preservation software" that the FBI used, but that they were later able to recover thousands of messages from that time period. The report notes that the recovered messages appeared to be of the same frequency as the ones from other time periods, "we cannot definitively say that our forensic recovery captured every text message exchanged between Page and Strzok during the gap period."
James Comey used a personal email account for government business, likely in violation of policy.
Irony of ironies, the former FBI Director who led the investigation of Hillary Clinton using a private email server for government business also used a personal account for government business. While Comey didn't set up his own server, opting for Gmail instead, he did use it to discuss official business. The DOJ allows use of personal email under a strict set of circumstances, including sending copies of such emails to their official accounts and making sure they're properly backed up by the DOJ recordkeeping system within 20 days.
Comey admitted his use of personal email and said it was never regarding sensitive or classified information, and only for incidental matters. He said he would also forward emails to government accounts. The report says that when asked if he was complying with DOJ policy, Comey told OIG, "I think so, but I don't know." OIG, on the other hand, said that Comey's use of personal email, on multiple occasions, was "inconsistent with the DOJ Policy Statement."
Leaks (and gifts) galore
The report says, "FBI policy strictly limits the employees who are authorized to speak to the media," but that this policy was "widely ignored" by people of all levels of the FBI, even those "with no official reason to be in contact with the media." OIG said that they identified dozens of FBI employees who spoke to reporters, and even cases where they accepted favors from reporters. The report specifies that some employees "received tickets to sporting events from journalists, went on golfing outings with media representatives, were treated to drinks and meals after work by reporters, and were the guests of journalists at nonpublic social events."
Andrew McCabe didn't have to recuse himself from Clinton-related investigations, but once he did, he violated it.
Former FBI Deputy Director Andrew McCabe's involvement with the Clinton and Clinton Foundation investigations has been called into question, particularly by President Trump, given that Clinton associate Terry McAuliffe had donated substantially to McCabe's wife's state political campaign. McCabe recused himself on November 1, 2016, days before the election. OIG found that McCabe was under no legal obligation to recuse himself, but once he did, he violated the recusal when he inquired about leaks regarding the Clinton Foundation probe, even if he was following instructions from Comey.
Background
The results of this report are over a year and a half in the making. The months from July 2016 to November 2016 were perhaps the defining moments of former FBI director Comey's career. It was in July that Comey said "no reasonable prosecutor" would charge Democratic presidential candidate Hillary Clinton over use of a private email server. Then in October, 11 days before the election, Comey sent a letter to Congress in which he announced the was email probe would start up again because of emails found on Anthony Weiner's computer. Finally on Nov. 6, two days before the election, Comey once again cleared Clinton.
Donald Trump was elected two days later.
On January 12, 2017, DOJ Inspector General Michael Horowitz announced that his office would embark on an expansive investigation into allegations of misconduct related to Comey's handling of the Clinton email server probe. In May, Trump fired Comey. After months on the sidelines, Comey reemerged to discuss his book A Higher Loyalty. He was critical of Trump and explained why he made the decisions he made about the Clinton probe.
Asked by George Stephanopoulos if he'd still send that letter to Congress knowing it would "elect Donald Trump," Comey replied, "I would. I would."
"If I ever start considering whose political fortunes will be affected by a decision, we're done. We're no longer that group in America that is apart from the partisans, and that can be trusted. We're just another player in the…in the tribal battle," Comey said.
Matt Naham, Colin Kalmbacher, and Ronn Blitzer all contributed to this report.
[Image via JEWEL SAMAD/AFP/Getty Images, Alex Wong/Getty Images]
Have a tip we should know? [email protected]