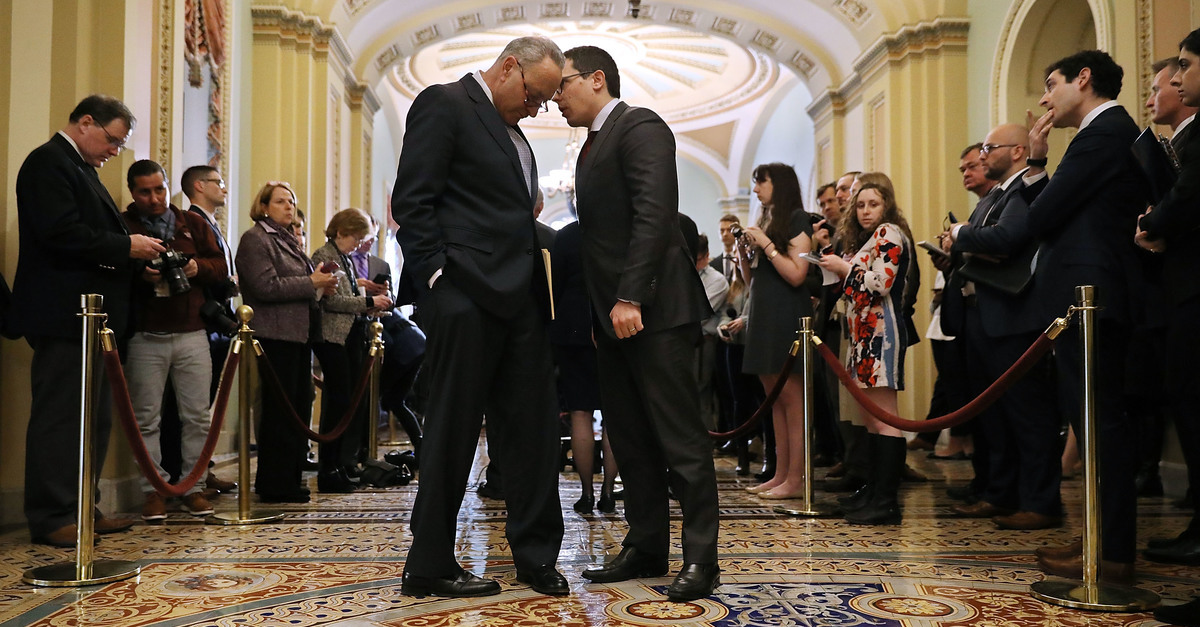 A longtime aide to Senate Minority Leader Chuck Schumer (D-N.Y.) was reportedly forced from his position late last year amidst allegations of inappropriate sexual encounters with junior staffers.
According to HuffPost, Schumer's former communications director Matt House announced his departure–after 5-and-a-half years in the position–just after November's midterm elections. House's farewell earned him bipartisan praise at the time and there was initially no indication that anything untoward had precipitated the move. But people began to wonder about the circumstances of that departure after noticing that House apparently had no other job prospects lined up, the outlet reported.
Two anonymous sources eventually told Huffpost that House was actually ousted from his once-promising position due to a series of "inappropriate sexual encounters with junior staffers." Those sources claimed to have knowledge of the situation, but demanded to remain nameless–apparently because this bit of the Senate's dirty laundry wasn't supposed to make its way to the press.
A spokesperson for Schumer on Friday confirmed the reasons behind House's early exit:
Upon learning that he had inappropriate encounters within the office and that it was making some staff uncomfortable, he was asked to leave.
House later sent HuffPost reporter Yashar Ali a message which also appeared to confirm those allegations.
"I absolutely loved my time working in the Senate and it was the honor of my life," House's statement began. "I deeply regret the mistakes I made on the number of occasions when I had too much to drink, and I apologize to anyone who was affected by my behavior. I have always respected all of my colleagues and I was horrified to learn that I made anyone feel uncomfortable. In the past three months, I've stopped drinking and I've committed to making myself a better colleague and person."
It is not currently clear whether House's alleged behavior would have been more akin to harassment or whether it might have ever risen to the level of a crime. Another source noted that there had been no legal complaints filed over any of Houses's alleged behavior–at least not through the auspices of Schumer's office.
Law&Crime reached out to Sen. Schumer's press team for additional comment and clarification on this article, but no response was forthcoming at the time of publication.
House, a long-serving apparatchik for the Democratic Party, previously worked on Joe Biden's brief 2008 presidential campaign.
[image via Chip Somodevilla/Getty Images]
Have a tip we should know? [email protected]