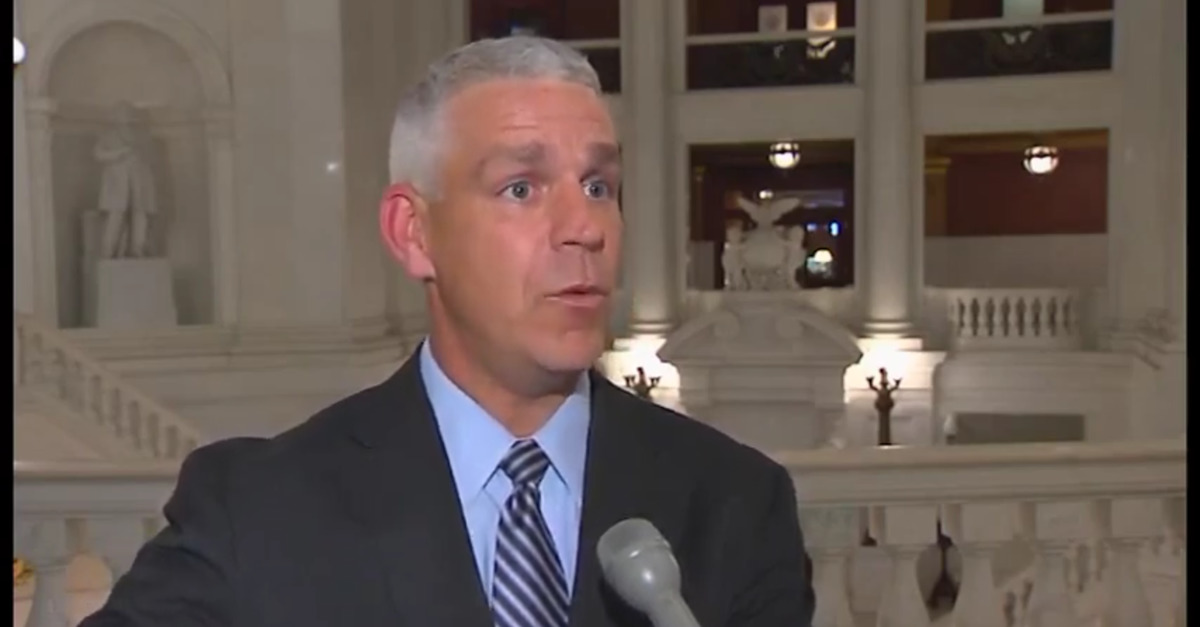 A woman who works in the Pennsylvania state Capitol says she was drugged and sexually assaulted by a GOP state legislator after he offered her a ride home.
According to PennLive, the woman alleges she was assaulted by Republican State Representative Brian Ellis, who represents mid-eastern Butler County. The incident allegedly occurred after the woman left a Harrisburg bar with Butler in 2015.
Pennsylvania Commonwealth Victim Advocate Jennifer Storm is currently working with the unnamed woman on her case. Storm says the woman did not get drunk at the bar that night but was surreptitiously drugged and incapacitated before eventually taking a hard fall.
"We want to make it very clear that she was not voluntarily intoxicated. This woman was incapacitated," Storm told the outlet. "She does believe that she was drugged and that she did seek medical attention the following day because she was in pain and she did indeed have a concussion and other injuries."
Law enforcement in Dauphin County–where Harrisburg is located–are currently investigating that allegations but no charges have been filed as of yet. Dauphin County District Attorney Fran Chardo confirmed that Ellis is currently being investigated for criminal activity but mostly kept mum about the case.
"I don't comment on criminal investigations," he told the The Philadelphia Inquirer, "unless they are already publicly known."
Democrats and Republicans in the Keystone State–which isn't actually a state, but a commonwealth–have called on Ellis to resign.
"The allegations against Representative Ellis are outrageous and unacceptable," said a spokesperson for Democratic Governor Tom Wolf. "We stand with the survivor whose decision to come forward and seek justice is courageous. Governor Wolf believes Rep. Ellis should resign."
GOP leaders in the Pennsylvania House of Representatives stripped Ellis of his committee assignments once the criminal investigation was acknowledged.
"House Republican leaders are recommending Rep. Brian Ellis resign from office to take care of his family and address the allegations raised against him that are currently the subject of a criminal investigation by the Dauphin County District Attorney," a statement from Ellis' colleagues provided to the media read. "The House Republican Caucus has zero tolerance for any instance of sexual violence or harassment."
"The complainant deserves to have her allegations of criminal activity thoroughly investigated by police and prosecutors," the statement continues.
The statement also noted that "Capitol Police and House Security" authorities had been contacted in order to put in place "additional safety and security measures.
Lawyers for Pennsylvania's House GOP reportedly learned about the allegations early last year, according to the Inquirer. They then forwarded that information on to Chardo but said they have not been contacted his office since then.
Storm said the alleged victim went through her options before deciding to speak out:
It's an incredibly bold and courageous act to come forward when your perpetrator is powerful…This is a very hard time for her.
Law&Crime reached out to Ellis' office for comment on this story but no response was forthcoming at the time of publication.
[image via screengrab/Youtube/RepEllis]
Have a tip we should know? [email protected]