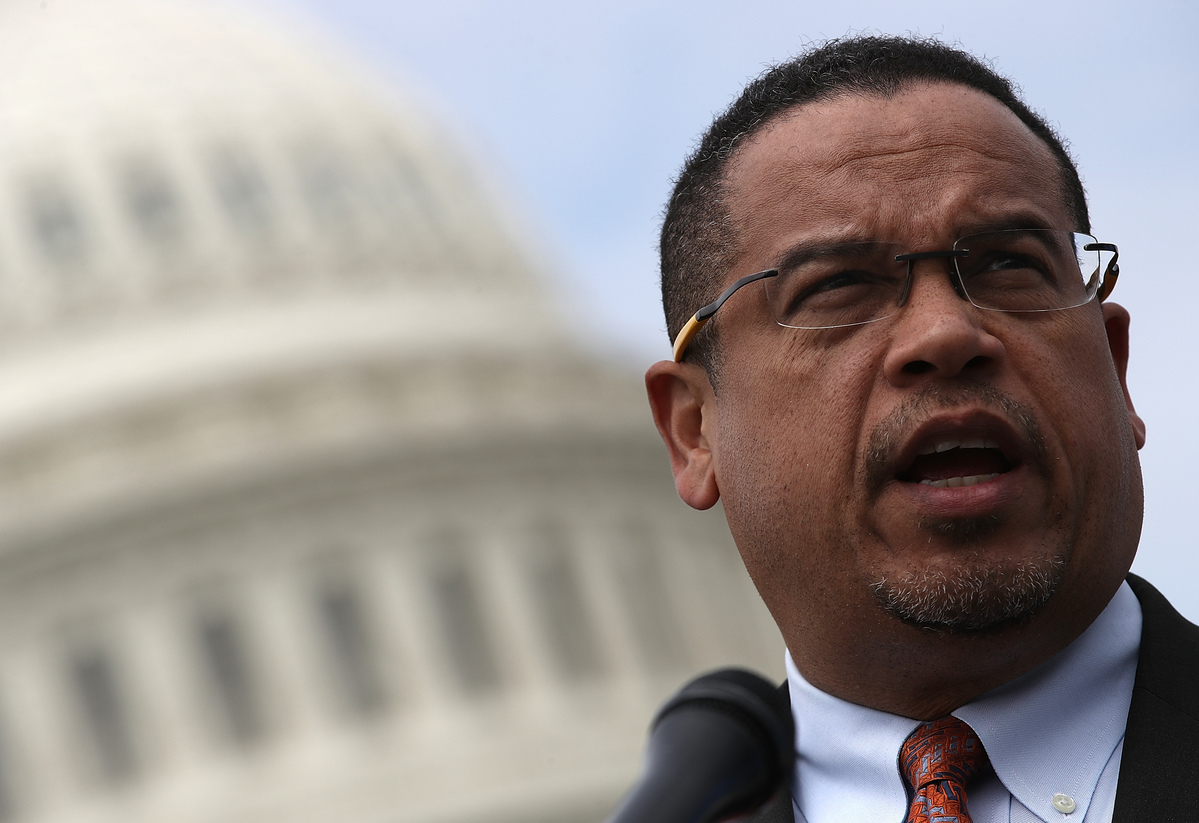 Representative Keith Ellison (D-MN) has been accused of domestic violence by his former partner Karen Monahan. Ellison is currently running in the Democratic-Farmer-Labor primary for attorney general of Minnesota.
In a statement released Sunday afternoon, Ellison flatly denied the accusations.
Some of those allegations came to the forefront in a Facebook post on Saturday night. The post was authored by Austin Monahan, Karen Monahan's son.
In the post, the younger Monahan notes, "My brother and I watched our mom come out of pure hell after getting out of her relationship with Keith Ellison. For several months we knew something wasn't right and couldn't figure it out. When we asked our mom if everything was ok, she told us she was dealing with some stress and would be ok."
Austin Monahan's post then details some aspects of the alleged abuse suffered by his mother:
In the middle of 2017, I was using my moms computer trying to download something and I clicked on a file, I found over 100 text and twitters messages and video almost 2 min long that showed Keith Ellison dragging my mama off the bed by her feet, screaming and calling her a "fucking bitch" and telling her to get the fuck out of his house. The messages I found, were mixed with him consistently telling my mom he wanted her back, he missed her, he knew he fucked up and we wished he could do things different, he would victim shaming, bully her, and threaten her if she went public.
In Ellison's Sunday statement, he said, "Karen and I were in a long-term relationship which ended in 2016, and I still care deeply for her well-being. This video does not exist because I never behaved this way, and any characterization otherwise is false."
The lengthy Facebook post goes on to note that Austin and his brother confronted their mother with the alleged video, but that she made the decision not to go public based on the hope that Ellison would offer "restorative justice."
Karen Monahan herself–in various responses to Ellison's tweets about his run for attorney general, hinted at the issues:
Does this include domestic violence, narcissist abuse? My videos, recordings, messages & others who have shared what they have been told, tell us different.Our human lives don't seem to have value. #MeToo

— Karen Monahan (@KarenMonahan01) June 27, 2018
You have been talking about running for US Senate for a while now Keith. Climbing the ladder is something you have always had your eye on. You discuss protecting women, yet you say nothing about domestic abuse. Protecting women means living those values in your private life,

— Karen Monahan (@KarenMonahan01) July 9, 2018
My kids, job, health, finances, humanity was deeply impacted by the abuse you are well aware of. My agency and sovereignty was taken from me. I offered restorative justice & that offer was tossed to the side. 1&1/2 yrs, running away, denying & victim shaming. It's not going away

— Karen Monahan (@KarenMonahan01) July 9, 2018
In response, Ellison's primary opponent, Matt Pelikan, was quick to seize on the accusations:
I believe women. We must believe women. This is especially true for those who have the courage to come forward with their experiences. I have committed to believing and supporting survivors in my personal and professional life. This instance is no different.

— Matt Pelikan (@mattpelikan) August 12, 2018
While the combined allegations come just days before Minnesota's primary election, Austin Monahan's post claims that he's not going public based on partisan concerns:
I use to believe the Democrats were the ones who would stand by a person who went through this kind of abuse, now I know both Democrats and Republicans could care less when it comes to violence toward women and girls. I have learned a lot about how patriarchy has shaped me as a 25 year old through all this.
[image via Win McNamee/Getty Images]
Follow Colin Kalmbacher on Twitter: @colinkalmbacher
Have a tip we should know? [email protected]