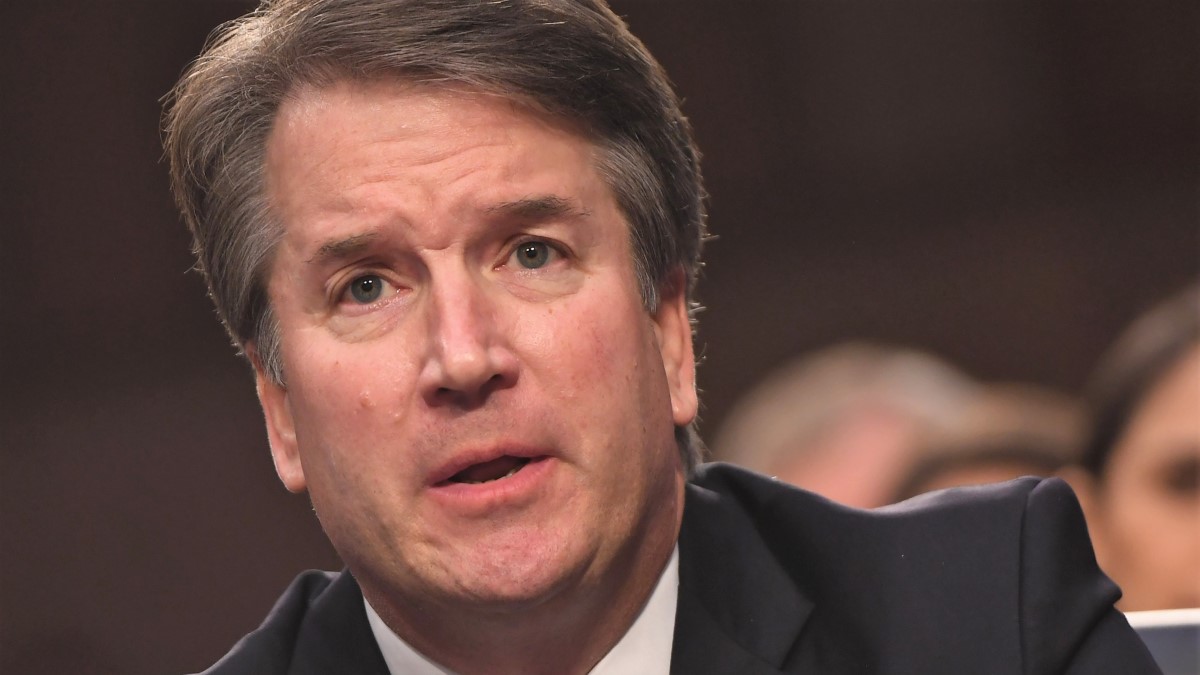 Harvard Law Professor Laurence Tribe, former federal circuit court judge Timothy K. Lewis, and Obama ethics attorney Norman Eisen on Tuesday issued a paper through the Brookings Institute, arguing that Brett Kavanaugh, President Donald Trump's Supreme Court pick, should back down from any case which involves Trump.
The paper, issued just as Kavanaugh's confirmation hearing before the Senate Judiciary Committee began, carries an urgent call to action. The three men argue for what amounts to a two-fold rationale for shutting down the confirmation hearings.
[W]e believe the Constitution instructs that a judge nominated to the Court in the situation that currently confronts Judge Kavanaugh recuse himself from the full swath of cases presenting the issues of personal presidential liability . . . and that precedent demands he do so now, as other nominees have done under far less compelling circumstances. The confirmation hearings should therefore be halted so these issues can be explored and proper recusals agreed to after due deliberation, including full production of the judge's documents so his views can be thoroughly probed.
Tribe, et al., argue that three cases Caperton v. A.T. Massey Coal Co., Williams v. Pennsylvania, and Williams-Yulee v. Florida Bar together require judges to step aside in one of two scenarios:  (1) if there is a "serious risk of actual bias," or (2) if an "independent and compelling government-wide interest in protecting against the appearance of bias" exists.
Here they argue that the appearance of bias exists, and that "protecting the public faith in the judicial system as a cornerstone of the legal process as a whole and as a guardian of the rule of law" requires Kavanaugh to back down.
Though the men note that "these precedents . . . have not yet been applied to require a Supreme Court justice to recuse, they plot a trajectory that points unmistakably in that direction." They further cite this article as proof Kavanaugh is unlikely to actually do so.
The authors back up their views with concomitant experience: They have "either been before the Senate for confirmation, worked on Supreme Court or other confirmations, or both." They state that they "have never seen anything like this hurried and defective process for such an important nomination."
Kavanaugh's confirmation hearing has been riddled with frequent outbursts from the gallery, leading to multiple ejections and arrests. There were also a number of attempts by Democrats to shut down the process.
Democrats are bemoaning a gap in Kavanaugh's official record totaling some 35 months in the White House. They want shut down the proceedings based on the lack of records.
Republicans, including Senate Judiciary Committee Chairman Chuck Grassley (R-Iowa), are saying the number of records released in the Kavanaugh confirmation process already exceeds the number of records released for previous candidates for Supreme Court seats.
Democrats are countering that it's not the quantity by number, but rather the percentage, of Kavanaugh's records that have been released that is giving them pause. Several Democrats said only about 10% of Kavanaugh's records have been released, and that they wouldn't hire even an intern with that incomplete of a resume.
[Photo by SAUL LOEB/AFP/Getty Images]
Have a tip we should know? [email protected]
Aaron Keller - Deputy Editor-in-Chief