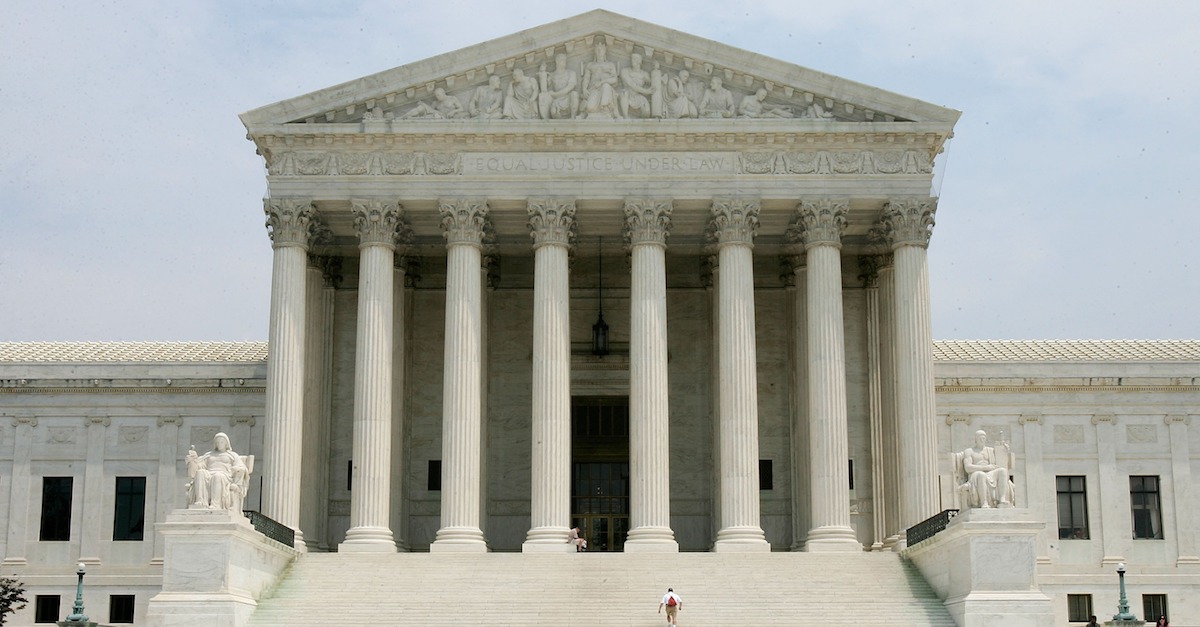 According to multiple reports, Supreme Court Justice Anthony Kennedy has announced he is retiring at the age of 81. This comes on the last day–and the third day this week–that the Court handed down opinions from its most recent term. With the centrist Kennedy stepping down, it raises the question of who might take his place.
Luckily, the White House provided some insight last fall, and President Trump has reportedly said that his nominee will come from this list of 25 possibilities:
1. Amy Coney Barrett of Indiana, U.S. Court of Appeals for the Seventh Circuit
Judge Barrett presides in Chicago and also teaches at Notre Dame Law School and is a recognized scholar on the subjects of civil procedure, federal courts, constitutional law and statutory interpretation. She also clerked for the late Justice Antonin Scalia. Barrett has already been targeted in ads for being a possible Trump nominee.
2. Keith Blackwell of Georgia, Supreme Court of Georgia
Blackwell has been at the Georgia Supreme Court since 2012 and was previously named as a possible Trump replacement for Scalia. His opinion in Miller v. Deal is one that tends to be brought up when his name is mentioned. In it, he held that there was no categorical right to counsel in civil contempt proceedings.
3. Charles Canady of Florida, Supreme Court of Florida
Justice Canady is set to begin a two-year stint as chief justice of the Florida Supreme Court on Sunday, July 1. "I look forward to continuing to serve the people and the judicial branch," he said. "I have worked with so many outstanding Florida public servants for many years now, including my fellow Justices. I thank them for their trust in me and look forward to the work ahead." Canady has also served in both the Florida and U.S. Houses of Representatives. 
4. Steven Colloton of Iowa, U.S. Court of Appeals for the Eighth Circuit
Judge Colloton was appointed by George W. Bush and is Princeton and Yale educated. In the '90s, he worked in the office of special prosecutor Kenneth Starr, whose investigation infamously resulted in former President Bill Clinton's impeachment. A Missouri ruling of Colloton's from 2014, in which he said that death row inmates don't have the right to discover more about pharmacy the state gets lethal injection drugs from, is one that's stayed with him.
5. Allison Eid of Colorado, U.S. Court of Appeals for the Tenth Circuit
The Leadership Conference on Civil and Human Rights previously sent a letter complaining about Eid and opposing her confirmation to the U.S. Court of Appeals  because of "conservative extremism." Alliance for Justice opposed Eid for the same reason: "Eid's record reveals a jurist who, to an extraordinary degree, adheres to a rigid, ultraconservative partisan ideology." Nonetheless, Eid presides there in place of a certain Supreme Court Justice Neil Gorsuch.
6. Britt Grant of Georgia, Supreme Court of Georgia
Grant was appointed to her current position in 2017. According to her Georgia Supreme Court bio, Grant also serves on the Federalism & Separation of Powers Executive Committee of the Federalist Society (FedSoc) for Law and Public Policy Studies, notable for someone concerned about conservative bonafides. FedSoc is "a group of conservatives and libertarians interested in the current state of the legal order […] founded on the principles that the state exists to preserve freedom, that the separation of governmental powers is central to our Constitution."
7. Raymond Gruender of Missouri, U.S. Court of Appeals for the Eighth Circuit
Judge Gruender is another George W. Bush appointee who was named as a possible replacement for Scalia. SCOTUS Blog said that it "reviewed over 120 cases in controversial areas in which Gruender either wrote or joined in an 8th Circuit opinion" and found he " has ruled consistently against criminal defendants in death penalty cases […] written several opinions reflecting hostility to reproductive rights, and he has ruled in favor of employers in a number of employment discrimination cases."
8. Thomas Hardiman of Pennsylvania, U.S. Court of Appeals for the Third Circuit
This 52-year-old judge received his law degree at Georgetown and would become the first Supreme Court justice in decades not to have attended the Ivy League. Hardiman is considered a solid conservative jurist and was formerly active in Republican politics before being promoted to the federal bench by George W. Bush. His Second Amendment jurisprudence has been a little all over the place but he approaches the issue with a so-called "originalist" approach.
9. Brett Kavanaugh of Maryland, U.S. Court of Appeals for the District of Columbia Circuit
This 53-year-old judge was appointed to the federal bench by George W. Bush as well. He's considered a protégé of Kenneth Starr–and was a principal author of the Starr Report on President Bill Clinton. Famously (or infamously), Kavanaugh wrote a ruling that asserted the president could choose to enforce Obamacare simply because he "deems" the law unconstitutional.
10. Raymond Kethledge of Michigan, U.S. Court of Appeals for the Sixth Circuit
This 51-year-old judge was also appointed to the federal bench by George W. Bush. Kethledge is known for his humor and his conservative bona fides are not likely to be questioned. He's also a non-Ivy Leaguer, hailing from the University of Michigan Law School. A strong proponent of deferring to the legislative branch, Kethledge once said he's never seen an ambiguous statute.
11. Joan Larsen of Michigan, U.S. Court of Appeals for the Sixth Circuit
This 48-year-old judge graduated first in her class from the Northwestern University School of Law. She also previsouly served as an AUSA during the George W. Bush administration–and later in the Office of Legal Counsel. She was first nominated to serve on the Michigan Supreme Court in 2015 and famously denied having anything to do with the Bush administration's torture-authorizing memos.
12. Mike Lee of Utah, United States Senator
The 47-year-old junior senator from Utah might be considered a bit of a wildcard. Known in the Senate for his bi-partisanship and affiliation with both the Tea Party and Rand Paul-style libertarianism. Lee frequently takes the libertarian perspective on privacy issues, is a rock-solid Second Amendment supporter and for trying to rein in the U.S. military and intelligence agencies.
13. Thomas Lee of Utah, Supreme Court of Utah
This 53-year-old judge is Mike Lee's brother and also has a non-Ivy League law background. He previously clerked for Supreme Court Justice Clarence Thomas before working in private practice. In 2010, he was appointed to the Utah Supreme Court where he's a reliably conservative voice and an adherent to the so-called "originalist" school of statutory interpretation.
14. Edward Mansfield of Iowa, Supreme Court of Iowa
This 61-year-old judge's age might be a non-starter for the conservative judicial movement dedicated to longevity but as a member of the Federalist Society, is reliably conservative on potential hot-button issues near and dear to Republicans. Mansfield was appointed to the Iowa Supreme Court in 2011 and voters kept him around in 2012. He's also an Ivy Leaguer, having graduated from Yale.
15. Federico Moreno of Florida, U.S. District Court for the Southern District of Florida
This 66-year-old judge should probably be written off due to his age but let's take a look anyhow. Moreno has served on the U.S. District Court for the Southern District of Florida since 1990. He previously worked as a public defender which might be considered a plus to Democrats but probably means he's DOA for the GOP.
16. Kevin Newsom of Alabama, U.S. Court of Appeals for the Eleventh Circuit
This 45-year-old judge was widely considered to be one of the closest runner-ups for President Trump's first SCOTUS pick. He serves on the United States Court of Appeals for the Eleventh Circuit and would be highly controversial. Newsom is considered hostile to the concept of substantive Due Process, a long-standing Supreme Court precedent and believes Roe. v. Wade is comparable to the Dred Scott decision.
17. William Pryor of Alabama of the Eleventh Circuit Court of Appeals
According to SCOTUSblog, Pryor wrote a brief in defense of Texas' anti-sodomy law that was shot down by the Supreme Court in Lawrence v. Texas and said that Roe v. Wade was the "worst abomination in the history of constitutional law. Pryor typically rules against defendants in criminal cases.
In some areas, Pryor is more of a wild card. While he generally favors the government in immigration cases, the conservative judge has sided with people seeking asylum based on fear of persecution for their sexual orientation. Pryor is a defender of religious freedom, but also ruled against LGBT discrimination, two issues that have been at odds when various states passed laws allowing businesses to refuse business to customers due to their religious beliefs about gay marriage.
Pryor graduated from Tulane University Law School before clerking for the Fifth Circuit Court of Appeals, and then working in the private sector. In 1995 he became Deputy Attorney General in Alabama, before becoming AG in 1997. President George W. Bush nominated Pryor to the Eleventh Circuit in 2003, but Democrats opposed him due to his far-right positions. President Bush later appointed Pryor when Congress was in recess in 2004, and the Senate confirmed him in a 53-45 vote.
18. Margaret Ryan of Virginia of the U.S. Court of Appeals for the Armed Forces
Ryan joined the court in 2006 and was nominated by President George W. Bush. She serves as active duty on the Marine Corps for four years. She clerked for Judge Michael Luttig on the United States Court of Appeals for the Fourth Circuit.
19. David Stras of the Eight Circuit Court of Appeals
He was nominated to the Eighth Circuit by President Donald Trump on May 8, 2017. Stras also served as a law professor at the University of Minnesota Law School. After graduating from University of Kansas Law School, Stras cleared for Justice Clarence Thomas. His nomination to the appellate court was opposed more than 200 civil and human rights organizations.
20. Diane Sykes of the Seventh Circuit Court of Appeals
Sykes, 59, was nominated by George W. Bush and confirmed in 2004. She went to Northwestern University and attended Marquette University Law School. She was dropped as a name for the U.S. Supreme Court under President George W. Bush.
She will probably appease conservative on gun rights as Sykes was part of the 2011 panel that held a Chicago ban on firing range was unconstitutional. She came out against Chicago's ban on firing ranges inside city limits, finding they were protected by the Second Amendment.
21. Amul Thapar of the Sixth Circuit Court of Appeals
He was appointed there by Trump. This alum of the University of California at Berkeley School of Law used to work as a federal prosecutor. Thapar was recently targeted in political ads by liberal group Demand Justice, which highlighted his ties to Senate Majority Leader Mitch McConnell (R-Kentucky).
22. Timothy Tymkovich of the Tenth Circuit Court of Appeals
He was appointed to the bench by President George W. Bush, and became chief justice in 2015. Tymkovich previously served as Solicitor General of Colorado.
23. Robert Young of the Michigan Supreme Court (ret.)
He used to serve on the Michigan Supreme Court, even becoming Chief Justice, but he retired last year. He now works as general counsel for Michigan State University, and had represented the school in a settlement with victims in the Larry Nassar case.
24. Don Willett of the Fifth Circuit Court of Appeals
He was nominated to that bench by the president even after voicing his displeasure with candidate Trump on Twitter. Willett got a lot of attention for his social media usage back when he was an associate justice for the Supreme Court of Texas, but his online activity died out since the day before he was sworn in as a federal judge–he hasn't posted since January 1. At his confirmation hearing last year, he defended tweets in which he allegedly disparaged same-sex marriage (he was joking, he said), and a transgender girl joining her school's female softball team (he didn't intend to disrespect the student, he said).
25. Patrick Wyrick of the Oklahoma Supreme Court
He has a pending federal nomination for the U.S. District Court for the Western District of Oklahoma. Wyrick received his J.D. from the University of Oklahoma College of Law.
This list will be updated with additional details about the potential Supreme Court nominees by the Law&Crime staff. 
[Image via Alex Wong/Getty Images]
Have a tip we should know? [email protected]