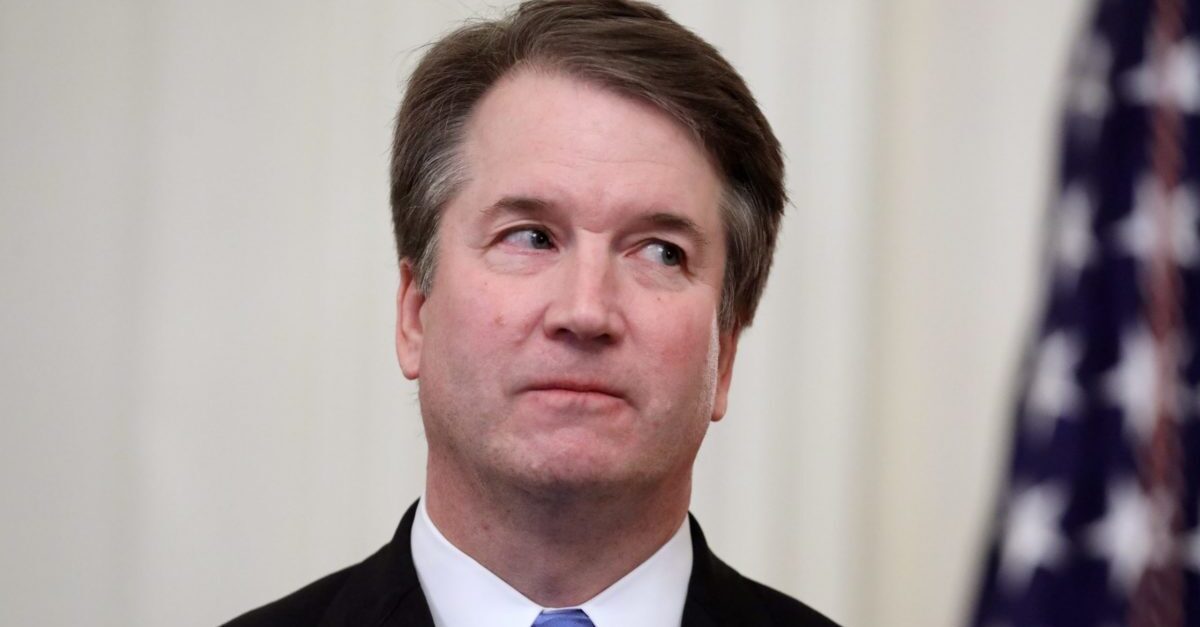 An armed man arrested near the home of U.S. Supreme Court Justice Brett Kavanaugh in the early morning hours on Wednesday had murderous and suicidal thoughts, according to federal court documents.
"At approximately 1:50 a.m. today, a man was arrested near Justice Kavanaugh's residence. The man was armed and made threats against Justice Kavanaugh," the high court's public information officer Patricia McCabe said in a statement to Law&Crime. "He was transported to Montgomery County Police 2nd District" in Maryland.
The man, later identified in federal court documents as Nicholas John Roske, 26, of Simi Valley, California, was later charged with attempting to kidnap or murder, or threatening to assault, kidnap, or murder, a U.S. Supreme Court justice.  That's according to a criminal complaint filed Wednesday in U.S. District Court for the District of Maryland.  The specific crime alleged is a violation of 18 U.S.C. § 115(a)(1)(A).
According to a law enforcement affidavit, the feds appear to have been ready and waiting:
On June 8, 2022, at approximately 1:05 a.m., two United States Deputy Marshals saw an individual dress in black clothing and carrying a backpack and a suitcase, get out of a taxicab that had stopped in front of the Montgomery County, Maryland residence of a current Justice of the United States Supreme Court. The individual looked at the two Deputy U.S. Marshals, who were standing next to their parked vehicle, and then turned to walk down the street.

Shortly thereafter, Montgomery County Emergency Communications Center fielded a call from an individual who identified himself as NICHOLAS JOHN ROSKE. ROSKE informed the call taker that he was having suicidal thoughts and had a firearm in his suitcase. ROSKE also told the call taker he came from California to kill a specific United States Supreme Court Justice. The Montgomery County Police Department officers were dispatched to the location near the Supreme Court Justice's residence where they encountered ROSKE, who was still on the telephone with the Montgomery County Emergency Communications Center. ROSKE was taken into custody without incident and law enforcement officers seized both the backpack and the suitcase that were still in his possession.
The document says Roske's suitcase and backpack contained "a black tactical chest rig and tactical knife, a Glock 17 pistol with two magazines and ammunition, pepper spray, zip ties, a hammer, screwdriver, nail punch, crow bar, pistol light, duct tape, hiking boots with padding on the outside of the soles, and other items."
Back at a police station, Roske allegedly waived his constitutional rights and told the authorities that "he was upset about the leak of a recent Supreme Court draft decision regarding the right to abortion as well as the recent school shooting in Uvalde, Texas," the affidavit continues.
It then alleges as follows:
ROSKE indicated that he believed the Justice that he intended to kill would side with Second Amendment decisions that would loosen gun control laws.  ROSKE stated that he began thinking about how to give his life a purpose and decided that he would kill the Supreme Court Justice after finding the Justice's Montgomery County address on the Internet.  ROSKE further indicated that he had purchased the Glock pistol and other items for the purpose of breaking into the Justice's residence and killing the Justice as well as himself.
A second interview with the defendant resulted in a confirmation of the statements made during the first interview, the affidavit states.
According to federal law, the penalty for the alleged crime appears to be a prison sentence of up to 20 years and a fine.
As recently as mid-May, Attorney General Merrick Garland "directed" federal law enforcement officers to "provide additional support" in protecting Supreme Court justices and their residences. The directive came amid protests over the leak of Justice Samuel Alito's draft opinion which would overturn Roe v. Wade and Planned Parenthood v. Casey, the two cases which created and then upheld a constitutional right to an abortion.
The extra security was ordered when protesters in May entered the various neighborhoods where justices Kavanaugh, Alito, Clarence Thomas, Neil Gorsuch, and Amy Coney Barrett live.
The court paperwork is embedded here:
This is a developing story . . . it has been updated multiple times.
[Image via Chip Somodevilla/Getty Images]
Have a tip we should know? [email protected]
Aaron Keller - Deputy Editor-in-Chief