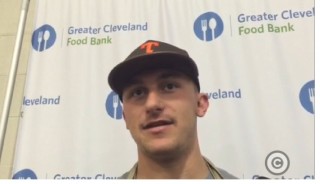 Johnny Manziel, who is known to many as Johnny Football, had quite an impressive college football career.  He was the starting quarterback for Texas A&M during their 2012 and 2013 season.  The young man was a dynamic football force who could throw accurately and run the ball with ease.  He won the Cotton Bowl in 2013 and the Chick-fil-A Bowl in 2014, and most notably, he received the Heisman Trophy award, the most prestigious honor a college football player could ever receive.  All seemed right for Johnny Manziel when the Cleveland Browns drafted him in the 1st round of the 2014 NFL Draft.  For once, Browns fans felt optimistic that a QB of his caliber may not bust for once.  Unfortunately, Johnny Football has fallen flat on his face for reasons that could potentially cost him his career, as the Browns officially announced this week that they are cutting ties with Manziel once the 2016 NFL offseason begins.
Manziel's legal troubles and off-the-field skirmishes begin during his time at Texas A&M. In 2012, prior to being named Texas A&M's starting QB, he was arrested and charged for disorderly conduct, failure to identify, and carrying a fake license.  The charges stem from a fight he was part of in College Station, TX.  He later pled guilty to the charge of failing to identify himself to police, while his other two charges were dismissed. Fast forward to February 2015 when Manziel entered a rehab facility to treat his alcoholism. Then in May of 2015, Johnny Manziel was involved in a confrontation with a heckler at the AT&T Byron Nelson Tournament.  He had thrown a water bottle at the heckler, but police did not arrest or charge Manziel with any crime.  Then in October 2015, Manziel was questioned but not arrested or charged by police after a fight he had with his girlfriend in his car.  There is even dashboard cam footage from the police car of the police confrontation with Manziel and his girlfriend. Then in November, after being named the Browns starting QB, Manziel is demoted to 3rd string after video surfaces of him partying, which he lied about to the Browns.  Then on January 2, 2016, Manziel was reportedly partying in Vegas without the team's knowledge.
The coup de grace occurred this week, when Johnny Manziel was suspected of being involved in a domestic violence incident with his girlfriend in Fort Worth, Texas. Manziel was not arrested but an incident report was filed. On Thursday, Dallas and Fort Worth Police concluded their investigation and decided to not pursue any domestic violence charges against Johnny Manziel. This led to reports that the Browns intend to cut Johnny Manziel from their roster as soon as they were eligible to cut him, which is March 9.
This is quite an exhaustive list of troubles, scandals, and issues for someone so young (he's only 23 years old). I think his reckless behavior is something unlike what we've ever seen in the NFL.  You have to pin the fault on Manziel for his own transgressions and his unwillingness to being mature.  Surely, Manziel is battling many demons, from his alcoholic tendencies to his run-ins with the police. His off-the-field issues are affecting his ability to play on the field.  He is the opposite of what it takes to be a role model and quality player in the NFL.  And what's worse is that he is a liability to the Browns.  Negative headlines about Johnny Manziel are detrimental to the Browns brand.  The team has been in the basement for years and as they annually make attempts to improve, the last thing they need is a player who will diminish their ability to increase their stock value in the NFL.
I also can't help but feel bad for Manziel's agent.  An agent is more than a legal advocate for a player.  He is the guidance counselor, the father figure, and the most trustworthy person for a player to rely on when they're involved in any mess or troubles, legal or otherwise.  Erik Burkhardt represents Johnny Manziel and while I am absolutely unaware of their relationship, I can only imagine how many times Erik Burkhardt has talked to Manziel about being a quality player and getting his act together.  I wouldn't be surprised if there's been some figurative hand-holding.  But the agent can only do so much here.
Moving forward from this latest chapter in the Johnny Manziel soap opera, I foresee some major issues going forward.  First, I'm interested to see how the NFL investigates this matter.  Even though Dallas and Fort Worth Police will not charge Manziel with any crime for this incident, Manziel is still subject to an NFL investigation and a potential punishment under the NFL's domestic violence policy. Daniel Werly, sports lawyer and managing editor of TheWhiteBronco.com, told LawNewz.com that such a punishment is likely here. "Under the NFL's Personal Conduct Policy, Manziel would be subject to a mandatory six game suspension as a first time offender if league investigators and Roger Goodell determine that domestic violence occurred." NFL Commissioner Roger Goodell has not had the best track record in the past handling domestic violence sanctions in the NFL.  The hope is that the league's investigation in the matter will allow them to make the proper, fair, and just decision based on the evidence presented to them.  Perhaps they should seriously consider Manziel's girlfriend's claim that he threatened to kill her and himself as they continue to investigate this matter.
I think another issue that I foresee for Manziel is a potential loss of endorsement deals.  Manziel currently has a major endorsement deal with Nike and it's very possible that he could lose that deal, and other deals, if a morals clause is exercised that could void the contract.  A morals clause, in a nutshell, is a contractual provision that binds a party to behave in a certain way.  If a party behaves in a reckless manner that could tarnish the image and reputation of the other party, this is a breach of the morals clause and this could be enough grounds to suspend or even terminate the contract.  Here, the argument could be made that Johnny Manziel's reckless, immature, and potentially criminal behavior could cost him millions of dollars in endorsements if his deals contain morals clauses, depending on how those clauses are negotiated in the first place.  Cari Grieb, a partner at Chapman and Cutler, told Law Newz that morals clauses are likely a big player in Manziel's endorsement deal with Nike. "When Manziel entered into his endorsement contract with Nike, he had limited leverage – he was an exceptionally young player that lacked unusual talents, athleticism and intangibles.  Most likely, he was stuck agreeing to a broad morals clause that would permit Nike to curtail their relationship with him for any action that could lead to public disrepute, contempt, scandal, or ridicule for him or for Nike." Grieb further predicted that future endorsement deals for Manziel look bleak. "My prediction is that Manziel's endorsement deals will follow his likability down to virtually non-existent."
Most importantly, would an NFL team be willing to risk signing someone with as much baggage as Manziel?  My hunch tells me yes.  At the end of the day, he is a football player who has proven in the past that he has the capability to play the sport.  The question is whether there's a team out there that is committed to restoring Manziel's personal brand. "I think no matter how bad the crime is, what we've seen in the NFL is that if you're talented, some team in the NFL will be willing to overlook your transgressions and take a risk on you," says Ian Gunn, sports law writer for The Sports Esquires, to LawNewz.com. "There's no doubt that Manziel's stock was already low before this latest incident, but if teams still think he can play, someone may pick him up."  We've seen players like Michael Vick and Plaxico Burress serve their time for crimes, show incredible amounts of remorse, and make their way back in the NFL, so there's definitely a chance for Manziel to rebound.  The key to Manziel's redemption is to show he's a new man who is willing to change and move on.  And the change must be genuine, not some publicity stunt.
The Johnny Manziel saga is one that I'll continue to closely monitor.  In spite of the legal drama that potentially awaits Manziel, I hope for his sake that his life and career takes a turn for the better.
UPDATE [10:30 AM on 2/5/16] – ESPN NFL Insider Adam Schefter has confirmed that Erik Burkhardt has dropped Johnny Manziel as his client.
Tony Iliakostas is a sports law contributor for LawNewz. He is the founder and host of his own sports law video blog called "Law and Batting Order." You can follow Law and Batting Order on Facebook and Twitter, and you can follow Tony on Twitter.
[screengrab via Cleveland.com]
Have a tip we should know? [email protected]