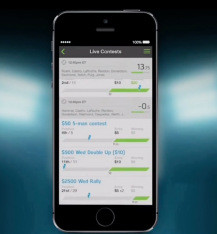 Virginia became the first state to expressly authorize a legal framework for daily fantasy sports (DFS) games, like those operated by Fan Duel and DraftKings, after Governor Terry McAuliffe signed the Fantasy Contests Act into law on Monday.
The Virginia Department of Agriculture and Consumer Service is in charge of overseeing the industry and enforcing the law's consumer protection provisions, including requirements that DFS companies to pay a $50,000 registration fee to operate in the state, maintain separate accounts for the company's operational funds and players' money, and undergo two independent audits per year.  Additional highlights from the law include a ban on DFS company employees and immediate relatives from playing in public contests and requirement for all DFS companies to ensure all players are at least 18-years of age or older.
Perhaps the most significant aspect of the Virginia law, however, is the characterization of fantasy sports as a "game of skill" as opposed to a form of online gambling.  This is a key distinction because a 2006 federal law specifically exempts fantasy sports from being considered online gambling.  Both Fan Duel and DraftKings have cited the exemption in response to lawsuits brought by a handful of states to ban the activity as a form of online gambling.
Fan Duel attorney Cory Fox thanked Governor McAuliffe and the Virginia legislature for its leadership on this issue in a statement released Monday night, saying, "Governor McAuliffe and members of the Virginia legislature took a thoughtful, deliberative approach to establishing a law that safeguards fantasy sports while installing consumer protections."
DraftKings also praised the new law in a statements released late Monday night:
"Today, Virginia became the first state in the nation this year to put in place a thoughtful and appropriate regulatory framework to protect the rights of fantasy players. We thank Governor McAuliffe for his leadership and advocacy and are hopeful that other states across the country will follow Virginia's lead."
[h/t Virginian-Pilot; image via screengrab]
Have a tip we should know? [email protected]