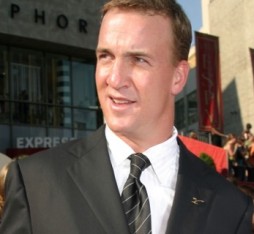 As Peyton Manning prepares to take the field against the Carolina Panthers for Super Bowl 50 on Sunday, questions continue to be raised surrounding the Al-Jazeera documentary, "The Dark Side:  The Secret World of Sports Doping" that alleged Manning took human growth hormone (HGH) in order to recover from neck surgeries in 2011.
According to a report in the Washington Post, Peyton Manning's lawyers hired private investigators to identify and question the source of the allegations against Manning, and sent a lawyer to examine Manning's medical records from a medical institute in Indianapolis.
The source was eventually identified as Charles Sly, a 31-year-old former intern at the Indianapolis medical institute mentioned in the Al-Jazeera report.  Sly recanted the allegations prior to the release of the documentary and said he was unaware that he was being recorded.  Sly's lawyer said his client's claims were all fabrications and puffery meant to impress Al-Jazeera's undercover reporter.
Manning's spokesman, Ari Fleischer, said Manning's investigative team did nothing that would interfere with any subsequent investigations into the matter.  Fleischer said the lawyer who examined the medical records did not remove or destroy any records and the investigators did not influence or coerce Sly into recanting his statement.  Fleischer did, however, confirm reports that the institute did ship medication to Manning's wife, but he would not specify what medication she received.
The NFL opened an investigation with the U.S. Anti-Doping Agency to review the claims made against Manning in the documentary that is expected to last months, which Manning says he welcomes.
Super Bowl 50 kicks off Sunday at 6:30 p.m. ET from Levi's Stadium in Santa Clara, CA and will be televised by CBS.
[image via shutterstock]
Have a tip we should know? [email protected]