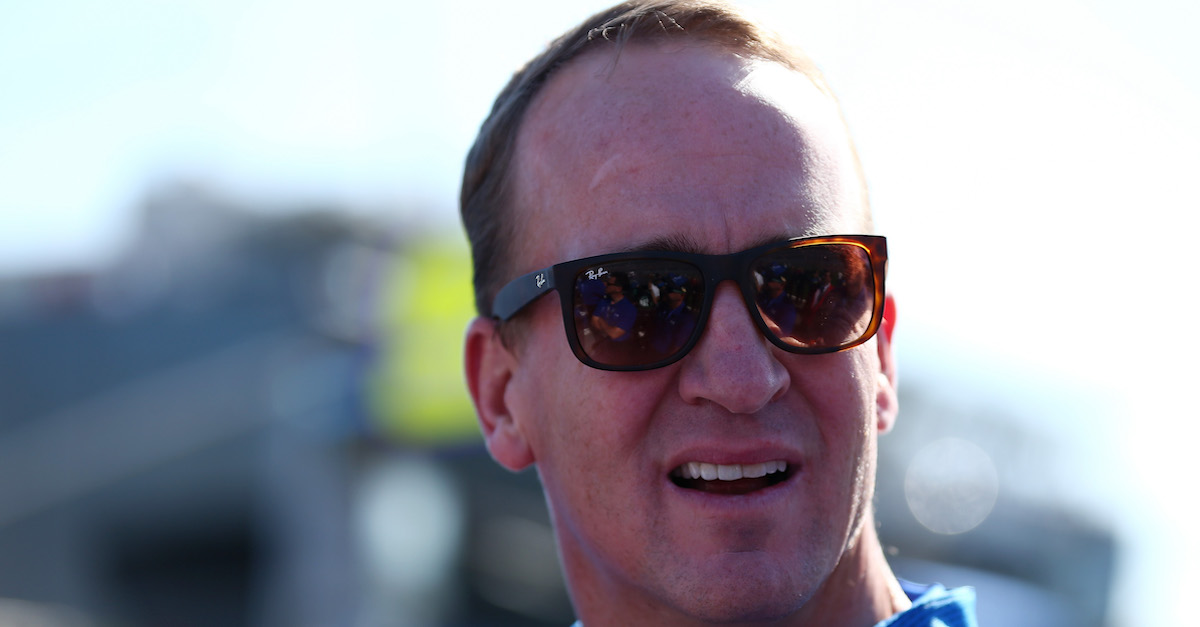 Contrary to recent news reports, Peyton Manning's lawyers did not confirm that Manning took HGH according to a new insider report from Washington Post sports reporter Will Hobson. Hobson appeared on my Straight Aim podcast to preview new details regarding reports that surfaced just last week from lawyers representing defunct news outlet Al Jazeera in a defamation lawsuit.
The lawsuit, brought by Washington Nationals third baseman Ryan Zimmerman and retired Philadelphia Phillies first baseman Ryan Howard, accuses Al Jazeera of defamation related to its doping claims against Howard and Zimmerman in Al Jazeera's documentary, The Dark Side: The Secret World of Sports Doping. The documentary featured undercover video of aspiring pharmacist Charlie Sly, who made claims that he supplied athletes with banned and illicit drugs. In the course of videotaped discussions, Sly also suggested that former star NFL quarterback Peyton Manning shipped HGH to his home under his wife Ashley's name.
On and around June 1st, breaking news headlines communicated that in its latest court filings Al Jazeera accused Peyton Manning's lawyers of confirming he had in fact used human growth hormone that was shipped to his wife Ashley Manning, prior to the documentary's release. On my podcast, Hobson, who has been investigating the case and claims, called those headlines a gross "misinterpretation of the court filing" by the press. In a detailed article released today, citing new leaked emails, Hobson discusses what happened when Al Jazeera notified Manning's agent about the doping allegations and asked for comment.
"Manning's lawyers came to Al Jazeera and confirmed some things, they did not confirm that Peyton had taken HGH and they did not confirm that Peyton had ordered HGH under his wife's name," Hobson told me.
"The HGH was meant for Peyton's wife, Ashley, who had been prescribed the drug by a doctor who specialized in "anti-aging" medicine, Hobson writes in his article, citing emails leaked to the Washington Post.
Hobson says those emails indicate that Manning's lawyers shared a copy of Ashley Manning's prescription and medical records with Al Jazeera, prompting an Al Jazeera producer named Jeremy Young to then contact independent medical experts asking, "Is there any genuine medical justification for treating those conditions with HGH?
According to Hobson, those experts told Young that HGH was not an FDA approved treatment for her condition and suggested that prescribing it for such an unauthorized use would be a violation of federal laws governing controlled substances. Al Jazeera later ran its investigative report, citing Sly's claims against Manning, despite Manning's lawyers denials and supply of proof that the HGH was meant for Ashley.
Matthew D. McGill, a lawyer for the Mannings told Hobson that, "Any notion that we confirmed Sly's veracity as a source is obviously false, and is beneath contempt."
Hobson also gives me insider details about why Peyton Manning hired private investigators to visit Sly's parents home before Al Jazeera's report aired. Shortly after that visit, Sly videotaped himself recanting all of the statements he made in the undercover video and declaring them false. But, there were problems with that recantation according to Hobson, which raises the question of whether Manning's private eyes intimidated Al Jazeera's primary source to recant his statements. The same investigators also allegedly visited the Guyer Institute to examine Ashley and Peyton Manning's medical records prior to an investigation by the NFL into doping allegations levied against Manning by the report.
To hear more details about that late night visit by Manning's hired investigators and how this could affect the pending case check out Straight Aim.
Amy Dash is a Host for the Law & Crime Network and the CBS Sports Radio Legal Analyst. 
Follow Amy on Twitter @amydashtv
[Image via Sarah Crabill/Getty Images]
Have a tip we should know? [email protected]