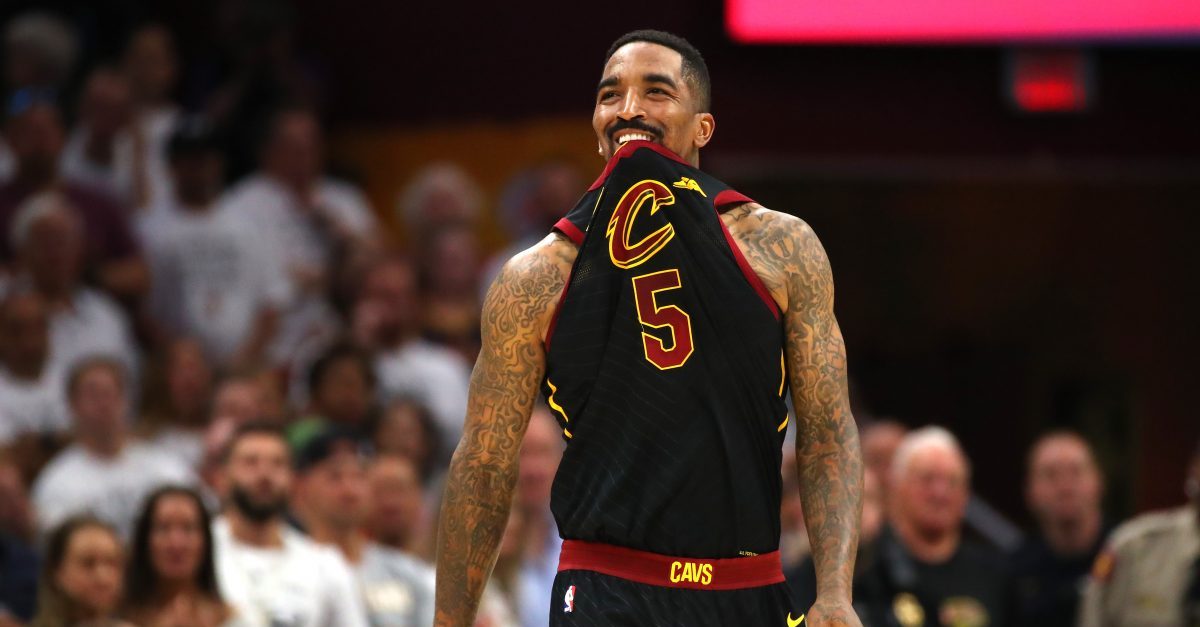 Cleveland Cavaliers guard J.R. Smith (real name Earl Joseph Smith) reached a deal with Manhattan prosecutors in his criminal case stemming from him allegedly snatching a cell phone from a fan who wanted a picture, and throwing the device into a nearby construction site. The incident allegedly took place outside New York City nightclub The Park in July of this year.
According to an ESPN report, Smith, 32, has agreed to pay $600 in restitution to the fan. He reportedly will accept the Manhattan District Attorney's Office's offer of an adjournment in contemplation of dismissal (ACD). An ACD is not an admission of guilt, and means that the case will be dismissed six months after it is entered — provided that Smith stays out of trouble for six months.
Smith was initially charged with criminal mischief–a class A misdemeanor that carries a maximum penalty of one year in jail–for allegedly damaging the phone. If Smith were to violate the terms of the ACD, the case could be reinstated with him facing that same charge.
Smith's defense attorney Alex Spiro and Manhattan Assistant District Attorney John Johnsen acknowledged the pending deal in court on Wednesday.
"We have reached dismissal in Cellphone-gate," Spiro told the press.
According to court records viewed by Law&Crime, Smith is next due in New York County Criminal Court on November 15. He is expected to take the ACD at that time.
Smith, a New Jersey native, played for the New York Knicks from 2012 until January 2015, when he was traded to the Cavaliers, with whom he won an NBA championship in 2016. He has a history of run-ins with the law, including going to jail after a running a stop sign and crashing into another car, resulting in the death of his friend, who was riding as a passenger in his car. Smith has also served suspensions from basketball for alleged incidents involving drugs and fighting.
[Image via Gregory Shamus/Getty Images]
Have a tip we should know? [email protected]