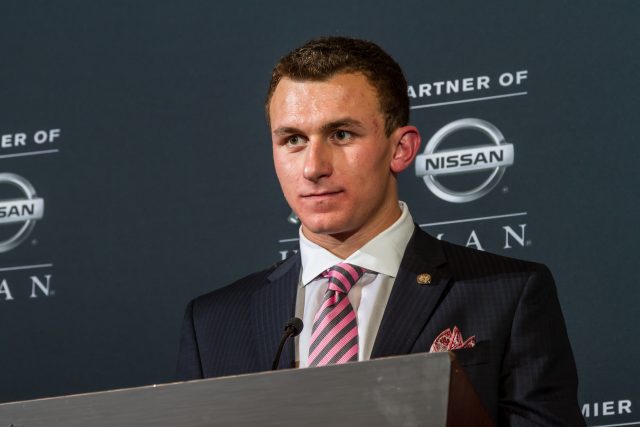 DALLAS (AP) — A 2016 domestic assault charge against Heisman Trophy-winning quarterback Johnny Manziel has been dismissed.
The Dallas County District Attorney's Office on Thursday confirmed Manziel successfully completed requirements of a court agreement that included taking an anger management course and participating in the NFL's substance-abuse program. The case was dismissed Nov. 22.
The 24-year-old Manziel also had to stay away from former girlfriend Colleen Crowley, who accused him of hitting and threatening her during a January 2016 night out. Manziel faced a misdemeanor charge that carried a penalty of up to a year in jail and a $4,000 fine.
The allegations stem from a night out when Crowley said Manziel accosted her at a Dallas hotel, a confrontation that continued downstairs to the valet station. She said he forced her into a car and a valet disregarded her pleas for help. The two eventually drove to where her car was parked in front of a Dallas bar, she said in an affidavit. She said Manziel got into the driver's seat and began to drive. Crowley said Manziel stopped when she tried to jump out of the car, but then he dragged her back inside and hit her.
Cleveland chose Manziel 22nd overall in the 2014 draft. The Browns cut him in March 2016 after two seasons of inconsistent play and off-the-field issues. The former Texas A&M star was suspended four games for a substance-abuse violation even though he wasn't under contract.
Manziel looked north of the border recently and the Canadian Football League said in September that it would not approve a contract for him until next season, if he meets confidential conditions stipulated by the CFL commissioner.
[Image via Shutterstock]
Have a tip we should know? [email protected]