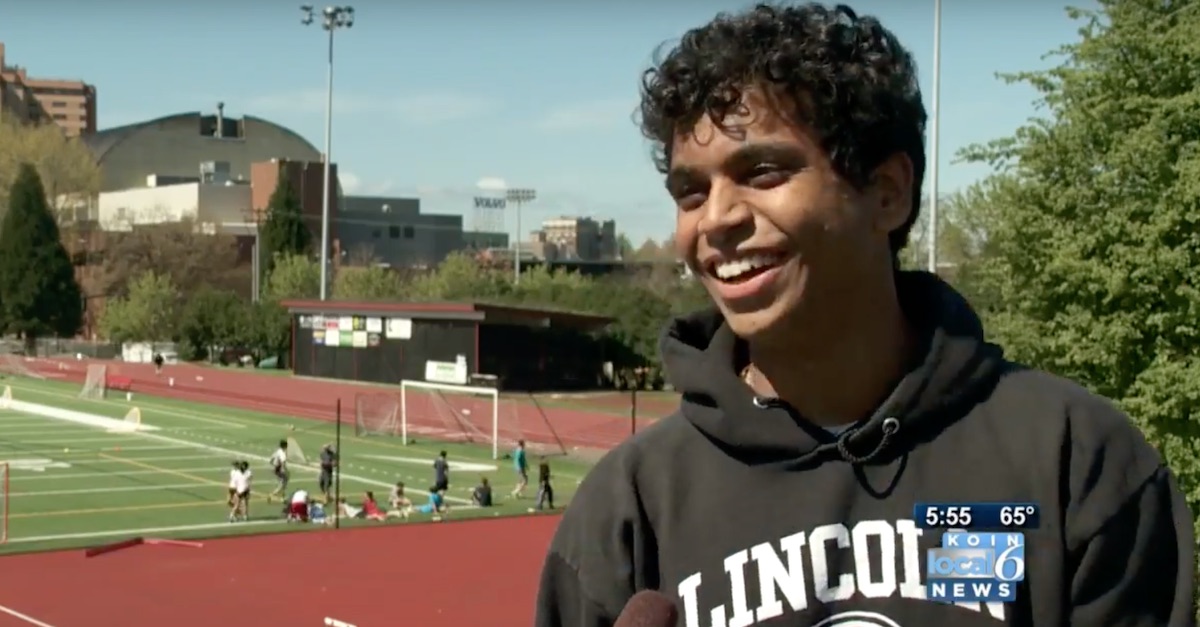 A tennis player and senior at the University of Portland has been kicked off the team for an offensive speech at an annual athletic awards banquet called the "Wally's." The speech was apparently so bad at least one fellow student said reading his words after the fact and thinking about him "feel[ing] comfortable saying" them was "in and of itself […] assault."
Goutham Sundaram has been excelling at tennis for some time, even being named The Oregonian's tennis player of the year in high school. Excelling as an emcee? Yeah, no.
An opinion piece written in the school paper, The Beacon, by senior Olivia Sanchez detailed what Sundaram said on stage before an audience on Sunday.
Sanchez said Sundaram made clear that his college goal was to "get white women to sleep with brown men."
"Sundaram's speech detailed his sexual pursuits during the last four years and explicitly stated that his main goal throughout college was not academic or even athletic, but sexual: to get white women to sleep with brown men," she wrote.
She said several people left the room throughout Sundaram's speech, though others in the room did laugh.
Several athletes left the room after Sundaram said, "Gandhi didn't fast for twenty days so that I could get to America and not sleep with white women."
Fellow student Kaileigh Valentine, a junior at the university, told KGW that knowing Sundaram was comfortable saying these things was tantamount to assault.
"I cannot believe that is something someone feels comfortable saying, and that in and of itself is assault," she said.  "I could not believe what I was reading. I was just outraged and appalled."
The school responded by kicking Sundaram off the tennis team. 
"I would like to address what happened at the Wally's last night," Sundaram said in a statement on Monday. "I want to apologize for taking away from the focus of the night. The night is meant to celebrate the excellence of student athletes and I would like to apologize if I made any people uncomfortable."
University of Portland President Fr. Mark Poorman also released the following statement:
Last night I attended the "Wally's," an awards banquet organized and run by student members of an advisory committee to athletics.

Unfortunately, the celebration was marred by shocking and offensive comments made by a student who was emceeing the event.  Along with many others, I am appalled by the student's actions. These offensive statements do not reflect us, and they do not reflect our mission.  As president of the University, I remained at the event to honor those who gathered to celebrate student athletes, teams, and Athletics staff for their many accomplishments in the past year.  This important tradition was the purpose of the evening, and I did not want what happened on stage to take away from the recognition of others in attendance.

I apologize to all of you that this occurred. Clearly we have continuing work to do to educate and raise consciousness.  I spoke with Athletics this morning. They have already taken steps to hold this student accountable, including removing him from the roster.  I expect additional steps will be taken to address the conduct and any impact.

There is no place at the University of Portland for what was said. It wasn't funny, and it is completely inconsistent with the important dialogues that continue on our campus.  Verbal or physical, it is still abuse.
Sundaram could not be reached for comment.
[Image via YouTube screengrab]
Have a tip we should know? [email protected]