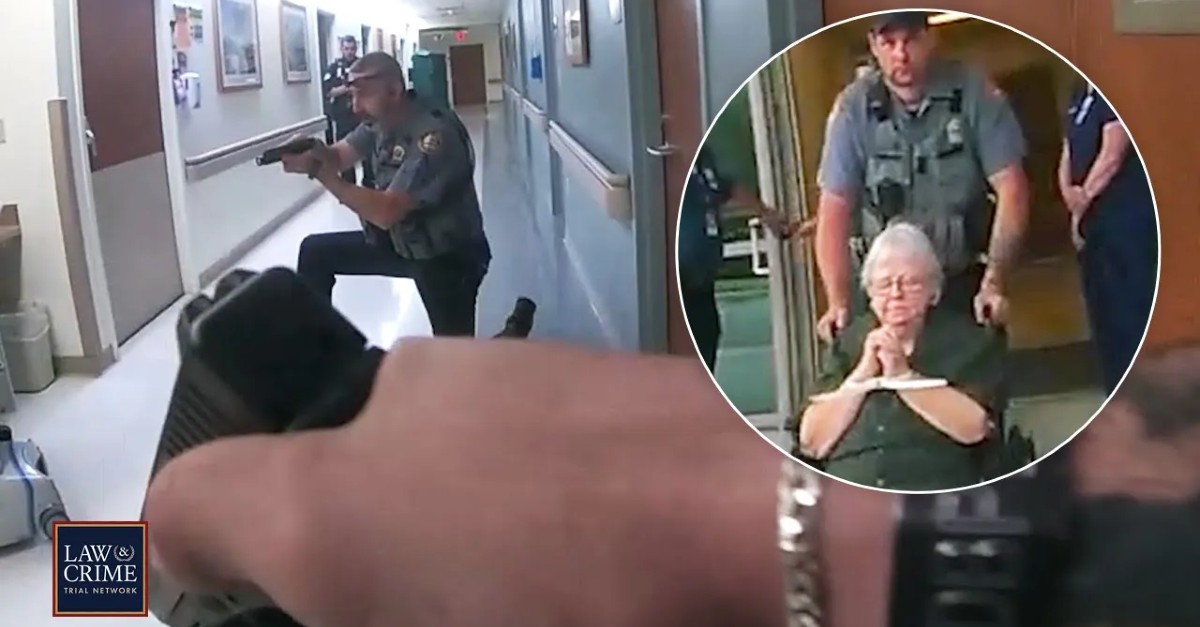 Listen to the Episode: Wife Shoots Husband in Murder-Suicide Pact at Florida Hospital — The Story so Far
A former SWAT officer called for armed guards in hospitals after a police said a woman shot and killed her husband inside a Florida hospital as part of a murder-suicide pact.
Ellen Guillen, 76, was involved in an armed standoff with police at Advent Health Hospital after she allegedly shot and killed her terminally ill husband, 77-year-old Jerry Guillen, on Jan. 22. Authorities reported that this appeared to be planned by the couple in advance of Jerry's worsening condition. Guillen was arrested and charged with first degree murder and aggravated assault.
"I think it is time we start evaluating our fears of physical security," Chad Ayers, former SWAT assistant team leader, said in an extended interview on Law&Crime's Sidebar podcast. "I'm a big proponent of having armed guards and metal detectors because just having them there and no one being there — it does no good. And we are seeing an increase in these types of situations, shootings in medical and hospital facilities."
Ayers, who also served as a Sheriff's Deputy for Greenville County in South Carolina, said his local hospital has metal detectors. The Daytona Beach hospital, where the shooting occurred, was reported to have them, too. However, he noted not all hospitals have people manning and operating the machines.
"There are areas of our hospitals and most hospitals where you can just walk in to go see someone without going through that," Ayers explained.
It's more important than ever to be aware of this, he expressed, as active shooter cases went up 53 percent last year.
"And though this is not an isolated incident, I think we have to start looking at physical security and how we are going to protect those people inside," Ayers suggested.
Ayers is one of the founders of Proactive Response Group, which teaches active shooter response strategies. He said he receives a lot of calls after events like these.
"A lot of organizations take a reactive approach in light of many events over the last few days: 'We need this training that we need to get this training now,'" Ayers said. "And it's almost like your seatbelt. You put your seatbelt on, not hoping to get in a car wreck. You put your seatbelt on to be prepared in case. And so I think it's important that we start evaluating. Are we providing valuable effective training or are we just checking a box on this type of situation?"
Ayers said he thinks the Daytona Beach Police Department responded well, especially considering that this was a floor for patients on their deathbed, many of whom are on ventilators and other machines.
"They have to be operated and plugged in for them to keep preservation of life," he explained. "So that's going to be very, very difficult trying to evacuate that area."
"I feel like they did an excellent job," Ayers continued. "As you could hear, they had a shield up for some protection, some coverage for them, and also the loud verbal commands they're giving. And they're trying to be like, 'Hey, talk to me. Let us help you put the gun down.' Really doing their best to de-escalate that situation and not force this lady's hand to do any more damage than she's already done."
Have a tip we should know? [email protected]